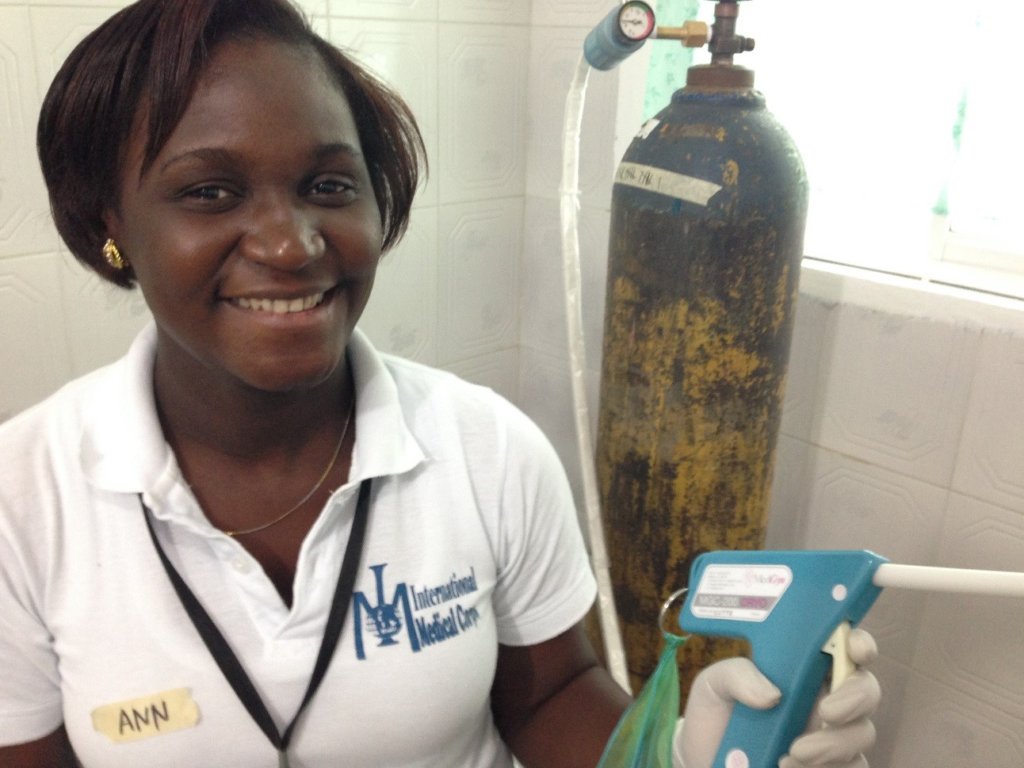 Cervical cancer is the most common cancer in Haiti and the leading cause of cancer death in Haitian women, with an estimated 1,500 deaths annually. In fact, Haiti has the highest reported incidence of cervical cancer of any country in the world, with 94 cases per 100,000 women—50 times higher than the rate in the United States. This disease is preventable, but women in Haiti have not benefited from Pap test screening due to a lack of trained pathologists and a poor healthcare infrastructure. There is no radiation therapy and limited chemotherapy available, and surgical interventions do not meet current standards of care. The result is that 90% of Haitians have no access to cancer treatment. The remaining 10%, i.e., those who can afford it, go to places like neighboring Havana or Miami for their care.
In developing economies like Haiti's, the WHO recommends using Visual Inspection with Acetic Acid (VIA) or Visual Inspection with Lugol's Iodine (VILI), followed by cryotherapy if suspicious cervical lesions are visible, also known as the low-cost "see and treat" method. Not only can VIA detect early dysplastic, or precancerous lesions, it also has the advantage that the procedure can be performed by nurses, with treatment offered the same day. VIA has been successfully introduced into many developing countries with great success—including by International Medical Corps in 11 health facilities in Kenya currently, in close partnership with CureCervicalCancer (CCC) and generous donors.
International Medical Corps Nurse Marie-Anne is one of the nurses in Haiti who has become certified in "see and treat." She is a young, passionate and hardworking woman who grew up and works in Cap-Haitien, the center of International Medial Corps operations. Anne mentioned that when she was young, she was not interested in health care and nursing. She only developed her passion for this work after she moved to Port-au-Prince and finished high school. She now dedicates her career to caring for every patient with kindness and compassion.
Anne is the current Cervical Cancer Program Director for International Medical Corps in Haiti and does tremendous work to ensure the program's success. Our ultimate goal in this Haiti program is to educate and train dedicated and competent local healthcare professionals, so that they become trainers themselves to expand the "see and treat" method. This train-the-trainer model allows International Medical Corps to expand its reach and save the lives of thousands of women who would have otherwise died from a fatal, pervasive and preventable disease. In early summer, in partnership with CCC, Anne led cervical cancer screening and treatment training for healthcare professionals from various hospitals and clinics in north and north-west Haiti.
This program—and Marie-Anne's competence—is an excellent example of International Medical Corps' mission to save lives and implement sustainable programs.
It is with the help of GlobalGiving and other donors that we are able to continue these life-saving programs and deliver necessary care to Haitian women and their families. Thank you so much for your continued support.