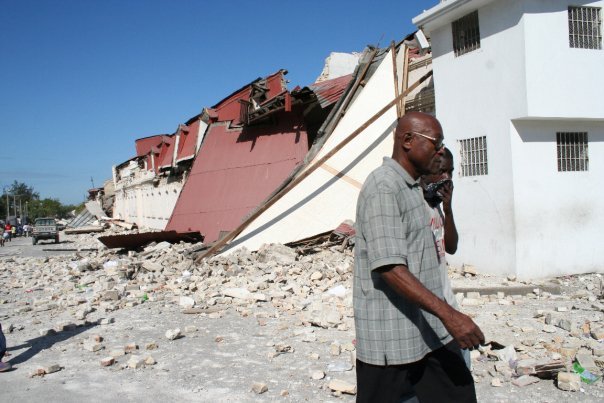 Five-years after the 2010 earthquake devastated Haiti, International Medical Corps' teams are still on the ground delivering vital health care and training services to help disaster-affected communities return to self-reliance.
Earthquake Response
At the peak of International Medical Corps' emergency response following the earthquake, our volunteer doctors and nurses saw as many as 1,000 patients a day while simultaneously training Haitian counterparts. We were able to mobilize more than 400 medical volunteers across the United States, including emergency room, intensive care, and pediatric doctors and nurses as well as mental health experts and infectious disease specialists. Within two weeks, we had established 13 primary health clinics in displacement camps and earthquake-affected areas throughout Haiti and provided some 350,000 medical consultations.
In keeping with our mission to promote self-reliance through training, over the past five years International Medical Corps has trained Haitian medical and technical professionals in order to build capacity for the long term, and operated vital programs in nutrition, mental health, water, sanitation and hygiene. We also launched a Continuing Medical Education (CME) program in Haiti. In the fall of 2010, we completed our first CME program with the Haitian Medical Association and brought together Haitian physicians to focus on emergency obstetrics as well as medical certification and board accreditation. We also ran an emergency medicine development program at Port-au-Prince's General Hospital (HUEH) that trained more than 300 Haitian physicians and nurses in nearly every component of emergency care delivery. We are currently implementing additional CME courses in Haiti to improve quality of care throughout the existing healthcare infrastructure.
Cholera Outbreak
International Medical Corps was one of the very first organizations to respond to an unprecedented cholera outbreak in October 2010 and had medical staff on the ground in Artibonite (where the first cases developed) even before the cause of the outbreak was confirmed to be cholera. We aggressively rolled out a network of cholera treatment centers (CTCs) and mobile medical units in Haiti's most remote and affected areas to care for tens of thousands of cholera patients. Because cholera was a new disease in Haiti, the majority of the country's health workers had never seen it before the outbreak. International Medical Corps made sure that the Ministry of Health and local doctors, nurses, and community health workers remained central to our cholera response. We trained and mentored more than 1,200 doctors, nurses, and community health workers so that our network of CTCs were established and staffed largely by local health professionals. We also distributed more than 765,000 hygiene and sanitation materials and educated more than 2 million Haitians on cholera prevention.
Haiti Today
According to the ACAPS Global Emergency Overview Snapshot for 17 December 2014 to 6 January 2015, "Over 500,000 people still have no permanent shelter, living in camps with limited access to clean water. The cholera outbreak that began in October 2010 continues to claim lives, particularly of those most vulnerable: children under five, pregnant women, and the elderly. Haiti's political and economic situation is extremely fragile, and the country is vulnerable to natural disasters, including hurricanes, floods, earthquakes, landslides, and droughts. Despite a progressive decrease of cholera cases since January, weekly cases have significantly increased since the rainy season mid-September (PAHO, 02/12/2014)."
International Medical Corps' local teams are continuing to provide critical medical care in Haiti today. We are responding to cholera in the "Grand North" through community outreach and six mobile medical units that are able to reach vulnerable families. International Medical Corps has also responded to localized flooding in the North and continues to monitor humanitarian needs. It is with the generous support of GlobalGiving and other donors that we are able to continue to make a difference in the lives of the most vulnerable families and communities in Haiti.