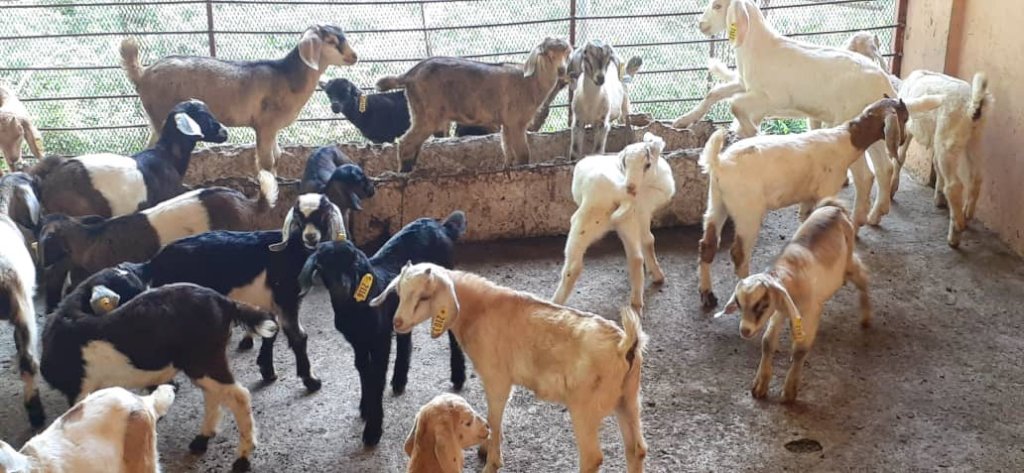 Dear Friends of the Haiti Goat Project,
Bienvenue! I hope this email finds you and your loved ones happy and healthy.
First and foremost, we would like to thank you for your support of the Haiti Goat Project. Your contributions make our work in rural Haiti possible. Here's an update on our project's progress....
The political unrest in Haiti's capital of Port-au-Prince has continued into this spring. However, despite the challenges with getting supplies in and out of Port-au-Prince, our team in Gressier has been able to continue both our Genetic Improvement of Goats and Farm-to-Fork programs.
The mature does in our Gressier goat herd began kidding in early March and finished in mid-April. We now have 29 new goat kids on the ground and they are thriving. Our goat herd manager, Dlous, and his farm crew, Daniel and Joshua, did an excellent job again this year handling all of the births and taking care of newborn kids. These days, our momma goats are nursing their little ones morning, late afternoon, and night...and getting a break from 'kid-sitting' to browse the pastures duing the middle of the day (everyone..even momma goats...need a little break sometime!). When the moms are out browsing the pastures, their kids are safely held in the barn so they don't get lost or chased by feral dogs.
Our Farm-to-Fork program continues to provide Chili Kabit meals to 4 rural schools allowing 880 grade-school children and their teachers to enjoy delicious (and nutritious) goat-meat vegetable lunches on a weekly basis. Jacques (our chef), Dlous, and both the kitchen & farm crews continue to run the program like clockwork.
Here are the Farm-to-Fork Program Impacts for the 2020-2021 School Year:
36,640 Chili Kabrit meals served (Sept 2020-June 2021)
320 Goats purchased from local farmers for Chili Kabrit production
4.05 Tons of peppers, onions, tomatoes purchased from local vegetable growers for Chili Kabrit production
100 motorcycle trips made by the local delivery business who bring Chili Kabrit meals to our most rural school site
Monthly salary support for our program managers, kitchen crew, and farm crew
Thank you for supporting the Haiti Goat Project through GlobalGiving. Your support not only provides healthly meals for rural school children but also supports our project team, their famillies, and all of the farm families from whom our team purchses ingredients for making Chili Kabrit each week.
Please know that you are truly making a difference in the lives of many children, families, and communities in the greater Gressier area of Haiti.

With warmest regards,

Char
Links: