Project Report

| Jun 14, 2022
Emmanuel's story from Uganda.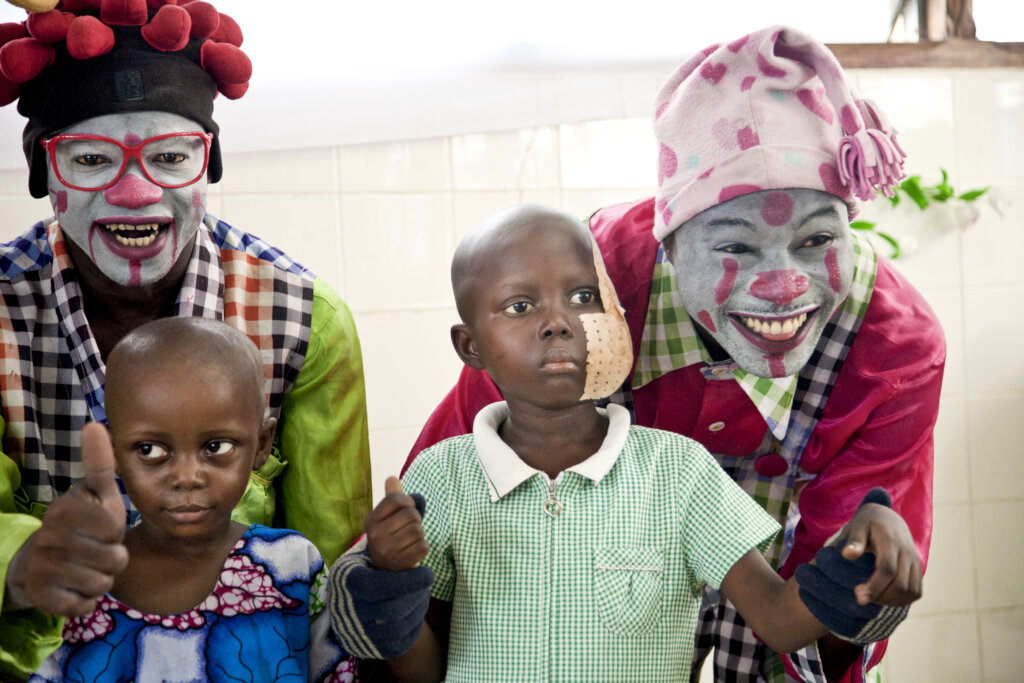 This is the story of Emmanuel, who is just six, born and raised in the village of Onyaboyere in Uganda along his parents and 5 siblings.
"One day a huge swelling started growing on Emmanuel's face" recounts Jalia, Emmanuel's mom. "The diagnosis shattered us: Burkitt's lymphoma, an extremely aggressive type of cancer. In no time the situation worsened to the point that my child could not speak or eat due to the disease."
"When he was admitted to Gulu's Hospital, Emmanuel was so embarrassed by his appearance he hid his face from the doctors. As parents, we were so doleful, we couldn't bear seeing our son suffering like that"
The entire family is hosted free of charge at the Community Home, where they receive support by Rainbow Home's psychologists. The family benefits from the therapy sessions and starts displaying a positive and hopeful approach.
Soon after being admitted, Emmanuel undergoes the surgical procedure that allows him to start speaking again. Thanks to the operation and the therapy sessions, Emmanuel's confidence improves and he decides to help other kids suffering from the same tumour in the Community Home improving their attitude towards the future.
"We are so grateful for all the help we got at the Community Home. Our baby is now well and we feel stronger too thanks to the psychologists' support which allowed us to make it through such a hard time".
Soleterre's Community Homes were born to guarantee comfortable and free of charge accommodation for kids with cancer throughout their treatment. It is possible to help struggling families through welcoming and to provide ill kids with a safe and shielded environment where they can receive all the necessary psychological support in order to recover.
Over 20 years Soleterre has launched 6 Community Homes in 6 different countries, provided more than 70 beds and in 2022 hosted over 300 children along their families.
Ukraine: in 2009 Soleterre launched its first "Smile's Dacha" Community Home in Kiev.
Ivory Coast: "AKWABA Home" (The Welcome Home) has opened its doors in 2014.
Uganda: The Rainbow Home inaugurated in 2017 at St Mary's Lacor Hospital in Gulu, Northern Uganda.
Burkina Faso: our operations begun in the country in 2020 through acquiring a Home for the kids and their families.
Taranto: the first Italian Community Home was funded in 2021 in order to help ill children admitted to Taranto's S.S. Annunziata Hospital.
Morocco: the Home's construction is nearly completed, and soon many children will be able to receive psychological support and partake in scholastic and recreational activities.