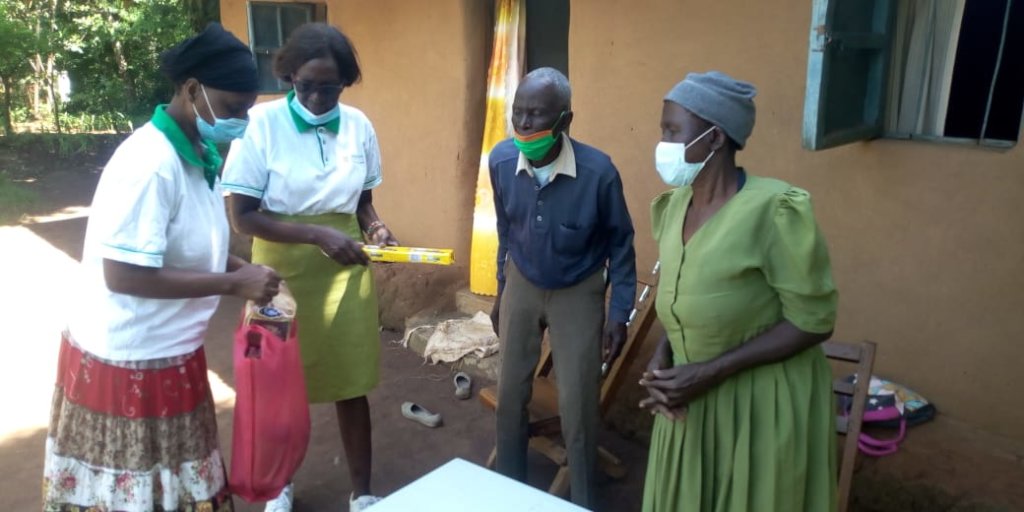 Dear Donors and Friends,
On behalf of our seniors, their families, our caregivers, and staff, I would like to thank you for your continuous support of our project in Kisumu-west subcounty. We are incredibly grateful for your donations – both big and small – because without you, we would not be able to care for the elderly of Kenya.
In the last two months, Kisumu and nine other neighboring counties have been hotspots for COVID-19 with Kisumu reporting the highest national numbers of new infections including those of the Indian/Delta variant. Consequently night curfew hours were extended from 7pm – 4am from late May until the end of July. This has significantly slowed down our caregivers' activity in the community. Because of the growing number of cases, we need more PPEs (e.g, masks, gowns, gloves, hand sanitizer) for our caregivers, nurses, and clients.
Even with the tightening COVID-19 restrictions and the presence of the Indian/Delta varient in Kenya, our seniors were still so happy to see our caregivers arriving with medical supplies and food. During our visits, our nurses had tea and snacks with our clients while providing them with a full medical assessment. Over the last few weeks, we saw 9 new clients in their homes and will continue to expand our home care program.
Recently, we've received a lot of interest from local seniors and their families about our residential center in Kisumu. Many families cannot provide the level of care that their loved ones need at home and our residential community will allow the sickest of our neighbors to age with dignity and grace. So with the long, rainy days in April and May, we began updating our grounds in the center. Our team worked to add plants and landscaping around the compound to give it a more homelike feel. We're now working to upgrade the center -- especially the kitchen -- so that we can begin accepting fulltime, residential clients later this year. Our hope is that with your continued support, we can open our doors to the first residents by the end of the year.
In the meantime, I encourage you to consider making a reoccurring donation to AgeWatch Africa. Because we provide healthcare services, many of our expenses reoccur. Every month there is the need to train nurses and provide food, water, and medical supplies to our elderly clients. Recurring donations ensure that our elderly neighbors receive quality, uninterrupted care. Remember, even a few dollars even month can help provide clean drinking water or medical supplies like masks or soap to our clients.
On behalf of all of us at AgeWatch – our incredible volunteers, Board of Directors, Advisory Board, and the elderly clients that we are humbled to serve -- thank you for your generous donations and your incredible support this year.
With much gratitude,
Richard Waindi, Founder & CEO