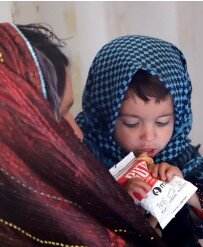 Worldwide, 50 million people—nearly half of them children—in 45 countries are currently on the brink of famine, according to the United Nations (U.N.). Regional conflicts, sharply rising costs, extreme weather, and the aftershocks of COVID-19 have combined to create new hunger hotspots and worsen existing ones. Though the scale of the hunger crisis feels overwhelming, there is hope. We have already reached more than 16 million people with the critical food and care families need to survive.
With support from donors like you, the U.N.'s World Food Programme (WFP), and other partners, World Vision provided emergency food and other support services to those most affected by the hunger crisis, including 9.1 million children, in FY22.
Global hunger response highlights
Afghanistan: Between March and September 2022, we served more than 1.4 million people through lifesaving aid via programs including food and nutrition assistance, healthcare, child protection, and water, sanitation, and hygiene. Through our partnership with WFP, we distributed food to over 220,000 people in FY22. And as of September, we have 59 operational mobile clinics where we screened more than 64,500 children under 5 for malnutrition.
Photo caption: A child eats a packet of ready-to-use therapeutic food (RUTF), a powerful, proven treatment for malnutrition, at a World Vision-supported health clinic in Afghanistan.
Uganda: Host to the third largest refugee population in the world, Uganda is facing the worst drought in nearly a century. More than 250,000 South Sudanese are in the Bidibidi settlement, in the north. World Vision and WFP are working together in the settlement to provide life-saving food to those in need. Each day, staff and volunteers serve 2,000 refugees with maize grain, beans, vegetable oil, and salt—enough nutritious food to last two months.
OUR GLOBAL HUNGER RESPONSE
Through our partnership, we are providing life-saving essentials to food-insecure and starving children and families.
Our support services include (but are not limited to):
> Emergency food
> Nutrition
> Child protection
> Water, sanitation, and hygiene (WASH)
> Healthcare
Additionally, as we work to meet the long-term needs of children and adults and help to rebuild their communities, we offer services that address key areas such as:
> Livelihoods and income generation
> Advocacy and external engagement
Since 2021, we have served vulnerable families in 20 critical countries. In 2022, we expanded our global hunger response to reach 26 countries (see map below). World Vision continuously monitors global food insecurity in our program areas and works to partner with peer and U.N. organizations to ensure we reach families and children living in the hardest-hit countries. This means countries served may shift over time.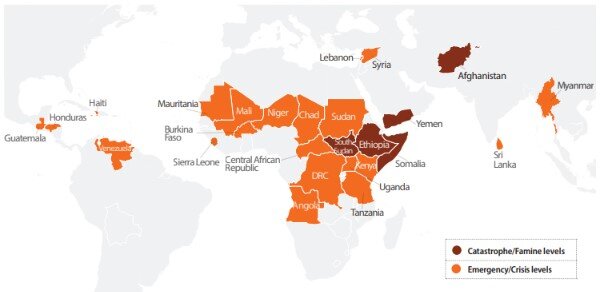 Attachments: