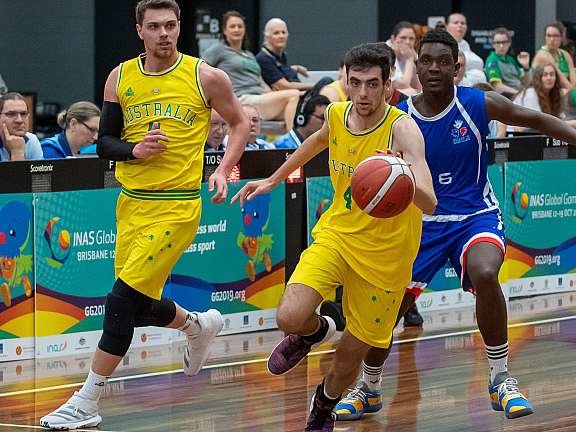 Welcome to all our supporters.
2019 has been extremely exciting year for our organisation as we continue to set new records and standards - more athletes are now registered with us, from more nations and in more sports than ever before. The 5th Global Games, which took place in October in Brisbane - Australia, set a new standard for our event programme with 10 sports livestreamed to a global audience for the very first time.
We saw some incredible performances during the week-long competition, with more than 800 athletes from 50 nations taking part.
The Games also saw us launch our new brand. After more than 30 years as INAS, we are now 'Virtus - World Intellectual Impairment Sport'.
This fresh look comes with a new set of values that define the athletes we serve and where we fit in the global sporting landscape:
Athlete values

Our new athlete values define the people we serve, guiding and inspiring us in our work to build high performance sport for people with intellectual impairments.
Athletes display incredible strength of character both on and off the field of play. They work hard, overcome set-backs and never give-up. They are important ambassadors for sport for people with intellectual impairments, showing others what can be achieved and breaking down barriers.
Athletes strive to reach the top of the podium, to improve themselves and their performances with every sprint, swim, throw, shot and move. Through this they change perceptions and push the boundaries of what was previously thought possible.
It takes great courage to train and perform, to put yourself and your body on the line to reach the best in your sport. With their immense achievements, athletes change perceptions.
Athletes with integrity play honestly and fairly, always respecting the rules and results.
Our role
We strive to ensure that as many people as possible know about high performance sports for athletes with intellectual impairments and the opportunities that exist to compete at an international level.
We also aim to ensure that everyone is aware of the amazing achievements of the athletes, so that they can enjoy better support and recognition.
We ensure that the rights of athletes with intellectual impairments are recognised and considered in the global sports landscape.
We also work with sports governing bodies to ensure athletes with intellectual impairments have the opportunity to compete under their banner.
We oversee the development and growth of elite sport for people with intellectual impairments at the highest level. This includes setting rules and ensuring fair play in areas such as anti-doping.
We work with our member countries to organise major international events for athletes with intellectual impairments such as world and regional Championships in 14 sports, supported by global governing bodies. This ensures athletes can compete regularly at the highest levels against the best in the world.
We also take care of eligibility, ensuring that those athletes who compete at our events have a recognised impairment. For some, this is their first step towards the Paralympic Games. Our role for eligibility also includes training and education for national officers so that countries can develop their own pool of competitors.
Looking ahead...
But we still need your help. For every athlete that competed at Brisbane 2019 there are thousands more who do not have the chance to do sport for themselves, let alone reach the highest levels.
Please consider supporting our Global Athlete Foundation or share this story with friends and family.