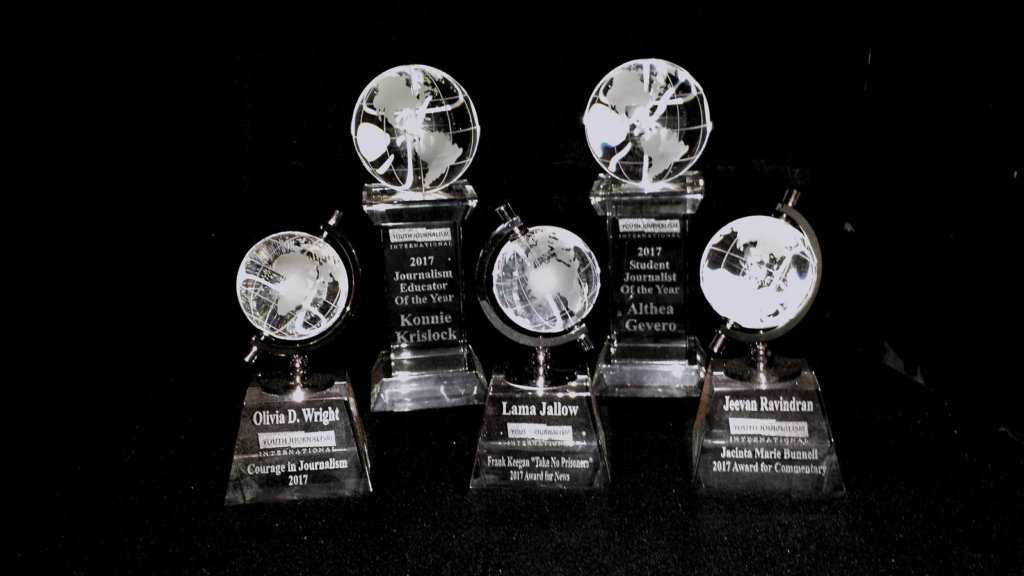 In a year when journalists have been hailed and harassed with equal fervor, Youth Journalism International can safely assure everyone there's a great new generation of reporters ready to take the field.
This year's contest for teen journalists, now in its eighth year, attracted astonishing work from hundreds of students around the globe. Those earning awards represent nine countries on five continents as well as 20 U.S. states.
The top winners include a young man from The Gambia writing about his country's stunning democratic revolution, a gay teen coming out in Tennessee and a teacher who's been fighting censorship for almost half a century.
The contest provides "a deep look at some of the best work done by teens across the world. Many are doing stirring, important journalism that's too often overlooked by harried professionals who would fear less for the future of news if they paid more attention to this extraordinary rising generation," said Steve Collins, board president and co-founder of Youth Journalism International.
Our judges picked Althea Gevero as the 2017 Student Journalist of the Year for her talent as co-editor of a Las Vegas school paper.
Konnie Krislock, an advisor to the student paper at a California high school, emerged from an impossibly gifted field to claim this year's Journalism Educator of the Year award.
Others honored with engraved crystal trophies were Lama Jallow from The Gambia, who won the Frank Keegan "Take No Prisoners" Award for News; Jeevan Ravindran from the United Kingdom, who claimed the Jacinta Marie Bunnell Award for Commentary; and Oliva Wright from Tennessee, the Courage in Journalism Award recipient.
"It is always hard to choose the top winners," said Lynn Abrahamson, a YJI board member from Maryland who has served as a contest judge since 2011.
"I was very pleased with the variety of entries, ranging from political and social commentary to travel and hometown pieces," said Dr. Mariechen Puchert, a YJI alum of Cape Town, South Africa, one of two dozen judges.
Jackie Majerus, executive director of YJI, said, "Our thoughtful, dedicated judges, with their insightful comments about many of the winning entries, make this a valuable contest for young writers, photographers and artists."
The non-profit Youth Journalism International has been educating the next generation of news professionals and talented teens since 1994. Formally incorporated in 2007, it is a 501(c)(3) educational public charity. Its website can be found at youthjournalism.org.
The contest covered work published in English between Jan. 1, 2016 and Dec. 31, 2016 for non-professional student journalists aged 19 and under.
For more information, please contact Jackie Majerus, Youth Journalism International's executive director, at (860) 655-8188 or write to yjieditor@gmail.com. For a complete list of winners, see our website.
Links: