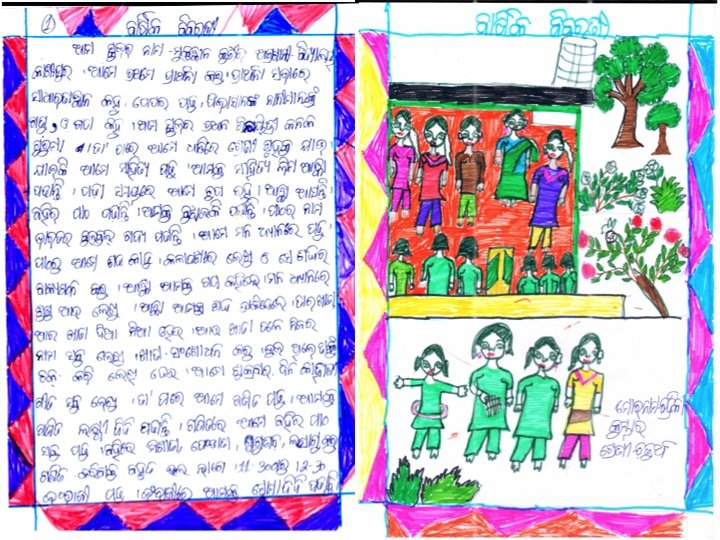 We are delighted to bring you a report by our Class V student, Chandrika to tell you how our project is going. Dear donors, we are overjoyed to tell you that your donations have helped us develop excellent abilities in first generation school going girls, whose parents are too illiterate to even see their notebooks, and too poor to afford any tuition. These girls would never have had a chance in life, and would have been bound to a life of poverty and exploitation. Now thanks to your donations, these girls are able to read, write, improve their world view, talk with confidence, and pursue great careers.
Chandrika's report, translated from her mother tongue, Odiya is self-explanatory and brings to you the activities and teachings in Mukta Gyana Kutira from a child's point of view:
"The name of our school is Muktagyan Kutir, Agragamee, Kashipr. We begin our school with prayer meeting. During this time, we share general knowledge, and read newspaper, count how many children have come, and tell stories. Kanaka Guruma is the headmistress of our school. Then we enter the classrooms in queue.
Lima Sir teaches us language. When Sir tells us stories we listen to him attentively and then write. He dictates words and asks for notebooks from children and gives back. We write our names on the notebook. We also correct each others notebooks, and rectify mistakes if any and write correctly. We write stories and songs on Friday. Then we do maths. Laxmi Didi teaches us maths. We go through the maths lessons in the book. We do addition, substraction, multiplication, LCM etc. I love to do maths.
Soma Didi teaches us English from 11.30a.m. to 12.30pm., from 12.30 to 01.30 p.m. Kanaka Guruma teach us EVS. I love the topic on local self-government. Guruma explains each topic and show us maps, earth, trees and plants, birds and animals. Then we go for lunch. We are provided good food in our school. We get pampad, mixed veg curry, and eggs twice in a week to eat. After we have our lunch Didis go for food. When they go, we play games like kabadi, bohuchori and basketball.
We draw pictures and write stories. We keep them in our folders and also paste them in the wall-magazine outside our classrooms. We make paper flowers and put them in the wall magazine. We get oil, soap, notebooks, books, pen, pencil, colour etc. from our school. We observe New Year in our school.
We and our teachers get training in our school. Trainers conduct the training. We get to know and learn a lot of things from them. They too get to learn a lot from our school. We have six taps and one tube-well in our school. Important people come to visit our school. They become happy to see us.
The District Collector visited our school on 2017. Her name was Guha Poonam Tapas Kumar. She was very happy to visit the school and talk to us. We had a meeting in the big hall along with the Collector. We all sang songs. Then she visited the village.
We observe Annual Day every year in our school. We act, play, sing and dance on the occasion. There are four groups in our school. They are Nagabali, Mahanadi, Indrabati and Bansadhara. On Monday Indrabati Group read library books. Mahanadi Group does gardening. Banasadhara Group cleans the toilet. Nagabali Group does stitching. The library has many kinds of books in it. We have a library room in our school. We go there to read books. On Fridays and Saturdays we read library books. We read newspapers and draw pictures in the large hall. We visit nature camps, block headquarter, banks, fairs, villages, post office, temples, police station etc. Back in the school we write and draw pictures on them. Children from Purna School came to visit our school. We made friends with them. Purna School children and we together had been for fishing. Along with the children of Purna School, we planted many decorative plants and made a garden in our school.
Our school remains closed during summer vacation. During this time, we go to visit relatives in other villages. Our Didis and Sirs go back to their villages. We write and draw our experiences when the school opens. There is a big hall in our school. We sing, dance, play and do meetings in the hall. Teachers (Siksha Sathis) from other schools come and get their trainings. They learn something new and go back. Accordingly they teach the children in their village.
Our school provides us bags. Our school has a playground. We play there. We play from 2 p.m. to 3 p.m. Then they teach us to stitch dresses. We are provided with school dresses. Exams are held in our school. We all appear the exams. We write our papers correctly. We fetch good marks. Among our school subjects I like language more. For we get to learn new words and make sentences out of them. I like that a lot. I love Mukta Gyan Kutir very much."
We are delighted with this report for several reasons. The children help to lighten the burden on our teachers, and produce a report from a child's view point, which is much better than anything we could have written. We also share these reports with the parents, who take it to the villages schools, and ask that their sons also learn like this.
Thank you once again for making all this possible, we hope we can continue this journey together to bring the light of education in the lives of the poor and marginalized tribal communities
Links: