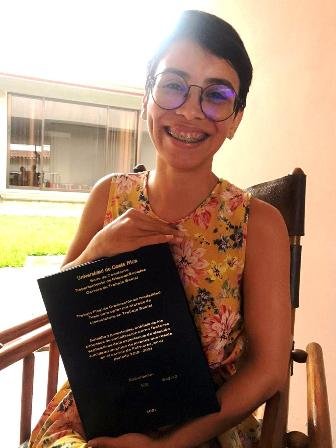 The Community Action Alliance's Educational Scholarship Program celebrated a very significant milestone in April of 2019, when our first University Scholarship Student, Fernanda R., received her Bachelor's Degree in Social Work from the University of Costa Rica, graduating with honors. This was the first step in her quest to be licensed as a Costa Rican social worker, and two more years of study and research would be required to realize that goal.
Since March, 2019, Fernanda continued her coursework in Latin-American history and migrations, languages, social management,"suicidology" courses in order to prepare and deliver her thesis. According to the World Health Organization, suicide is the second highest cause of death for people between 15 and 19 years old, and the third cause of death for people between 15 and 29 years old. Globally, almost a million people die every year because of suicide. On average, for every suicide death, there are 20 suicide attempts. And, suicide and depression are on the rise worldwide especially exacerbated by the impacts of the COVID pandemic. CAA's scholarship student group was not immune to the hopelessness and depression that can induce suicidal tendencies.
One of our high school students in the program for 8 years attempted suicide in 2020 during a period of despair largely triggered by complex socio-economic and stressful life experiences. CAA was able to provide psychological support for our student and additional financial aid for this struggling family because both parents had lost their jobs. Fortunately, our student was able to return to classes, and we hope he will be able to graduate high school in 2023.
Four other CAA scholarship students have struggled during the pandemic – each has a unique story. However, one student just received a life-altering blow, having lost his mother to COVID in the first week of October. CAA is now providing psychological counseling to support these students, and we hope these interventions will help keep them on track to graduate high school.
Fernanda's thesis and research objective from 2019-2021 was to gain a better appreciation for the socio-cultural factors prompting suicidal ideation, primarily in youth, and to identify proven prevention strategies. Internet based courses through various Latin American universities provided the framework, and Fernanda completed her thesis, entitled "Suicide and youth: analysis of socialization processes as explanatory factors of the experience of suicidal ideation in a group of young people residing in the canton of Palmares, in the period 2019-2021". In June of 2021 via digital online conferencing, Fernanda presented and defended her thesis to a panel of social workers, philosophers, and researchers. The panel of judges approved her work, with honors, and Fernanda graduated once again from the University of Costa Rica - now eligible to receive her license to enter the profession as a Licenciada en Trabajo Social.
Fernanda was quickly called upon to give lectures in our region on suicide risk and prevention, and now licensed, Fernanda began to interview for social worker positions.
Prepared for big challenges! In her 8 years working with CAA, as a volunteer and as a scholarship administrative intern, Fernanda gained valuable inter-personal and business experience: developing program goals; financial and social need assessment tools; monitoring student performance/needs; budgeting and financials; marketing, and most importantly, negotiating solutions with families, schools, and support institutions. Fernanda also gained organizational administrative experience by serving 2 terms as a member of the CAA Board of Directors, as Vice-President, and one full year as CAA Acting President. With this experience, Fernanda feels she is more than ready, and is eager to face the complex challenges of her profession.
Fernanda will begin her professional career as a social worker for IRCA Casabierta, a Central America Institute that supports immigrants, and persons in refugee status who are struggling with gender related concerns.
We are so grateful for GlobalGiving donors and our CAA program supporters who made Fernanda's scholarships possible. And, we appreciate Fernanda's dedication and compassion given freely to our community and our scholarship students over the past 8 years. Because of these collective efforts, this dedicated young professional is ready to tackle the complex issues facing families in Costa Rica, one family at a time! We wish her all the best as she continues to pay forward the gifts of those that have helped support her career goals.
[Photos and material provided by the subject and used with her written permission].