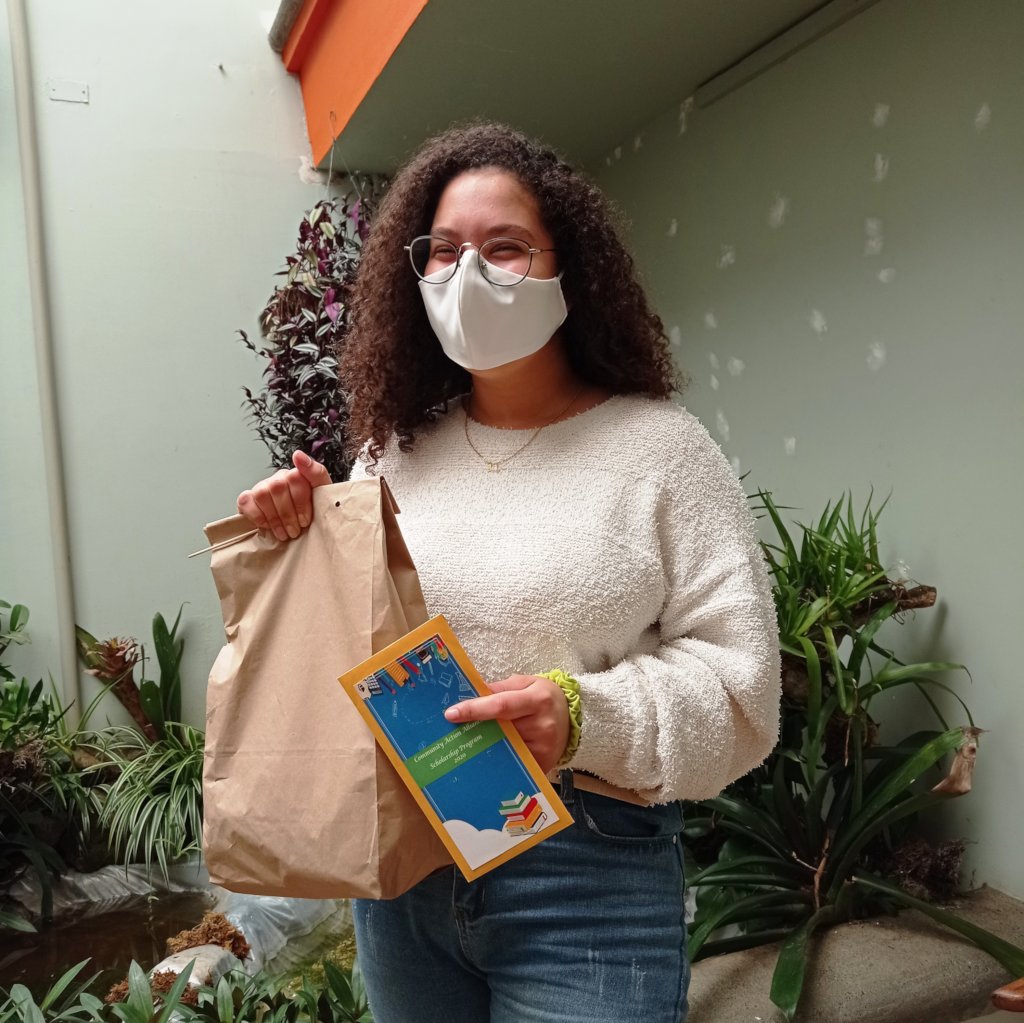 Although pandemic restrictions have again prevented our regular CAA scholarship award presentation event in January, the Education Committee's university-level scholarship Program Interns have filled in to keep the program rolling. In a very socially-distanced, appropriately masked and disinfected way, the interns interviewed students and their families, updated financial and academic information, made their recommendations, and got us ready for CAA's 9th year of scholarship support.
The 2020 class celebrated a single graduate, a high achieving young woman who has already qualified for university. One of our Education Committee members helped this student apply for financial aid, and she is off to university! Our 2021 class has 5 students that should be eligible for graduation in December, and the subsequent class of 2022 should be our largest --- anticipating 8 graduates.
On February 8th, 27 students of the CAA Scholarship Program started classes - 26 existing students and one new seventh-grade high-school student. Step- by- step, these students are integrating on-line classes and in-person classes under protocols of the Ministerio de Educación and high school campus-specific safety protocols. To get these students ready for the pandemic protocols, we provided each with a package of safety supplies – masks, alcohol gel, and wipes to get them ready to return to the classroom. And, we provided vouchers redeemable for school uniforms, shoes, school supplies-books getting them off to a solid start.
Juniors and seniors are receiving 3-4 days of classroom sessions supplemented by virtual sessions. The lower grades are slowly being brought into the classroom for 1-2 days per week, but will be heavily dependent on at-home, virtual learning for most of their education in 2021. Returning to a social environment in classes, even if for only a day or two per week, is a very important improvement – they will regain the opportunity to engage teachers and other students to better understand the material and assignments.
In this report, we would like to highlight a success story in the making! "Elise", not her real name, is in the top of her class in an international baccalaureate program. She has a strong interest in mathematics and science and dreams of becoming an astronaut. If that doesn't happen, then her focus is on the bio-technology field. "Elise's" grades have gained international attention - she has already received an offer to study in Germany after high school.
One of two children, "Elise" is being raised in a single parent household. "Elise's" mother is very supportive of education, and now works as a patient-nurse assistant while she finishes her own university nursing degree program. In addition to school supplies and uniforms, "Elise" needed special eyeglasses which CAA was able to provide through a partnering local eye clinic. "Elise" is a role model for her younger brother, and demonstrates the aptitude and determination necessary to make a difference in an increasingly technical, complex world. This focused family has earned the attention and support of several CAA members, and by highlighting this student and her family, we hope that others are inspired to lend support to deserving families.
Not all of our CAA class finished 2020 as successfully as "Elise" -- five had to do extra course work in January just to pass to the next grade level. These students struggled in the virutual learning environment - lacking access to the technology, cell phone internet data plans, and copiers necessary to support virtual learning. Independent, virtual study modalities require a new level of focus and discipline that some students had not developed. Clearly, financial inequalities play a role, along with the absence of an adequate support system - poorly educated parents and no older siblings in the house to help students with subjects and lessons to partially replace teachers. Spotty cell coverage in the rural areas was also a factor, however, without cell phones and cell-based internet coverage/data plans, the country's virtual learning system would have been impossible. However, last year's grades certainly exposed the economic inequities and limitations of this pandemic-mandated virtual learning system. The 2020 country-wide standardized achievement test results reflected some significant deficits which drove the priority to immediately get juniors and seniors back into classrooms. To do otherwise would jeopardized the ability of many of these near-graduation high school students to be adequately prepared to qualify for university studies.
Each of our CAA scholarship students has a unique, but similar story – a family working hard, day by day, to give the children the opportunity to finish high school; all hoping that a high school or university education will help move the family to self-sustainability and a brighter future.
Thank you, GlobalGiving donors, for being part of the vital support system for these San Ramon students in this time of extreme, world-wide need. Working together, we are improving lives, one student at a time!