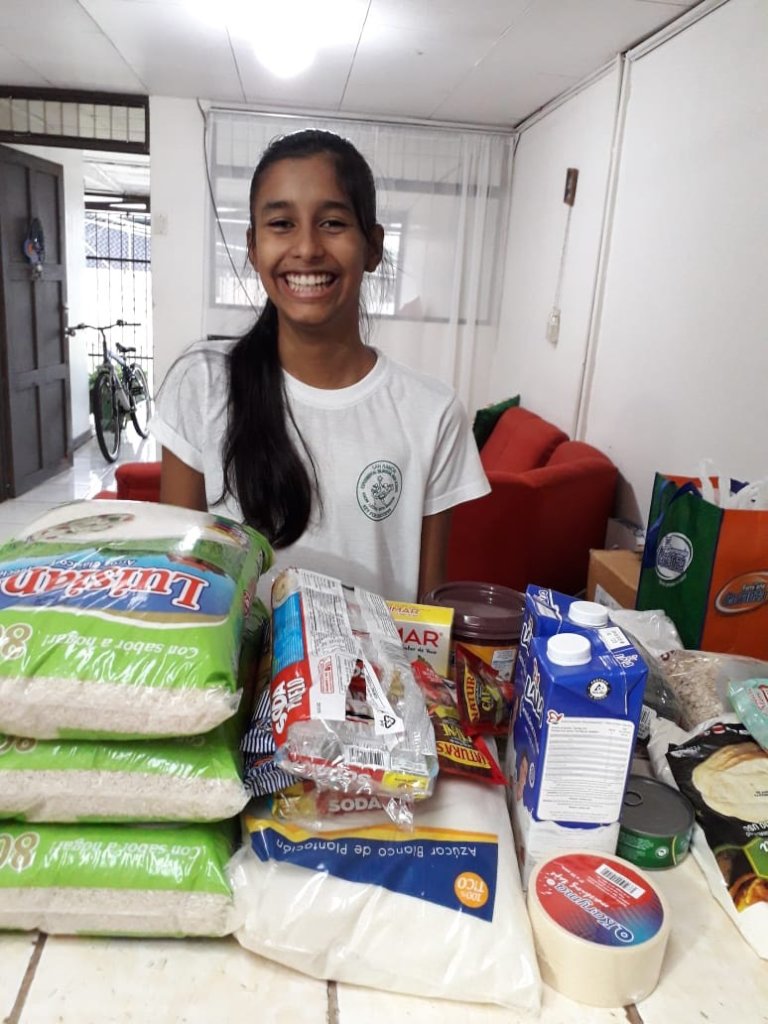 In late July, just before Second Term classes resumed, the Community Action Alliance again awarded educational scholarship vouchers to 27 San Ramon, Costa Rica, high school students and 2 university-level social worker students. We lost 2 students from the First Term because their families had to leave the area. Although students are using distance learning modalities and are not physically on the school campuses due to the pandemic, they still need significant family support given Costa Rica's economic collapse. The unemployment rate doubled to almost 24% and our scholarship families have been even harder hit because most lacked steady employment or access to government assistance programs even before the pandemic.
To meet their Second Term needs, CAA awarded scholarship vouchers to these students valued at 3.251 million colones ($5500). The assistance was structured to provide half for food vouchers redeemable at a local supermarket, and half for school supply vouchers redeemable at a partnering merchant. CAA will continue to provide extraordinary assistance to these students for medical and other student-specific needs between now and the middle of December when the school year ends.
As you can see from the smiles on the faces of the students in the photos, the food assistance was greatly appreciated.
These CAA scholarship students are overcoming significant technical limitations in order to continue their on-line studies. To better assess academic progress, difficulties, and family needs after the First Term, CAA's two university level Program Interns completed telephone and written interviews with the students and their families in June and early July. The Interns were impressed with the resourcefulness of these families in their efforts to overcome their lack of technical resources – intermittent cell-based Internet access, lack of nearby printers, laptops, and disruptions due to storms, etc. Access to cell phones and the Education Ministry's provision of cell-data plans for students has been the difference-maker for many of these students. Many must find a way to download and print assignments/tests, answer the printed questions/problems in long-hand, and then photograph and WhatsApp their results back to the teacher to review/grade. The ingenuity and resilience of these students and families clearly demonstrates the importance of completing a high school education, which can open the next door to university or technical education. These students haven't dropped out; they have "doubled-down on education", and are working hard in these challenging times.
We are so thankful to the Community Action Alliance members who support this educational scholarship program locally, and are especially thankful for our faithful donors through GlobalGiving. Your generous support has enabled CAA to provide these students and their families with over $16,000 in education and food assistance in 2020. Without your commitment, these families would have little food on the table, and some students would have dropped out of school. Continuing our investment in these families is even more important as the duration of the pandemic lengthens, depleting local food-bank resources, and creating even more stress on families.
These families know that education provides the best opportunity to break the cycle of poverty. And, because of your incredible generosity, these families are being provided hope that education can open the doors to a brighter future.