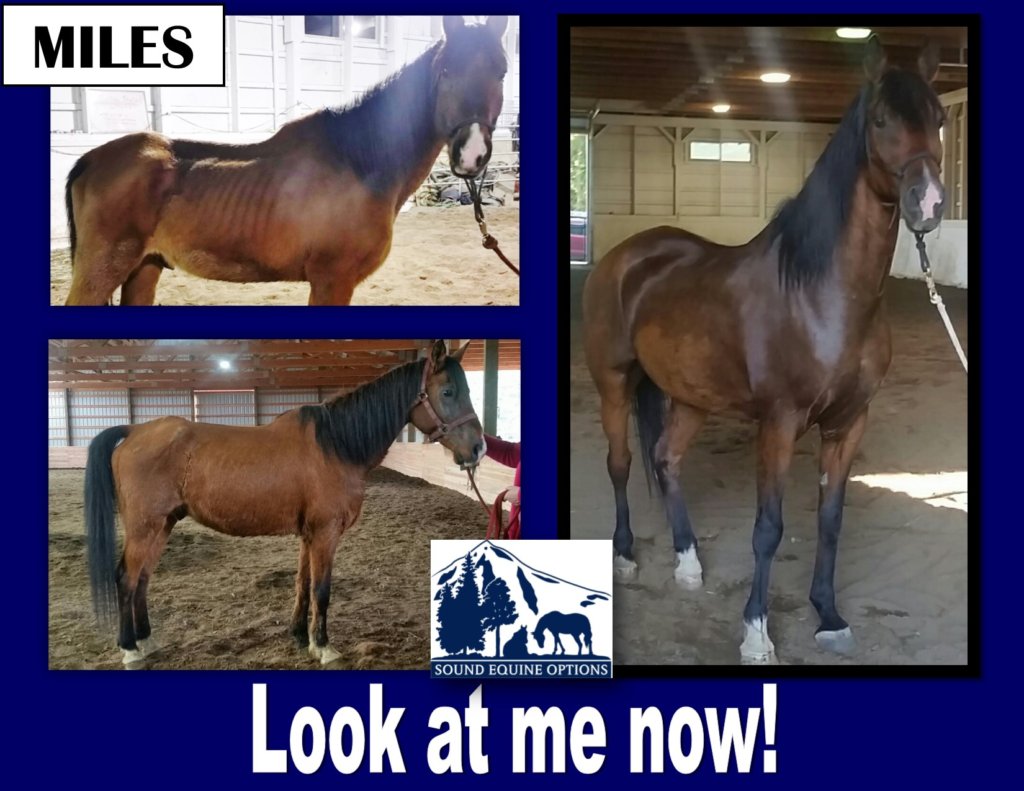 Miles has come a long way since Sound Equine Options rescued him from near death in February 2017. His recovery was touch and go at first, but he's blossomed into a happy, healthy horse. He is now in training for our Lucky 7 Training Challenge and doing very well.
It has taken many months of proper feeding and veterinary care to get Miles to the point where he was strong enough to train. Now it will take many months more to give him the high-quality humane training he needs to become a safe and dependable riding partner for his future forever home. But giving Miles the time and care he needs to heal and train helps insure he will never find himself in a neglectful and abusive situation ever again.
Thank you so much for your generous support. We could not help horses like Miles without it. We wish we could say cases like Miles' are unusual, but unfortunately they are not. It breaks are hearts, but we have to say no more often than we can say yes.
With your continued support, we will say yes to horses like Miles whenever we can. If you would like to help us to say yes more often, please consider making a donation on GlobalGiving's Rewards Bonus Day on Wednesday, July 12th. GlobalGiving will be matching 50% of donations—but only while their $110,000 in matching funds remain—so please donate early!
Learn more about Miles' story at these links:
Miles Rescued by Sound Equine Options https://www.facebook.com/soundequineoptions/posts/10155822662349554
Miles Rescued by Sound Equine Options Day1
https://www.youtube.com/watch?v=t9tMgB0k-BI&feature=youtu.be
The Time & the Care to Heal. The Story of Miles, Part II
https://www.youtube.com/watch?v=9zks29XUcQ0