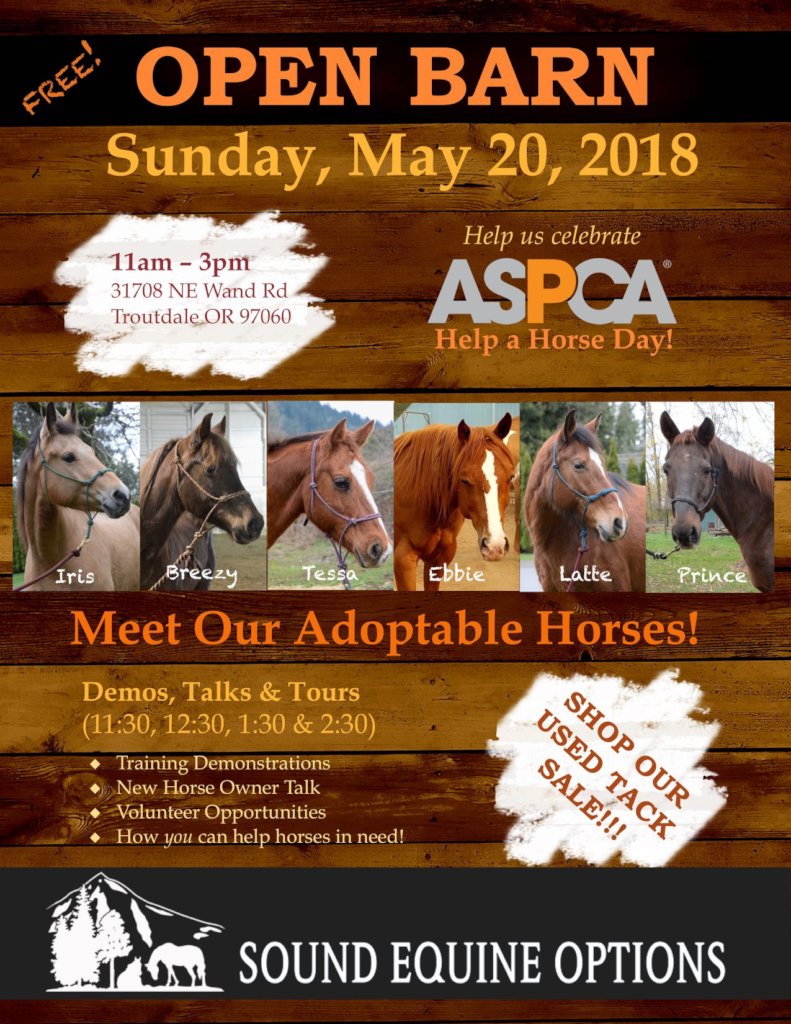 Sound Equine Options Announces its Adopt a Horse: Rescue Your Soul Adoption Campaign
Gresham, Ore — Sound Equine Options (SEO), a Portland-area certified animal rescue, kicks off its Adopt a Horse: Rescue Your Soul adoption campaign today as part of the ASPCA® (American Society for the Prevention of Cruelty to Animals®) national Help A Horse Day contest, competing for a chance to win some of the $110,000 available in grant prizes.
Working closely with its long-time partner, the Oregon Humane Society (OHS), SEO will intensify its efforts to find good homes for horses rescued from neglect, abuse and abandonment during the two-month contest period. SEO is also launching two new programs designed to continue the adoption efforts beyond the contest: Adoption Advocates and New Horse Owner Mentorship.
Several events, including an Open Barn Adoption Event at SEO's training barn in Troutdale on May 20, 2018, and the Celebration of the Horse clinic at DevonWood Equestrian Centre in Sherwood on June 23-24, will highlight the advantages of adopting a rescue horse. Other events include an educational series for horse owners, both new and established, that will cover key aspects of owning a horse, from costs and space requirements to proper feeding, care and training.
Free and open to the public, the Open Barn on May 20th will feature several SEO and OHS horses ready for adoption. People are encouraged to come meet the horses, watch their training demonstrations and learn what it takes to own a horse. The Open Barn also includes a used tack sale.
Motivated by the results of ASPCA equine research suggesting there could be approximately 2.3 million adults in the U.S. with both the resources and desire to adopt a horse in need, Help a Horse Day 2018 is focused on finding more good homes for horses.
"ASPCA Help A Horse Day contest is a great opportunity to raise awareness about the horses we have available for adoption," said Kim Mosiman, SEO's executive director and co-founder. "Winning grant money and finding homes for horses would allow us to help even more horses in need."
SEO hopes to find homes for all 14 of its available horses, as well as commitments to adopt 9 more currently in training, before the contest ends June 30th. SEO currently has 37 horses in its care, including 8 horses rescued by OHS that are in protective custody and 6 that are in rehabilitation.
Although Oregon leads the nation in animal welfare legislation, it lacks the resources to address the increasing numbers of unwanted horses in our area. By caring for abused, neglected and abandoned horses, Sound Equine Options fills a great need not met by local or state government.
"For every law enforcement case we take in, there are approximately 3 more that remain in bad situations because we don't have the resources or the capacity to help them all. That means there are hundreds of horses in our community that are suffering, right now," said Elisabeth Wolff, SEO's president. "Our long-term goal is to be able to say yes to every case OHS or local law enforcement want to bring us."
Winning an ASPCA Help A Horse Day grant will allow SEO to help more horses in need like Miles. Unfortunately, his story is a common one. On February 19, 2017 Wasco County Sheriff's Office asked SEO to assist with the seizure of two severely emaciated horses in The Dalles, Oregon. One horse was too weak to stand and had to be euthanized. The other, a 10-year-old bay gelding that rescuers named Miles, required months of rehabilitation before he could be trained. He was adopted in October 2017.
"My friends have been commenting that Miles is one lucky horse, but I actually really feel that I'm the lucky one," said Erin Milliron-Miller, Miles' new owner. "I'm absolutely in love with this guy. He's a very kind animal, very sweet and loving."
You can see Miles' journey from near death to healthy and loved in this short film by Tory Kelly of Equine Video Productions, Time and the Care to Heal ~ The Story of Miles online at https://www.youtube.com/watch?v=Jd1QUqc7uH8B.
ABOUT SEO
SEO was founded in 2009 to assist the growing number of local horse owners who could no longer afford to properly care for their horses, resulting in large-scale neglect and abandonment. Since then, SEO has grown from a small fund offering low-cost veterinary services to a licensed rescue dedicated to ending the cycle of abuse, neglect, abandonment and suffering for local horses.
SEO's mission is to save the lives of horses through support, education, rehabilitation, training and adoption. SEO cares for anywhere between 40 to 60 horses at a time that had been neglected, abused, or abandoned. Most of these are in our many foster homes, which are the heart and soul of the organization. Last year, SEO rehabilitated and found homes for more than 40 horses. SEO assists with law enforcement cases, often in partnership with OHS.
Sound Equine Options is a 501c3 nonprofit organization that exists solely on private donations, small grants and fundraising. The cost to save the life of one horse, including the veterinary care, rehabilitation and training necessary to find it a suitable, permanent home, averages more than $2,500. For more information about SEO, please visit www.soundequineoptions.org and follow Sound Equine Options on Facebook.
ABOUT ASPCA HELP A HORSE DAY
Founded in 1866, the ASPCA® (The American Society for the Prevention of Cruelty to Animals®) is the first animal welfare organization in North America and serves as the nation's leading voice for animals. Help a Horse Day is celebrated annually on April 26 – a date chosen for its significance in the ASPCA's long history of horse protection. In 1866, ASPCA founder Henry Bergh stopped a cart driver from beating his horse, resulting in the first successful arrest for horse mistreatment on April 26 of that year. Now in its fifth year, Help a Horse Day has been a meaningful way for hundreds of equine rescues and sanctuaries to garner community support for their lifesaving work. Since 2014, the ASPCA has awarded equine groups more than $300,000 in grant funding through the Help a Horse Day contest.
Contact: Kim Mosiman
Phone: 503-888-3933
Email: kim@soundequineoptions.org
Oregon Humane Society