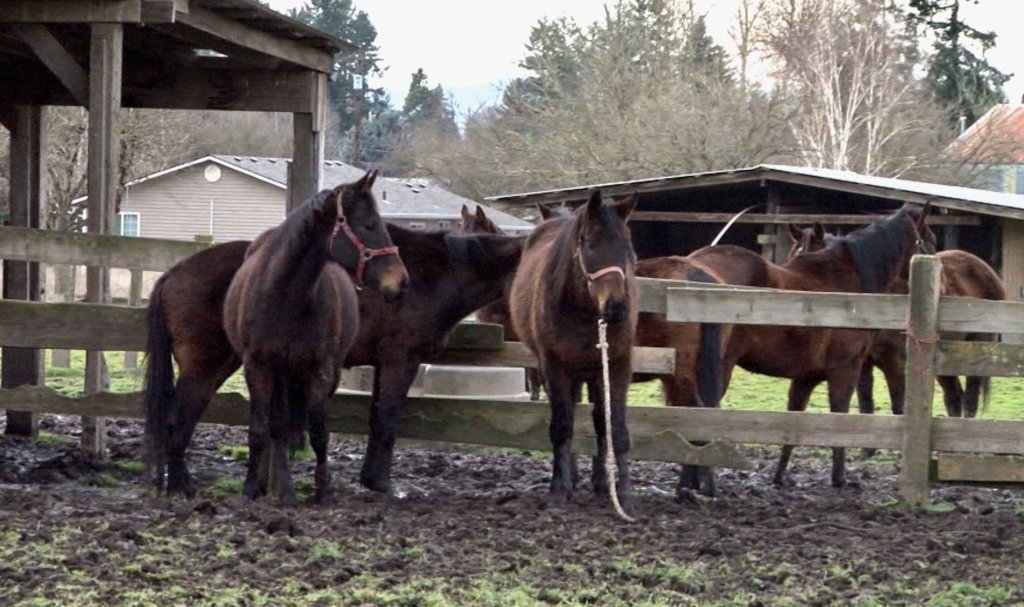 Project "Give Them a Chance" Needs Your Help!
Thanks to continued support from donors like you, we were able to rescue four 8- to 12-year-old Thoroughbreds on January 4, 2018. These horses, two stallions and two mares, had never been taught how to lead. Because they could not be easily caught or handled, they had not received any training or veterinary care, and the stallions had been cooped in dark, dirty stalls for years to prevent breeding.
These horses were in the care of an elderly man in his 80s who has advanced stage cancer. Once a respected breeder, he had planned to get out of horses several years ago, but his son wanted to take over the breeding operation.
After breeding horses for three years, the son changed his mind, so his father was left with the responsibility of their daily care. The father spent years trying to rehome the horses, but no one wanted older, untamed Thoroughbreds. Even after his wife moved to a senior place, he stayed behind to continue looking after the horses as best he could.
When one of our supporters alerted us to his situation, we decided to go see the horses. There were 11 horses on the property. And although they didn't seem horribly undernourished, several needed immediate medical attention. It was also clear the situation was untenable. Although the elderly gentleman was doing the best he could, the cancer had taken its toll, and he deserved to live the rest of his limited time with some peace and comfort.
Although we usually only take in horses coming from law enforcement, we decided to make an exception in this case. We felt that if we didn't start helping a few at a time now, the horses would be in worse shape when we are called in down the line.
Our plan was to take the horses that were in the worst shape or situation first, and then choose one we thought we could train and adopt quickly to make room for the rest. One of the stallions had a very crooked and painful leg, and one of the mares had a large, open chest wound. A second stallion had been confined to a dark, dank stall for years, and we felt it would be inhumane to leave him in that situation. We had hoped to only take three, but we wound up taking four: Dezi, Lincoln, Amelia and Cleopatra.
Other Horses
We had to leave seven horses behind on the property. We hope to be able to go back and get the others as soon as possible, before their elderly owner is physically unable to feed them anymore, but we cannot take in more horses than we can afford to care for properly. Unless we can raise the funds needed to take the rest, we will not be able to take any more until after the ones we have are trained and adopted. That could be weeks, months or maybe a year.
In addition to helping these horses, we would like to give their elderly owner, who has end-stage cancer, a few months of life without physically having to care for anyone but himself. We can only do that if you help us help the remaining horses. Please consider making a donation today.
This video by Equine Video Productions does a great job of showing the situation and many of the horses that still remain. There are three stallions still in stalls and four mares that need to be adopted. But we can't take in any more horses without your help.
https://www.youtube.com/watch?v=HxeG7KQi2y0&sns=fb