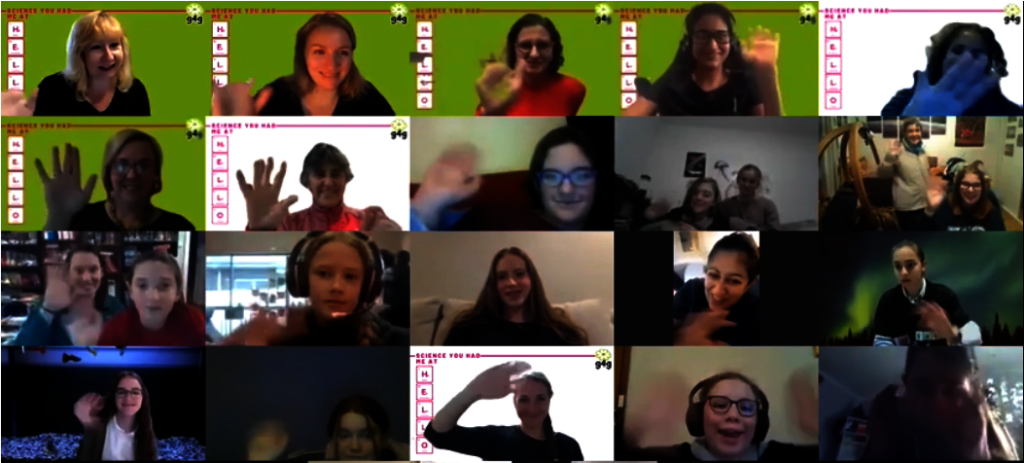 "I was actually one of the very few Asian students at my school and in my background. I was told that girls couldn't achieve anything – and that just made me want to prove myself more because girls can do anything." These were some of the powerful words spoken by one of our broadcast speakers, Sima, who joined us to talk about the importance of being resilient as she shared her story of overcoming racism, bigotry, and loss to study mathematics and become an expert in her field. In addition to Sima, we have had the pleasure to connect 20+ diverse and inspiring role models to 400+ participants during our live broadcast series Science, you had me at hello® on themes of Innovation, Resilience, Creative Challenges, and Exploration during these past few months. And, as always, we are so appreciative to all of our supporters who help us continue to reach and inspire girls in science at all of our virtual events. We are thrilled to say that these now include a broadcast series, g4g TV, science educational kits, intern programs, and career weeks!
Our episode on Innovation brought together atomic ballerina, Merritt, marine analyst, Peta, risk engineer Emma, and creative marketer, Nicola. They told us about their experience, their studies, and shared everything from how to juggle multiple careers at a time, to what it means to be risk-averse, to the importance of believing in yourself. We especially loved the overall message to embrace your doubts while not attention to negative thoughts. The best part was hearing all of the feedback from the girls cheering the speakers on – and our favourite message: "Each word I hear I feel more thrilled to pursue my STEM path. Thanks you all!"
As the summer months turned especially warm, we (virtually) packed our bags to head to Australia to launch a special episode around Exploration in partnership with National Science Week ACT. Inspired by the elements of the world and diversity in exploring our planet, we welcomed optoelectronics expert, Amrita, Superstar of STEM and coastal expert, Jennie, aerospace engineer, Bianca, digital leader, Michelle, and inventor and musician, Christine. Their messages on staying curious and being open to exploration in all we do resonated with absolutely all the girls on the line with us. They encouraged us to find role models who can push us in the direction of our passion or tribe, not being afraid to learn differently or try new things (because the spark for inspiration could come at any time), and remembering that you don't always need to know the solution if you know the path. We loved when one 13-year-old greenlight girl in Canberra, Australia confidently asked them about her passion in science and the environment: what causes the most damage to the Great Barrier Reef? And in your opinion, what is the most interesting recent discovery in the ocean?
We also had the opportunity to work with CDK Global, a leading technology company in the automotive industry, to launch a g4g STEM Challenge Program! Between July 1 and August 6, our program welcomed 65 CDK Global interns with the challenge to help them to bring the technology and innovation of CDK to life. In addition to help building their skills in creative storytelling, collaborating with a team, presenting to an audience, breaking down complex STEM subjects, and more, each team has developed a hands-on experiment and recorded a training video. Our wonderful jury of both executives and children reviewed them and the winning teams shared their journey, inspiration, and more on a special broadcast episode on Creative Challenges.
The best part of focusing on virtual events means that we have an even bigger reach to inspire more girls in STEM. We are excited to share our upcoming collaboration with Canberra Hospital Foundation as we put together g4g TV content including our favourite moments for all our broadcasts so far! Another upcoming project is collaborating with Project Helping and CDK Global to create educational STEM kits for 3,000 children. These are top secret for now – but we can't wait to see the result in a few months! Lastly, we are looking forward to inviting 30 young girls and boys to join a special Career Hackathon Week with AIG where they get to learn how science and technology link to all career paths, especially those at this innovative insurance company.
And what about your g4g team? They are behind-the-scenes making all sorts of fun recordings of hands-on experiments and planning the next events… so keep on the lookout! We already have upcoming broadcasts on the themes of Dynamic, Agility, Future, and more.
Thank you to our donors especially for your constant support to bring our events to life and your generous spirit which helps keep us going!