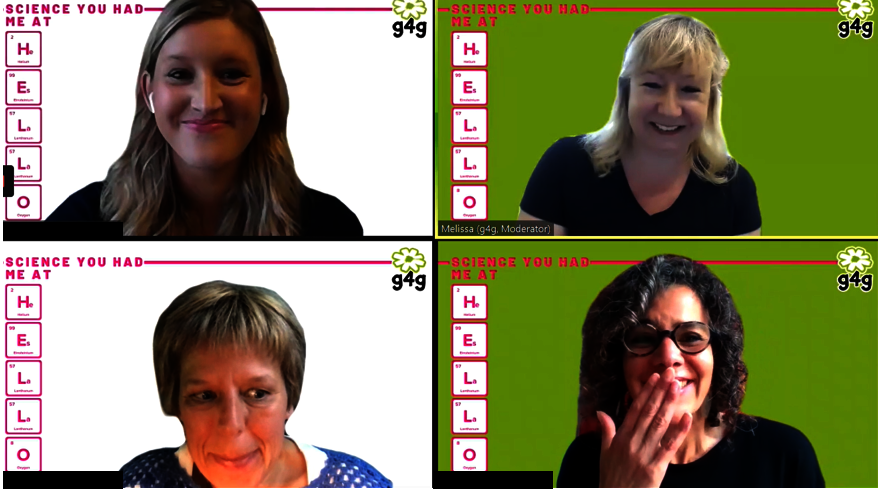 We have been using these exceptional few months as an opportunity to proactively take steps to support our girls and community with new virtual learning and exploration in the STEM subjects. As maybe you have been also experiencing – teachers, schools, families and society overall are all trying to figure out, "How can we help our children to study remotely and stay motivated to learn?" And as our team dove into this same question, we realized we have some amazing ideas!
Without a doubt, our favourite part of this month was the launch of our g4g Broadcast series, Science, you had me at hello® which combines awe-inspiring role models with storytelling. We have found with our own impact studies that a key to inspiring girls in STEM subjects is to provide a community of role models – so why not do more to connect our global network together virtually? In all our episodes, we will connect female scientists and STEM leaders to the next generation of potential engineers, scientists and curiosity-filled young women, especially those who are determining what studies to pursue in university.
We heard incredible stories from a Private Astronaut Trainer and Space Ambassador, an electrical engineer who was the only female engineer working with Solar Impulse 2 – the world's first solar-powered airplane to circumnavigate the globe – and an expert urban developer who works to empower refugee and disadvantaged children through self-paced, motivational electronic tools. We were thrilled that 30 young women, many of them our g4g Ambassadors, joined the broadcast from Brazil, US, UK, Belgium, Netherlands, and more. And, in true g4g-style, we broadcasted a hands-on experiment – in this case, getting our hands messy with some fabulous homemade plastic. We couldn't help but feel inspired by the final advice of our speakers: use science for good, don't be afraid to use your voice, and the sky is never your limit!! Feel free to check out all of our ingenious fun here!
Earlier this month, we introduced a new online portal open to everyone called Science Fun! To share more of the fun and interactive learning, we now have online resources and STEM activities that anyone can do at home. This portal gathers online resources for students of all ages, including videos, podcasts, websites, classes, games, virtual field trips, and more – all about STEM learning. Check it out here!
You are also invited to get creative in our new afterschool laboratory, Science Me Crazy© – a platform which will be offered to schools in-need so that g4g's experiential learning methods can be brought into the classrooms or homes for augmented learning after-school.
While we are diving into all things virtual, our signature events are still being planned for the future. For example, we are excited to prepare for 4 simultaneous events in January 2021 with one of our partners focused on girls in Greece, Spain, Italy, and France!
To all of our wonderful donors, we appreciate your generosity more than ever during this time of uncertainty. Your support has enabled us to put all these exciting virtual projects in place, and it will be with your help that we can continue to do more and more together!
We look forward to sharing even more inspiration with girls around the world as we continue championing our mission in STEM. Thank you!!