Thank you for supporting our organisation and projects which are rooted in campaigning and acting to empower children at risk through providing education.
When as a teenager, our founder Girish approached female sex workers to ask how he could help them they pointed to their children. Resigned to their own fates they wanted better for them, they wanted them to have the education that they had missed out on in the hope that it would give them brighter futures. From that day, when Girish started Snehalaya by teaching two children, education has been at the heart of our work in tackling the broader issues, such as commercial sexual exploitation of children, facing our society. As a donor to our cause we know you believe in the value and power of girls' education.
We established our Balbhavan projects to stop slums from being the recruitment grounds for pimps and brothel keepers and we are proud to report that by promoting and providing educational support there are no longer underage sex workers in our district. Also, thanks to you, last year our team was able to conduct 4,505 home and 2,100 school visits. Through these they identified and counselled 50 school drop-outs to return to education, helped another 308 pupils with their admissions to good schools and colleges and awarded 130 of our brightest evening class students scholarships of financial support for education materials.
We focus our work in areas where girls are at most risk, using education to prevent their exploitation, which is so important when you consider:
27,994 women in India were rescued from trafficking between 2014-2016

There was a 20% rise of women and children trafficked in India in 2016

Only 7% of trafficked women are rescued

80% of trafficked Indians are women and girls forced into commercial sex work

One million Indian women are married before they reach 18

75,000 children in Maharashtra, a large proportion of them girls, don't attend school
Following the success of last year's #StandwithMalala campaign where we reached a staggering 27,000 people, including the uneducated girls and local leaders in our city slums, we are pleased to announce we are once again supporting Malala Fund in a year-long campaign.
Educate, Empower, Lead will engage with girls aged 13-17 at risk or the victims of Commercial Sexual Exploitation of Children, to inspire them to stand up for their rights to their own education. We will also empower them to challenge the barriers to equality in education and give them the dais to advocate for it with key influencers and decision makers.
We aim to reach wider and provide a safe haven, counselling, legal aid, vocational training, education and alternatives to sex work to those living in our own shelter, within five red light and seven slum areas and girls living in other low socio-economic communities through our 18 empowerment projects and focussed outreach work. We'll also be promoting and opening up opportunities for further and higher education and vocational training through our own projects and in collaboration with local authorities, NGOs and educational institutions. The aim is to use education to fight the commercial sexual exploitation of those at risk from opportunists.
Too many girls like Deepa, orphaned when her mother died of a HIV-related illness, are forced into prostitution. She was 15 when we rescued her from a brothel and re-enrolled her in school, today she is a fully-trained nurse.
"Educate a girl and you educate a whole community"
Malala Youszafi
One of the girls who joined us on our previous Malala campaign trail to share her story is Saba, who will be joining us again as a peer mentor to help us deliver this new campaign.
Saba lives in a predominantly Muslim slum with her widowed mother and four siblings. When her father's family started applying pressure on her to get married it was our team she approached. As our staff are drawn from and based in these communities, they are best placed to understand and address culturally sensitive issues and provide solutions. They counselled and helped Saba convince her family that she should be allowed to pursue her dream of studying engineering. She has just entered her second year of a degree course and has become our own personal Malala, inspiring others to stand up for their rights to a full education.
There are still many more children who need our support, stand with Malala and Snehalaya today and help us to reach further to prevent the commercial sexual exploitation of girls through education.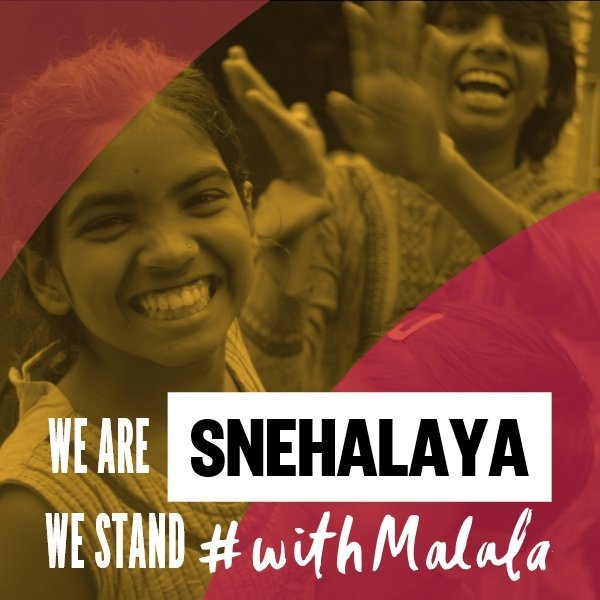 Links: