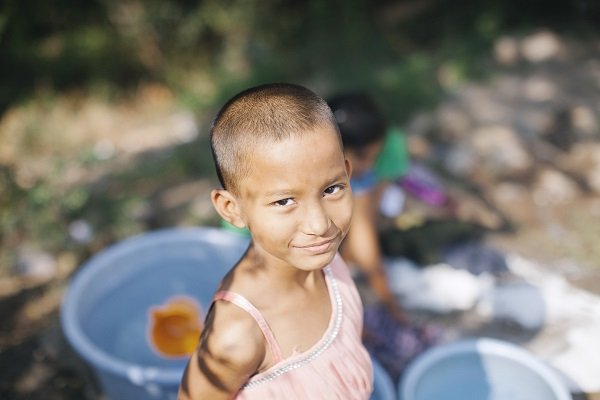 We know you have chosen to support our organisation because you believe in equality in education. While many of our girls are now receiving regular schooling for the first time, your support is also helping us to find alternative ways for others to continue their education, build confidence and gain independence. Here we use the words of education activist, Malala Yousafzai to show you exactly what your support means to our girls.
Let us make our future now and let us make our dreams tomorrow's reality – Malala
Growing up in a small village, Kavita dreamt of leading a self-sufficient life with a loving family and doting husband. While studying to become a teacher, she became friends with Anil. When their friendship turned into love they decided to marry and it seemed her dreams would be realised. However, Anil's family was against the relationship based on the poor financial status of Kavita's family and refused the union.
Unable to marry Anil, her family arranged her marriage to another man. Unknown to them, he was undergoing treatment for psychological problems and soon started harassing her mentally and physically. As the atrocities became worse Kavita could bear it no more and she fled to her father for help. Unable to support her, he brought her to Snehalaya where she was provided shelter, food, clothing, psychological support and legal aid. She soon started working with us to help support other women however she still dreamt of being independent so we encouraged and supported her to continue her studies. With your help, Kavita is currently studying for the civil service examination that will provide her with a well-paid government job and the self-sufficient life she dreamed of.
We call upon our sisters around the world to be brave - to embrace the strengths within themselves and realize their full potential – Malala
When Sanika was born with a birthmark and hair growth on the skin around her right eye, her illiterate mother believed she was cursed by evil spirits and took her to an assortment of holy men to 'cure' her. When Sanika was about 8, one sadhu advised her mother to leave her at an orphanage, but none would admit her because of the birthmark. When he heard this story, our founder Girish immediately agreed to give her a home at Snehalaya.
Unsurprisingly, when she arrived she was suffering from an inferiority complex and was embarrassed by her appearance. She was encouraged to focus on her studies and by doing so her confidence began to grow. She became a model student, popular with her class and dormitory mates, and joined in with many extracurricular activities. Her hard work paid off with excellent marks in her 10th standard exams which meant she could enrol in college to study commerce. One of our supporters, a chartered accountant, seeing the potential in Sanika, is providing extra tuition which is bringing about great results as her skills and results continue to improve and she will soon take her final year degree exam after which she plans to become a bank officer.
With your support, we are helping many like Sanika to focus on education to rise above discrimination and ignorance and achieve their full potential.
If you don't focus on the future generation it means you are destroying your country – Malala
Nikita was just three when our Childline team found her at a railway station, unable to find her family they brought her to our shelter home. When she started school her teacher, Reshma, noticed that she was isolating herself from the other students, avoiding joining in with activities and not listening in class. Slowly, she won her trust sharing how she too had lost her mother at an early age, which helped create a bond with the youngster allowing her to gently suggest how she could to improve her behaviour. Now aged 10, the difference in Nikita is pronounced, her confidence has grown, she follows the school rules, she joins in more, her marks have improved significantly and she recently gave a presentation to 300 students and teachers!
Your support is giving our youngsters the confidence to build the best possible futures, regardless of their past experiences.
Thank you for helping all the Kavitas, Sanikas and Nikitas to secure the education that will allow them to thrive in life.
Links: