As lock down continues here in India with school remaining closed, unfortunately despite our precautions we had a small outbreak of COVID 19 in our Rehab Center where half of our 200+ children are HIV+. Fortunately, this was predominantly among staff and older children who were immediately isolated and all of whom have recovered. It was a great reminder to continue to keep our guards raised to prevent a more serious outbreak. We hope you are also weathering the pandemic and continue to stay safe and strong.
It is at times like these that your support means so much. You are helping some incredible girls, half of whose mothers are sex workers and half who are HIV+. Despite the hardships they endured before they came to our shelter home they are confident and ambitious and take their studies very seriously. We are incredibly proud of their resilience and dreams to live the successful lives you are helping create through your belief in them.
We want to share the story of one of these amazing girls. Harshal is a 16 year old orphan who came to live at Snehalaya when she was five years old. With your support she completed her 10 Std at our Snehalaya English Medium School earlier this year. She is also an incredibly talented dancer who loves performing on stage at our annual events and festival celebrations.
In January this year she started complaining of a pain in her leg. We took her to hospital for examination by a doctor who misdiagnosed her condition. Sensing there was more to it we took a second opinion and it was recommended she have a biopsy to rule out cancer. As she is HIV+ it was difficult to find a doctor willing to do this and when we finally did the biopsy came back clear. The pain continued for Harshal and we realized that maybe the first biopsy had not gone deep enough and insisted that another one be done by another doctor. This one confirmed our worst fears, she had cancer in the bone of her leg and the best option was to amputate to prevent the spread to other parts of her body.
We had to share this news with Harshal just as Corona virus was beginning to take hold in India and also just before her 10 Std exams. She bravely accepted that her leg would have to be removed and said: "I would rather live without a leg than die".
As we continued to search for doctors willing to treat her, she bravely fought the pain to sit her exams. Soon she was unable to walk, and was relying on a wheelchair to get around. Fearing COVID 19, we also took the decision to isolate her in our on-site hospital to prevent infections. With the country going into total lock down and limited medical expertise in our city to treat Harshal we started looking to Mumbai and Pune for help. The sad fact is that not many doctors are willing to take the 'risk' of operating on someone with HIV. When we did find a doctor in Mumbai, travel restrictions meant we were unable to reach the hospital.
Time was passing and the threat of the cancer growing and spreading was becoming very real. At last we found a doctor who recommended she undertake chemotherapy. Harshal endured this, losing her hair in the process but also the pain subsided. Unfortunately, the cancer was stubborn and the pain returned. Another doctor recommended another round of chemo which again Harshal took in her stride. Again this didn't work. Finally, last week Harshal's leg was amputated. She is now recovering in hospital and it is a testament to her fighting spirit that just over a week after her surgery, yesterday she managed to stand on own.
What is even more incredible is despite the pain and trauma she was going through during her exam period, is that she was not only one of our 10th Standard class that secured a 100% pass rate, she was also the top scoring girl achieving 72%.
We are so incredibly proud of her fighting spirit and determination, she has been smiling through the pain since her initial diagnosis and has been so patient over the eight months it has taken since diagnosis to finally get the treatment she so desperately needed. She is an inspiration to our other girls and last Saturday, in celebration of International Day of the Girl Child, her best friend Anuja requested to speak with this year's 10 standard class to inspire them to study as hard as Harshal.
We know that children all over the world are struggling to continue their education during lockdown and although everyone is facing different challenges, we hope that Harshal's story is an inspiration to them to do their best to persevere with their current situations. We also hope you take comfort that the support you offer is paying off with girls like Harshal focused on their futures despite the hardships they face. Thank you so much for giving your support to all our girls, it really does mean the world to them.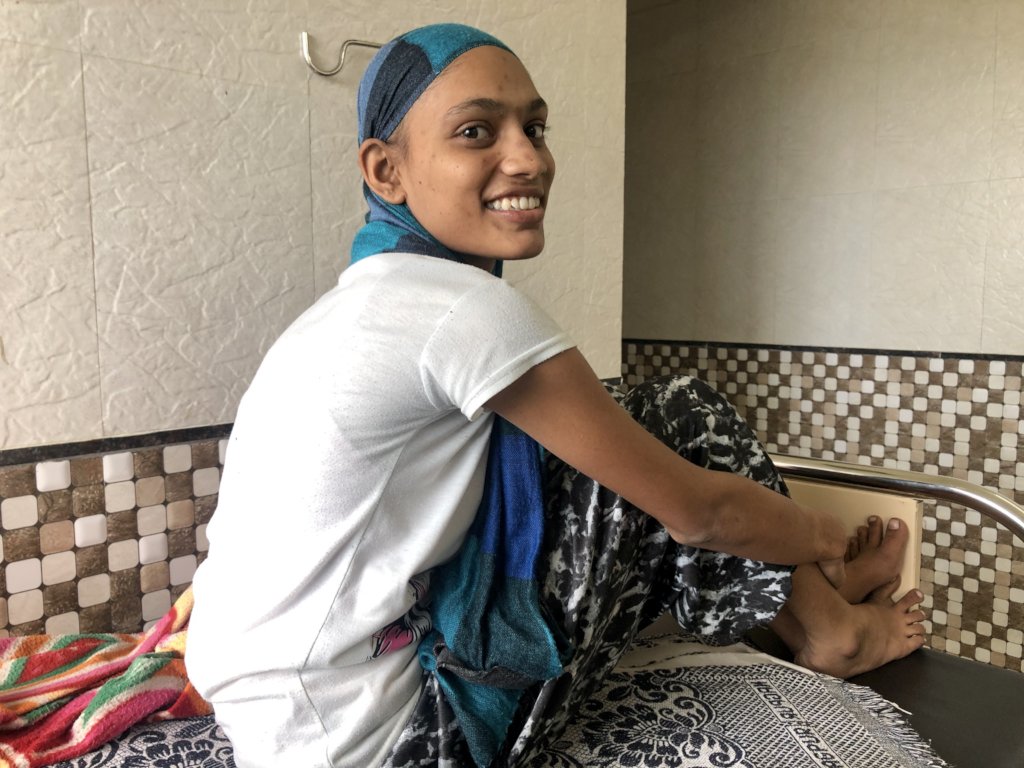 Links: