Girl's education November 2018
As 2018 draws to a close we would like to thank you for all the support you have given to our girls this year.
Empowering women and girls through education is at the heart of what we do and we are constantly striving to improve our provision. We do this by monitoring and evaluating our projects, children's achievements and the development of our staff through teacher training.
Helping us is former volunteer and Snehalaya UK trustee Sarah. A special education needs teacher in the UK she has been visiting our Indian projects regularly since 2010 and is committed to helping the teachers who work in our own school, slum community centers and our Rehab Center. Through her own fundraising she has been able to develop and deliver a programme of teacher training, bringing educational specialists and teachers from the UK to share best practice with our Indian staff. This has included a range of areas including classroom management, activity-based learning and special education needs. Our teachers have embraced everything they have learned and while they are always enthusiastic and keen to introduce new ideas to improve the education of our children nothing beats seeing it in practice.
Which is why, this October Sarah secured the funds to allow her to host three of our teachers, Jayashri, Bhakti and Varsha, from our English Medium School and Sangeeta, the Education Coordinator for our slum schools, and arrange for them to spend a full two weeks based in four UK schools. Over the fortnight, they were able to visit a special education needs school, two primary schools and one academy, as well as after school activity clubs, giving them a good breadth of experiences to draw upon. They shadowed teachers, delivered their own cultural program, learnt more about lesson planning and preparation, use of technology, feedback and reporting but most importantly were able to see for themselves what they had previously learned being put into practice in UK classrooms.
The teachers were selected based on an application, interview, their vision for their own classrooms and their commitment to their pupils and our education projects. For us it was important that they saw how integrated and equally treated children are regardless of gender or learning abilities. It's also really positive that the exchange so far was been led by women, helping to create role models and inspiration for our girls who dream of travelling the world to develop personally and professionally.
As 14 year old Tamana said: "I am so proud that my teacher Bhakti was chosen to visit the UK, she is a really great teacher and will come back with some good ideas. Next year can we send the children as well?"
The teachers really threw themselves into the hectic and intense schedule, fuelled by their passion and commitment to get the best out of the experience to serve our children better. It's wonderful to see them already implementing what they saw and sharing their experience with their colleagues and we have seen improvements in the behaviour, concentration and understanding of their pupils as a result.
As 24-year-old Jayashri , our 8th Standard and maths teacher, says: "This was the opportunity of a lifetime to visit the UK and see how teachers work there. I learned many new things and am excited to start putting what I've seen into practice with my own students."
Sarah will be visiting our projects in India again at her own expense in a few weeks to evaluate the effectiveness of the exchange and all being well we will repeat it with some other teachers next year. And who knows, with your support maybe we can send Tamana and her friends too!
Help us continue to provide a meaningful and professional education to our girls. Give before 31 December and we could qualify for bonus prizes as part of Global Giving's End of Year Giving campaign.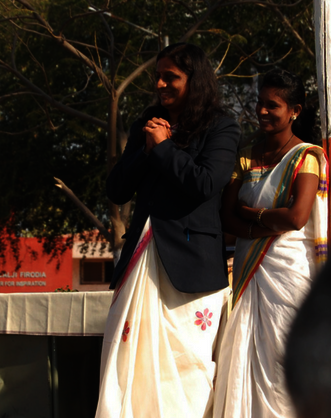 Links: