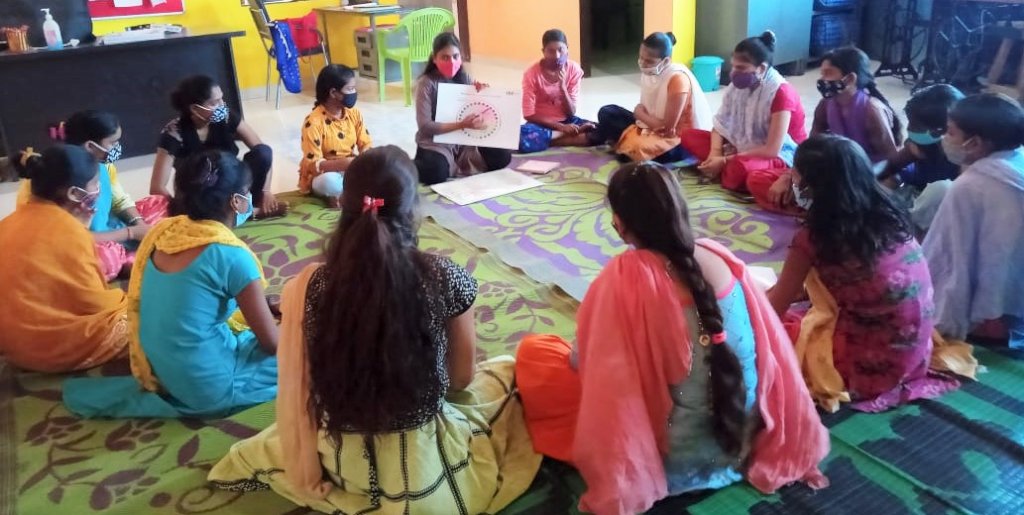 Dear Friends,
Greetings from the Indian Dreams Foundation!
Firstly, we would like to extend our thanks to you for supporting our project and helping us to touch more lives through the SMILEY DAYS project and realizing every girl has the right to smile and lead a healthy life.
Today we would like to share some testimonials of the beneficiaries that we have recently collected on Menstrual Hygiene Day. However, our team collected few handwritten notes via testimonials of the girls that were written in the local language by the girls only. We celebrated MHD 2021 at our Women's Centre with a group of adolescent girls and made them aware of menstrual hygiene management and healthy practices during periods. The girls have shared their experiences with us and also shared that how the Smiley Days Project has positively impacted their lives.
Tanisha (name changed), who is 13 years old, has written "I often visit IDF's center and today is my third time. I like to come here and spend time with DIDI (IDF's staff). Today I have learned a lot about periods. Now I call periods days my Smiley days. A few months ago during the lockdown, I got my periods 1st time but with the help of Smiley days team, I was successful to manage my menses with pride".
Meena (name changed), 18 years written, "Today I felt very happy to get more information on menstruation during the workshop organized by Smiley Days team, I got knowledge on menstruation cycle, periods are very important for every girl because it makes us capable to give birth to another life. I also informed about 28 days menstrual cycle. So that next time I can track my periods date and will do preparation for that accordingly. Smiley Days project is really a nice project to make girls and women informed and knowledgeable".
Lalita (name changed) 34 years old married woman, she is having four children. She married at the tender age of 16 with an illiterate daily wages worker. Her husband is abusive and alcoholic who used to quarrel with her regularly. Lalita attends awareness workshop regularly and teaches the same knowledge to her daughter who is 12 years old and recently, got her first menstruation during the first Covid wave lockdown. Lalita taught her daughter about the importance of periods and how to manage them. Lalita learned all these things during Smiley Days workshops.
On 28th May, we called some girls and women at the women's resource center to celebrate International Menstrual Hygiene Day. Lalita also attended the celebration and was surprised when she knew that menstruation is celebrated in the entire world with enthusiasm. She felt really happy and realized women are important for everyone. That day, she proudly said, "I am proud of myself to be a woman or not even a woman but a menstruating woman. Thanks Smiley days team members who spreading love, happiness and motivation to among adolescent girls and women".
There are many girls and women who have shared their testimony with us and it is our pleasure to share with you those stories.
Once again thanks to all supporters and well-wishers for joining hands with us and supporting this project to transforms the lives of many girls.
Thanks & Regards,
IDF Team