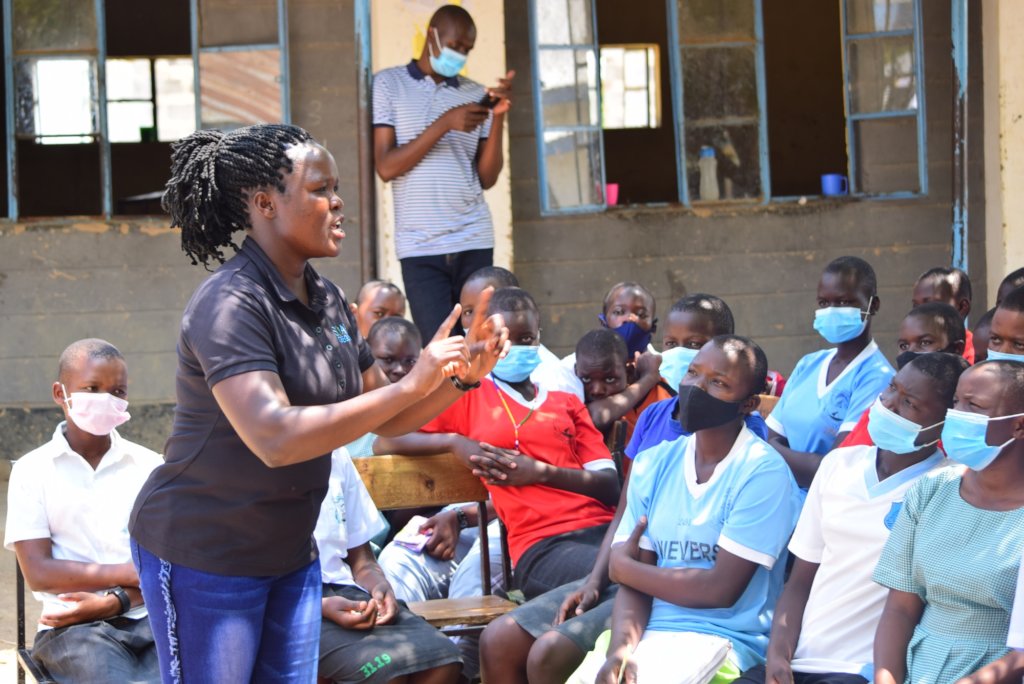 This project encompasses two great projects dubbed "Women's Empowerment Project" and "Rescue Centre". The Women's Empowerment Project endeavors to eradicate the education barriers that prevent girls from regularly attending school and to empower them to achieve their full potentials. This project targets 600 girls in both primary, secondary and tertiary levels of education. On the other hand, the Rescue Centre helps in supporting young girls who have been sexually abused, forced into early marriage, and physically assaulted through domestic violence in the community, with a safe space away from the perpetrators of such heinous acts.
These two projects under the Girls for the Future aim to:
1) Recruit vulnerable women who had dropped out of school to join apprenticeships and boost their business to cater to their daily needs and support their children's education.
2) Train women on business skills and record-keeping through linking up with the Institutions doing financial literacy education.
3) Empower women through well-organized groups where they get necessary skills and knowledge from those who are now pioneers of their businesses.
4) Incorporate the Family Matter program to equip women with the knowledge on family matters to avoid domestic violence in the community.
5) Enrol those who have acquired relevant skills in the program at National Industrial Trade Authority (NITA) examination for certification.
6) Provide start-up kits to those in the apprenticeship programs after completion and also boost businesses of women who have been trained on how to manage their finances and record keeping.
7) Attach the women to different institutions to acquire more knowledge and skills and gain experience in the current business world.
8) Create market linkages and referrals to women with already existing businesses to earn income.
9) Organizing for exchange tour visits with other institutions to know the currently trending businesses and readily available markets to the women's products.
10)Create employment opportunities in the community for other women.
11)Provide psychosocial and Counselling support to the survivors
12)Create awareness on gender-based violence and children's rights
13)Conduct Reproductive Health and empowerment Seminars
14)Offer Alternative Family Based Care (AFBC)
15)Support in crafting of Skills work
Activities Progress
Within 6 months, a total of 72 young women have been empowered in different entities. So far, 20 girls have undergone training in an apprenticeship program which entails hairdressing, beauty therapy, and tailoring in which; 13 have proceeded on industrial attachment while 7 transitioned out of the program and are now earning income to support their families' meet basic needs. The 13 girls have been enrolled for the NITA examination which they shall be examined in December 2021. Furthermore, 52 women have been empowered to start or expand their businesses which through continuous monitoring by the program team are progressing well. Currently, they are involved in Village Savings and Loaning Association where they come together and share their experiences in businesses and be trained on financial literacy education.
The program has carried out 3 rounds of assessment with 2 different Tutors from different institutions that is Pambo Hairdressing and barbering, and Vera Beauty College. The assessments covered various units of the course. The apprenticeship girls had an opportunity to learn from an exchange visit to Glovance hair and Beauty salon located in one of the urban towns within the program operation area.
With numerous networks and linkages to various institutions, 3 girls have secured jobs in which they are earning some commissions hence the ability to cater for the necessities. A girl has secured a place in one of the vocational training centers where she is currently on an internship program as a Tutor and 2 girls have been placed in the best salons in town where they have improved on other techniques on the job.
Currently, we are mobilizing 40 more women to join the apprenticeship and women empowerment program where 29 women who have joined the project while screening for more recruits is ongoing.
The program is currently creating market linkages to women that had their businesses boosted which has motivated them to do more to double their profits by diversifying in other products that were not part of the initial startup.
Undertook the 483 caregivers through Family Matters Program to train them on how best to take care of their adolescence since it was realized that most of the parents have neglected their duties of discussing sex-topics with their children and as well impacting their values to them not knowing that they are the first teachers to their children.
Through the Rescue Centre, a trained teacher was attached to the 21 girls to help with their studies as they are being rescued while awaiting their court cases. The 21 girls were also taken through skills works which involved modeling using newspapers as this makes them realize and nature the different talents. We also supported one girl to join hairdressing and beauty therapy since the girl had dropped out of school and was not finding it easy going back to classwork.
Through reproductive health seminars, 637 AGYW (adolescent girls and young women) in schools were through healthy talks on how they can handle challenges faced at adolescence stage and as well on menstrual hygiene.
Continued offering trauma and psychological counseling to the 21 SGBV survivors due to effects caused to them by perpetrators where some were close family members which enables them to open up and narrate their experiences.
The 12 orphans who are on ART are still supported through the Alternative Family Based Care (AFBC) homes to get the full basic needs necessary for their moral support and also enforce adherence to their drugs hence eliminating frequent sicknesses during their stay at AFBC, and also supported access learning in public schools
Through linkages with other partners, 3 girl's victims of sexual violence were linked to Rehema Girls Rescue Centre based in Nairobi for further management and empowerment. Rehema Girls Rescue Centre strives in supporting victims of SGBV that become pregnant by providing two years of skills training in tailoring, hairdressing, weaving, kneading, and jewelry.
In partnership with the APDK (Association of People Living with Disability in Kenya) Mombasa branch, the program supported referrals for 7 girls and 1 boy PWDs (People With Disabilities) for corrective surgeries. While 6 have successfully been operated on and undergoing physiotherapy sessions, 2 are awaiting surgeries being that they were recently identified from the community and linked with APDK
Challenges
Inadequate funds to fully purchase all the training materials for the girls to enable them to catch up with the new trends in the markets
Girls on attachment experience challenges in handling the new machines as it's their first time experience with that kind of technology.
Women involved in businesses have challenges in getting the raw materials, this is because the cost of the materials and goods has gone higher due to the economic situation in the country brought about by COVID19.
Girls in the apprenticeship program who have young children from 2 weeks old have a challenge in concentrating on their training, as there is no baby care where they can leave their children and attend classes without any interference hence concentrating too much on their babies missing some sessions.
Online marketing is the current trend means of doing business in the country; this has affected the local businesses and most women are also not able to access and use the internet or social media.
The high cost of goods has also posed challenges on current businesses hence whatever the women are provided with is not adequate to fully make them strong in their families to meet full family needs.
In cases where the fathers are the perpetrators, some mothers tend to tune the girls so that they do not admit that it was their fathers who raped them to protect their marriages
There are so many cases of SGBV at the court and so they tend to take too long before they are solved until the rescued lose patience hence imagining that they will never be reunited back to their families
The COVID 19 pandemic has also created a negative impact on our girls since most of the girls became pregnant countrywide and some ending up getting into early marriage due to poverty. There were also cases of lost and found and physical assault as well. Most of these cases were solved at the village level due to lack of awareness and as well poverty.
The stigma attached to disability resulting in discrimination especially on children with disabilities
Ignorance and lack of knowledge of the caregivers/ community hence resulting in the low self-esteem of PWDs
Misunderstandings about disability such as assumptions that disability is a curse punishment for bad behavior
Special vulnerability for females with a disability as compared to their male counterpart
Next quarter activities