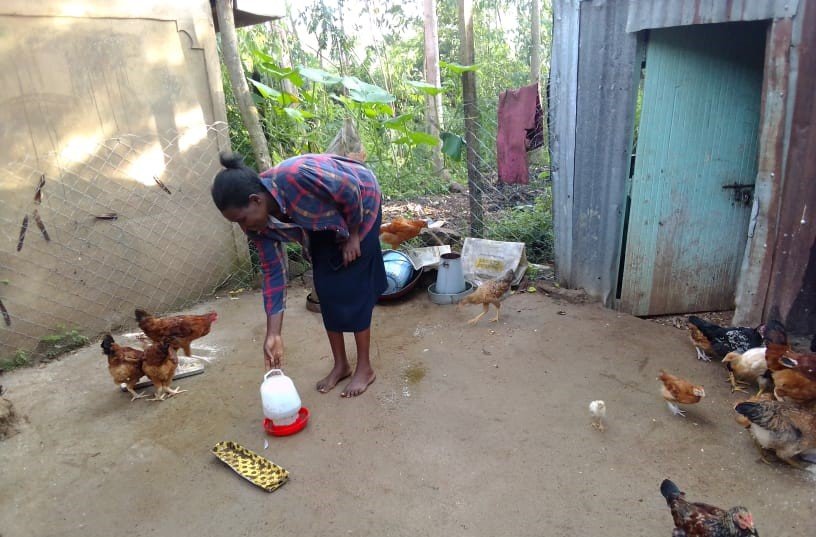 This project encompasses two great projects dubbed "Women's Empowerment Project" and "Rescue Centre". The Women's Empowerment Project endeavors to eradicate the education barriers that prevent girls from regularly attending school and to empower them to achieve their full potentials. This project targets 600 girls in both primary, secondary and tertiary levels of education. On the other hand, the Rescue Centre helps in supporting young girls who have been sexually abused, forced into early marriage, and those physically assaulted through domestic violence in the community, with a safe space away from the perpetrators of such heinous acts.
These two projects under the Girls for the Future aims to:
1)     Recruit 112 vulnerable women who had dropped out of school to join apprenticeship and boost their business to cater for their daily needs and support their children's education.
2)     Train women of business skills and record-keeping through linking up with the Institutions doing financial literacy education.
3)     Empower women through well-organized groups where they can get necessary skills and knowledge from those who are now pioneers of their businesses.
4)     Incorporate the Family Matter program in our project so that women can be well equipped with the knowledge of family matters to avoid domestic violence in the community.
5)     Enrol those who have acquired relevant skills in the program at National Industrial Trade Authority (NITA) examination for certification.
6)     Provide start-up kits to those in the apprenticeship programs after completion and also boost businesses of women who have been trained on how to manage their finances and record keeping.
7)     Attach the women to different institutions to acquire more knowledge and skills and gain experience in the current business world.
8)     Create market linkages and referrals to women with already existing businesses to earn income.
9)     Organizing for exchange tour visits with other institutions to know the currently trending businesses and readily available markets to the women's products.
10)    Create employment opportunities in the community for other women.
11)    Provide psychosocial and Counselling support to the survivors
12)    Create awareness on gender-based violence and children's rights
13)    Conduct Reproductive Health and empowerment Seminars
14)    Offer Alternative Family Based Care (AFBC)
15)    Support in crafting of Skills work
 Activity Progress
Within a period of 6 months, the project trained 11 girls in different courses such as tailoring, hairdressing, and beauty therapy coupled with training on computer skills (hardware & software, Microsoft Office suite, publishing, and basics in Web design)

Carried out another round of assessment by a Tutor from Vera Beauty College. The girls were assessed on all the units of the course. Currently, the girls are attached to various institutions to gain more experience and earn a living as they await enrolment of the NITA examination.

With follow-ups from girls who completed in the previous year, one girl has established her own beauty shop, with five girls on catering linked to various learning institutions for further studies. A girl sat for her NITA examinations for certification.

Currently, we are mobilizing women to join the apprenticeship program and so far we have 72 ready to join the project while screening for more recruits is ongoing

Conducted formal learning to girls at the Rescue Centre, by a trained teacher which enables them to stay safe and catch up with their studies. Moreover, they are also taught skills work e.g. modeling using newspapers making as it was realized that some of them are talented in skills work

A lot of reproductive health seminars have been held to help take the adolescent girls through healthy talks on how they can handle the adolescence stage

Continued offering trauma and psychological counseling to the SGBV survivors due to the effects caused to them by perpetrators where some were close family members which enables them to open up and share their circumstances.

The orphans who are on ART, are still supported through the Alternative Family Based Care (AFBC) homes so as to get the full basic needs necessary for their moral support and also enforce adherence to their drugs hence eliminating frequent sicknesses.

Undertook the caregivers through Family Matters Program in order to train them on how best to take care of their adolescence since it was realized that most of the parents have neglected their duties of having sex talks with their children and as well impacting their values to them not knowing that they are the first teachers to their children.
Challenges
Covid-19 interfering with our calendar events i.e NITA examination.

The residential area for the women undergoing different courses in the program remains a challenge with their babies.

Inadequate funds to meet the high number of vulnerable women in the community.

Inadequate training materials hence not able to do other units which are required for full completion of the course.

High market demand which our women have not achieved

Inadequate funds to boost women's businesses targets hence transition period becomes too long.

In cases where the fathers are the perpetrators, some mothers tend to tune the girls so that they do not admit that it was their fathers who raped them in order to protect their marriages

There are so many cases of SGBV at the court and so they tend to take too long before they are solved until the rescued lose patience hence imagining that they will never be reunited back to their families

The COVID 19 pandemic has also created a negative impact on our girls since most of the girls became pregnant countrywide and some ending up getting into early marriage due to poverty. There were also cases of lost and found and physical assault as well. Most of these cases were solved at the village level due to lack of awareness and as well poverty.
Next quarter activities
Recruitment of women to join the apprenticeship program

Conduct assessment on the units covered by each course

Involving vulnerable women who have been identified in the community that have been affected by Sexual gender-based violence in the apprenticeship program

Strengthen the incubation and entrepreneurship center/resource center

Taking parents through families matter program for good parenting purposes

Registering women for their NITA examination

Offering psychosocial support to women in the apprenticeship program

Training of business skills and boosting on business ideas to women

Offering psychosocial and adherence counseling to children at the AFBC

Organizing reproductive health seminars for adolescents

offering trauma and psychosocial counseling to the rescued team to curb stigma and trauma

Offering formal learning and skills work

Providing sanitary packs to the girls

Conducting health outreaches

Creation of awareness on children's rights and gender based violence