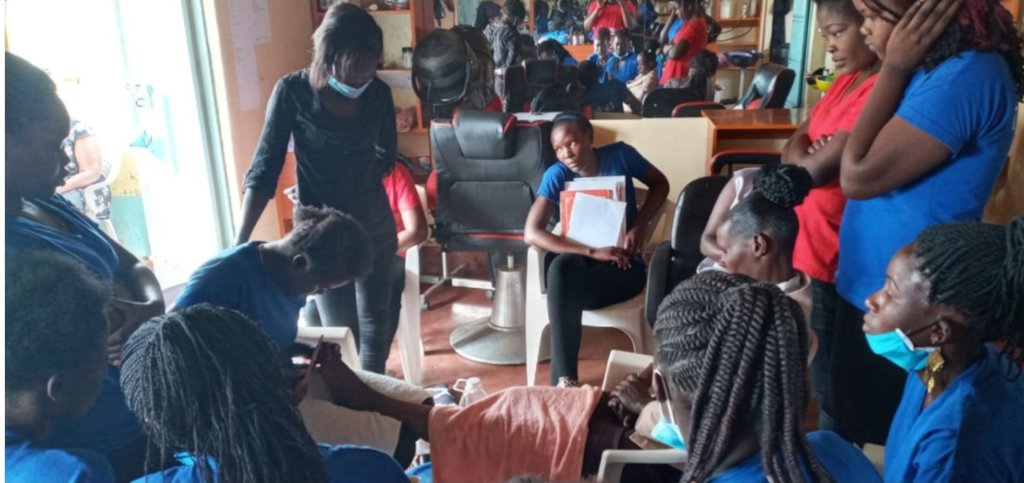 PROJECT SUMMARY
The Mango Tree Orphan Support Trust Kenya is currently implementing a "girls for the future" intervention in North Rachuonyo Sub-County.
This project encompasses two great projects dubbed "Women's Empowerment Project" and "Rescue Centre". The Women's Empowerment Project endeavors to eradicate the education barriers that prevent girls from regularly attending school and to empower them to achieve their full potentials. This project targets 600 girls in both primary, secondary and tertiary levels of education. The Rescue centre helps in supporting girls young girls sexually abused, forced into early marriage, and those physically assaulted through domestic violence in the community by providing them with a safe space away from the perpetrators of such heinous acts.
These two projects under the Girls for the Future aims to:
1) Recruit 600 vulnerable girls who had dropped out of school to join an apprenticeship so that they will be able to meet their family's basic needs.
2) Equip the girls with knowledge and skill in computer applications.
3) Create linkages to the various job markets and provide opportunities for business start-ups.
4) Provision of start-up kits after completion of the apprenticeship program
5) Enrol those who have acquired relevant skills in the program at the National Industrial Trade Authority examination to acquire certification.
6) Provide psychosocial and Counselling support to the survivors
7) Create awareness on gender-based violence and children's rights
8) Conduct Reproductive Health and empowerment Seminars
9) Offer Alternative Family Based Care (AFBC)
10) Support in crafting of Skills work
Activity Progress
Within a period of 6 months, the project trained 20 girls in different courses such as catering, tailoring, hairdressing and beauty therapy. During their course period, they have a session of computer classes that all of them attended and they are well equipped with the skills.
Carried out an assessment through the support of a Tutor from Vera Beauty College (a well-known College in Kenya producing skilled students in Hairdressing and beauty therapy). The assessment was well done on all units of the course. Currently, the project plans have another assessment done in preparation for the girls' graduation.
The girls who completed and graduated in the previous year have been attached and are now earning income and supporting their families with the businesses they are doing which are related to what they learned in apprenticeship.
Attached 3 girls who did catering in the best hotels around for attachment and got relevant knowledge and skills. These girls have started earning an income because they are now invited for catering services in different ceremonies and work.
A further 20 girls are to be graduated by end of April 2021, this is due to the effects of Covid 19 which at some points interfered with our programs and we expect to give them the startup kits at the end of the course.
Most of the rescued girls undergo a lot of trauma and so counseling becomes much more basic than any other support. Some who were raped by their fathers do not even want to go back home though after a lot of therapy and creation of awareness to them on how to help go about SGBV cases they open up and would request to go back home. Psychosocial and counseling sessions offered to 46 survivors of sexual and gender-based violence.
Some of the survivors feel that sharing cases of SGBV is embarrassing and so they would shy not putting in mind the outcomes and so this forces us to create awareness to AGYW (adolescent girls and young women) such that in case they are faced with any then quick and appropriate measures are taken to help prevent any eventuality
The parents are also taken through good parenting skills. This is because some of the parents do not even care where their children are or doing at and at what time and so they have to know that they are the first teachers and as well the mirror to their children
Besides the rescue centre, which offers a safe home for the survivors, the organization managed to continue supporting 20 highly vulnerable OVC at AFBC (Alternative Family-based Care) by providing foodstuff, medical care, and regular visits.
Challenges
We recruited 40 girls to join the apprenticeship program, and we experienced dropouts due to Covid 19, which brought about issues of social distance and the premise we currently have can only accommodate few girls when we observed social distance.
Power blackouts where the saloon is located, so we need to have a backup such that the training can go on even when power is not available.
We need to have another well-established saloon located is another area of operation where many girls who dropped out are coming from due to the distance covered where the existing saloon is located..
Inadequate funds to buy a full start-up kit for the girls graduating from the apprenticeship program.
The COVID 19 pandemic became the main challenging issue since schools were closed and a lot of rape, sexual and gender-based violence, as well physical assault cases became so rampant all over the country and some of the caregivers never wanted to report cases as they thought that settling them at the village level would be better
Cases at the court tend to take too long until some of the survivors lose patience and this becomes challenging as they give up and do not want to attend court sessions any more
Next quarter activities
Graduating of the girls and enrolling new girls in the apprenticeship
Inviting assessors to conduct an assessment on the units covered by each course
Involving vulnerable women who have been identified in the community that have been affected by the Sexual gender based violence in an apprenticeship program
Strengthen the incubation and entrepreneurship center/resource center
Creation of GBV awareness
Organizing girls clubs in different regions
Offering psychosocial support at Alternative Family-based Care homes
Organizing health reproductive talk session
Creation of awareness on children's rights