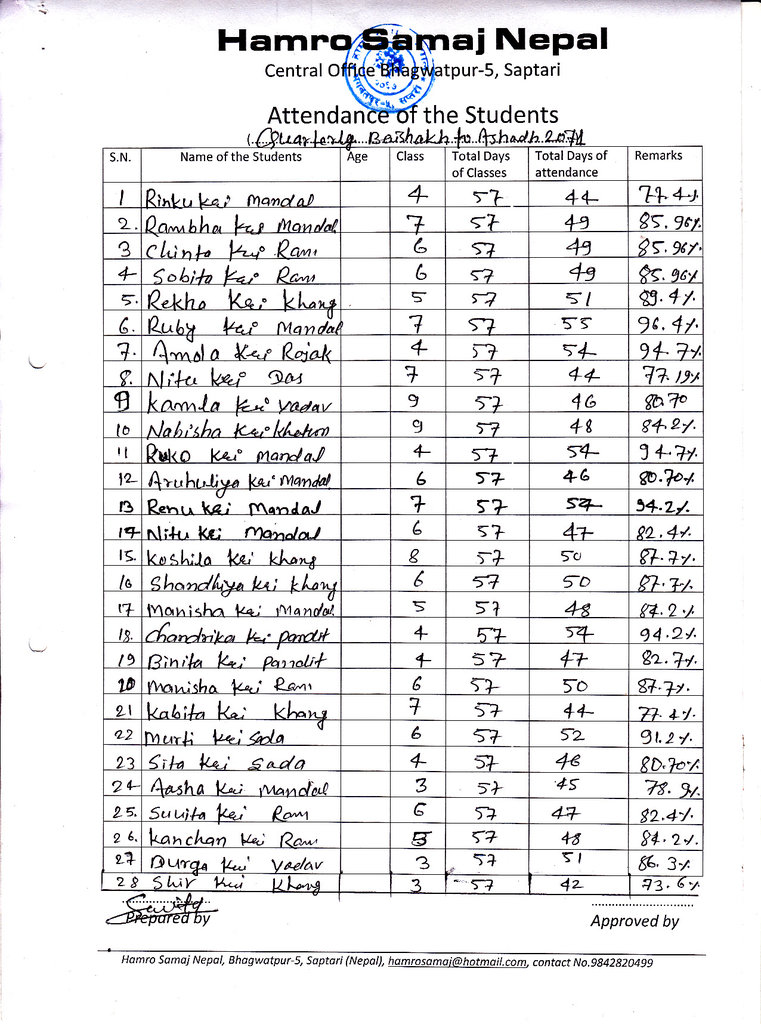 Dear Supporters,
We are pleased to inform and share with you the news that now we are financially supporting 100 girls to go to school. Two of the girls have passed their 8th grade which involves taking an exam at district level and one of them has reached the final year of her school life
Both the project assistant and the social warriors (outreach workers) are working even harder to ensure that the girls go to school regularly. This is to make sure that the girls are progressing in their study and avoids any dropping out of their studies
Even though heavy rain during the monsoon flooded classrooms, houses and roads, the school attendance records of the girls are satisfactory. A page from the last quarterly report sent by Sunita is attached which shows some of the girls' school attendance.
Your donation will be doubled:
This project (Education for 90 Girls in Rural Villages of Nepal) is an eligible project for Microsoft YouthSpark on Global Giving. This is a great opportunity to double your donation. All donations of, upto $500 or £312 made on Tuesday 2nd of December will be matched by Microsoft YouthSpark campaign until the funds run out. The total matching fund available is $350,000 or £220,000and $175,000 or £110,000 will be released at 2pm on 2nd of December, UK time and $175,000 or £110,000 at 8pm.
Please be quick at those times because the fund is limited and it will run out very quickly. If you are a UK tax payer then don't forget to tick the giftaid box for a 25% extra from the tax man.
Direct link to the project for UK supporters:
https://www.globalgiving.co.uk/projects/girls-education-in-nepal/
Direct link to the project for US and other supporters:
http://www.globalgiving.org/projects/girls-education-in-nepal/
Links: