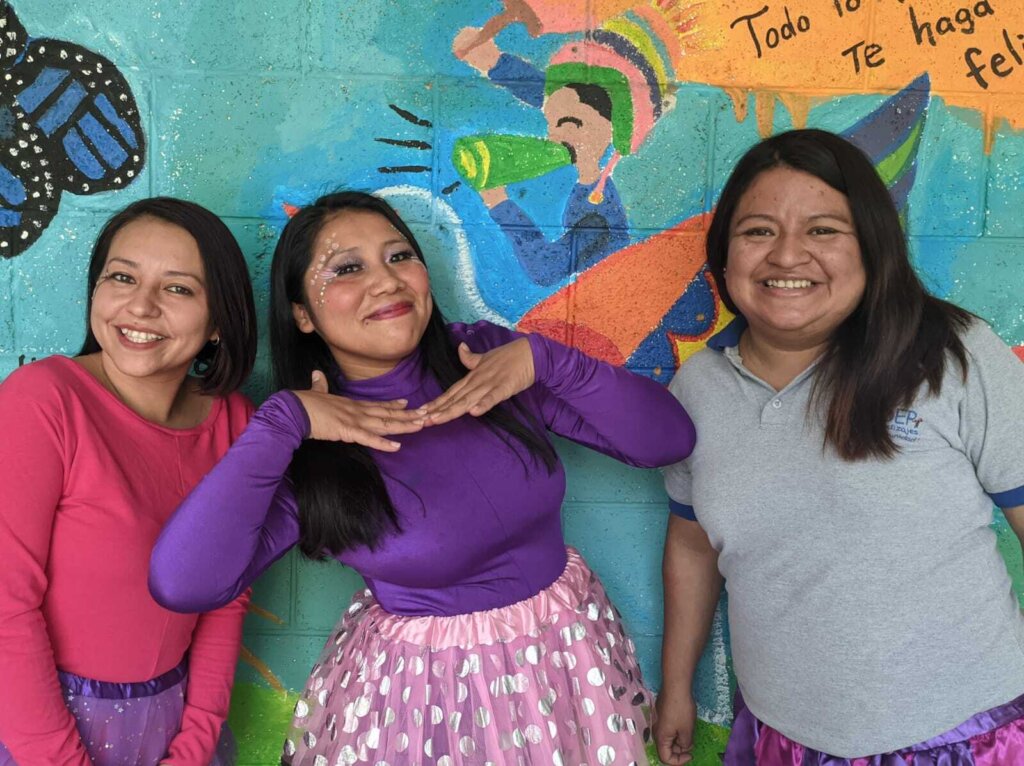 Two years of school disruptions have led to a crisis in schools and education systems in Guatemala. Although the beginning of the calendar year is the traditional Guatemalan time of student enrollment and re-enrollment into schools, a significant percentage of young people have not enrolled, with higher percentages among rural and Indigenous communities. Against this backdrop Girl Rising has expanded our vital work in Guatemala, working with additional partners, spearheading new ways to reach young people, and by adding advocacy and campaign initiatives to complement our educational programming. We are deeply grateful for the continuous support of donors through our GlobalGiving platform who have made a meaningful differences in the lives of hundreds of adolescent girls.
We are also very pleased to report that two partners in Guatemala are now part of our Girl Rising Global Education Fund (GR-GEF). GR-GEF is a venture philanthropy fund that commits annual unrestricted funds, along with mentoring, coaching, network building, capacity building, teacher training, to support innovative and early-stage organizations in their education and gender equity work. All organizations who are part of our GR-GEF lead the Girl Rising educational curriculum with adolescents in their program. The Guatemalan organizations who are now part of this six-year fund are:
EPRODEP is a non-profit that runs a school for ~250 preschool through ninth grade children lacking access to government schools surrounding Guatemala City. These local leaders include former students who understand firsthand the impact of the school's human-rights based education model. As a GR-GEF grantee, EPRODEP will develop and expand its peer-to-peer program in which students are trained as mentors to work with youth in nearby public schools, using the Girl Rising curriculum as a key learning tool.
Amigos de Santa Cruz is a non-profit committed to the economic and educational empowerment of Indigenous women in the communities of Santa Cruz la Laguna. With GR-GEF support, the organization will multiply its impact using peer mentors, each of whom will deliver Girl Rising curriculum and Amigo's own related programming on reproductive health and gender equity to girls in group settings.
In addition to GR-GEF, over the last several months we have worked with all seven partners to lead weekly sessions with nearly 1000 adolescents through in-person gatherings, virtual classrooms and through low-tech devices such as WhasApp. Girl Rising is in the process of leading refresher workshops with educators who have already been a part of program delivery as well as workshops for educators who are new to our program. Investment in teacher training is a vital part of Girl Rising's work in Guatemala since decades of underfunding has resulted in teachers being unprepared to lead quality lessons for young learners. We have also set the stage to pilot a new element of our program, the Girl Rising Storytelling app which guides young people to explore their voice, their aspirations, their rights and their allies as they create their own stories of their lives, challenges and achievements.
Girl Rising has supported several of our implementing partners by helping to develop and refine peer-to-peer mentoring groups helping to ensure girls continue with their studies while simultaneously building leadership and communication skills.
Similarly, Girl Rising continues to build a network of adolescent girls through our collaboration with RINA. We have hosted in-person meetings with organizations in RINA to strengthen platforms for adolescents to have spaces to meet each other, have access to training workshops that adolescents prioritize in addition to the different programs RINA's organizations offer, and to advocate or be politically active. All of our partners continue to support adolescents through tutoring, sharing of educational materials and home visits.
Girl Rising is complementing our direct work with learners, teachers and parents, with advocacy work in local communities to help prioritize investment in education among key influencers. We are leading a participatory process with implementation partners and learning partners to create messaging around girls' right to education in Guatemala. This work is focused in the region of Sololá where we work with a diverse group of partners and communities.
All of this is possible due to your continued support - thank you for your generosity and helping us provide quality education for adolescents in Guatemala.