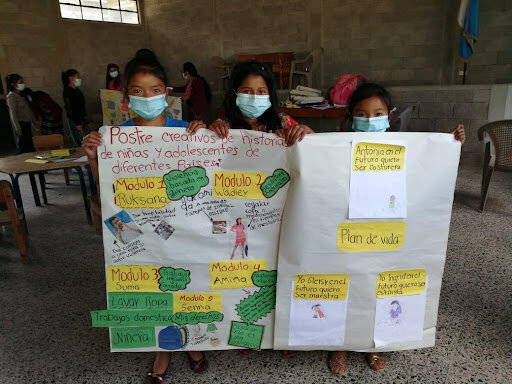 Girl Rising's programming in Guatemala has meant that hundreds of young people could stay connected to their peers, teachers, and studies, despite the challenges of COVID-19 and school disruptions. We are deeply grateful for the continuous support of our five implementing partners who have made it possible to reach adolescents in four different regions, even with the need for social distancing and adapting to the specific local challenges. This year, we've also connected with other mission-aligned organizations and potential partners for the coming years — learning from their work, and thinking of ways we can collaborate in the future. The RINA network, an alliance of stakeholders working with and for adolescents is growing stronger too, with constant communication between members to learn from each other, plan for 2022, and prioritize advocacy and communication efforts.
Partners continue to support adolescents through tutoring, sharing educational materials, and home visits. In some communities, in-person meetings are impossible due to the surge of COVID cases, so regular follow-ups with program participants took place over the phone. Teachers, mentors, and program leaders used Whatsapp messages and calls, emails, Google classroom, and printed materials, including the radio booklet from our Cambiando Mi Mundo show to help students continue learning. Mentors and teachers have shifted communications to virtual platforms as well via email and Whatsapp, with continuous online training workshops based on the curriculum and other related topics.
As of now, post-program tests for participants and educators have been completed, and most adolescents took part in a graduation ceremony — receiving a diploma for completing this year's program with Girl Rising and their school or organization. This year, one of our partners, REDMI Aq'ab'al, invited girls to create posters with their favorite parts of the Girl Rising module and their main learnings, as well as some of their plans for the future.
In addition to the work with our current partners, we have been working in different alliances with organizations doing important work in Guatemala, such as the new school for Ixil adolescents, Horizontes Sin Límites (HSL). We hosted an in-person workshop where the HSL staff shared ideas on how to lead sensitive discussions around gender and gender-based violence, and the types of methodologies and pedagogical tools they have used to approach these topics. With SIDS/SOS, we hosted online training sessions with their mentors and they implemented one of Girl Rising's modules — dubbing the film to two local Mayan languages in the communities where they work to prioritize learning processes in the maternal language of youth.
Through our partnership with Directorio Guatemala, we participated in a networking event for each organization to meet and better understand each other's work. We held a 45-minute workshop on the importance of using storytelling in ethical ways. We shared Wadley's chapter from the original Girl Rising film and discussed issues that are covered through her story, and how film can be a tool to hold conversations with adolescents, parents, and the larger community.
Lastly, our meetings with RINA have mainly remained virtual and several members participated in the radio show, Alzando Nuestras Voces, despite the distance and limited internet signal. Several mentors from REDMI, MAIA, and SERniña sent in audio messages for the show focused on financial education and the importance of educating adolescents about finances, especially given the situation in Guatemala where there is an unequal and unfair economic system that limits people's ability to fulfill their dreams and plans. We met in person as well to have a deeper conversation about the strategic plan for our network and build advocacy for more adolescents to get involved, and also plan for what we can do in 2022 if we're able to hold more in-person meet-ups.
All of this work is possible due to your continued support - thank you for your generosity and for helping us provide quality education for adolescents in Guatemala.