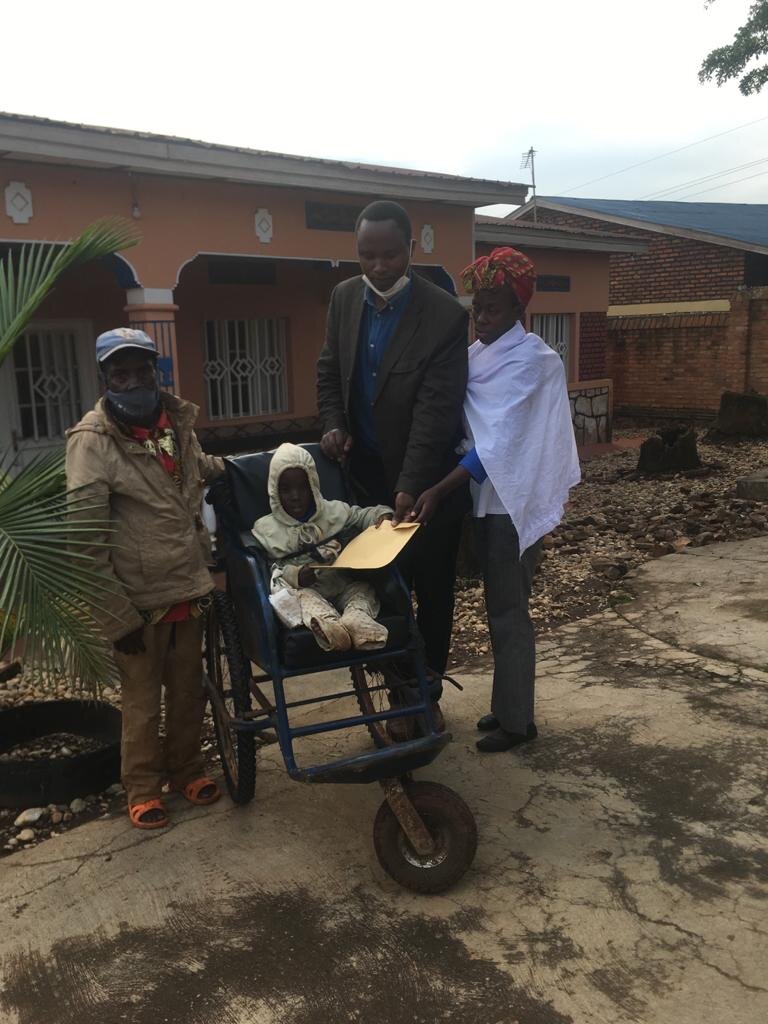 Dear Patrons,
Thank you very much for the support you offered to RWAYDAVO since the beginning of this project,
Disability is still a big issue because, nobody knows how many people with disabilities there are in the world. In doing some basic Research, One billion people, or 15% of the world's population, experience some form of disability, and disability prevalence is higher for developing countries. One-fifth of the estimated global total, or between 110 million and 190 million people, experience significant disabilities.
It's hard to get people to agree what "Disabled" Means but mostly is because nobody has ever tried to figure it out. What is clear is that most people with Disabilities live in poverty. According to the UN, two-thirds of people with Moderate to severe disabilities live below the poverty line. Only two percent of people with disabilities in developing countries have Access to basic services. Take, for example, Rwanda, Where poverty is both a cause and an effect of disability. It's a gorgeous country and home to the rare mountain gorillas.
It also had A massive genocide in 1994 during which an estimated one million of people were killed an eighth of the population. Currently, according to the National Census, among those aged over 5 years, there were almost 450,000 persons with disabilities in Rwanda, which corresponds to approximately 5 per cent of the total population above the age of 5. Nearly ten percent of the disabled population has had one or more limbs removed either hacked off by machete or destroyed by mines, bombs, and bullets during the genocide.
Despite all that, the genocide is not the only cause of disability in the country , poverty, disease, accidents, lack of medical care and congenital causes are more common.
Unfortunately, attitudes towards people with disabilities in Rwanda are not positive from a Rwanda:' Social exclusion' is not a concept that is widely used in Rwanda, but disabled People are both actively and passively excluded in Rwandan society. Although the government of Rwanda has put in place the policies to empower people with disabilities, many Rwandans still do not value Disabled people. Disabled people are seen as objects of charity. They are underestimated and overprotected, and their potential and abilities are not recognized. Disabled children are seen as a source of shame and often hidden away. Name-calling is common. Disabled women find it Difficult to get married and there are victims of violence and rape. Disabled people suffer Discrimination in employment.
Disabled family members are sometimes passed over in Matters of inheritance. Land and assets are given to others who are deemed to be able to make Better use of them, thus leaving the disabled person dependant on family to support them and removing the opportunity for them to lead independent lives. Negative attitudes are particularly Strong towards those with severe disabilities, people with intellectual and learning disabilities, Blind and deaf people. There is one bad history where one parent went to make the registration of his children on his sector and when the sector officer in charge of registration asked him the number of his children he replied that he has five children and another one it is means that he was no considered that one like a real individual because he is disabled. That bad discrimination must be eradicated and all people gain equal health opportunity and access on information and participation in the community development.
We believe that everyone should have the opportunity to live productive lives with dignity and self-fulfillment. This project is the initiative of Rwandan Youth Development and Voluntary organization (RWAYDAVO) to empower people with disability and to do advocacy for equal rights and opportunity. Through this project we want to provide 50 appropriate wheelchairs annually in Rwanda through the Wheelchair Fund initiative.
We request you to donate generously for our disability empowerment project so that we can keep working and achieve our goals.

We thank you for everything that you have done for Rwandan Youth Development and voluntary Organization projects, and we look forward for your continued support.

Thanks and Best Regards.
ISHIMWE MAHORO ARLETTE
Project Leader