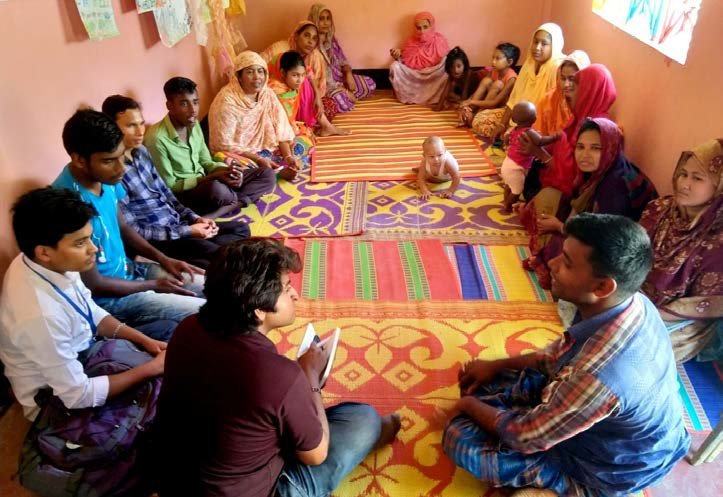 This past spring, Internews' radio production team in Cox's Bazar, in partnership with the local radio stations, launched Ma Boin er Lai ("Mothers and Daughters"), a new radio program focused on issues facing women and girls from both the Rohingya and host communities. Taking the form of a serialized radio drama, Ma Boin er Lai follows the fictional lives of a female teacher and her students as they navigate a range of topics including sexual and reproductive health, gender-based violence, women's mobility, and access to information. The pilot episode focused on women's access to education, and the importance of ensuring that girls are allowed and able to stay in school. The episode included the story of Begum Rokeya, a pioneering Bengali writer and organizer who advocated for women's rights and founded the first schools for girls in the region.
Ma Boin er Lai will air twice a month on the local radio station and will be played for the members of the listening groups, for feedback and ideas on how the programming can best address issues of concern for Rohingya and Bangladeshi alike.
In addition to the new radio show, Shantir Lai Kotha Koi ("Talking Peace") airs weekly, bringing together members of the Bangladeshi and Rohingya community to discuss critical local issues that impact both communities. Recent episodes addressed how life has changed since the influx of refugees, education, drug abuse, sharing resources, supporting survivors of gender-based violence, and the challenges of life in a refugee camp.
The team also completed an updated Information Needs Assessment to identify how needs have changed since the first assessment in October 2017. In our next report we will share the findings and full Assessment.
Thank you again for your ongoing support and belief in this work. Without your support we would not be able to continue providing critical information to Rohingya refugees or facilitate conversations and learning with their Bangladeshi host communities.