Project Report

| Jul 27, 2023
SOIL Researchers Make Data Publicly Available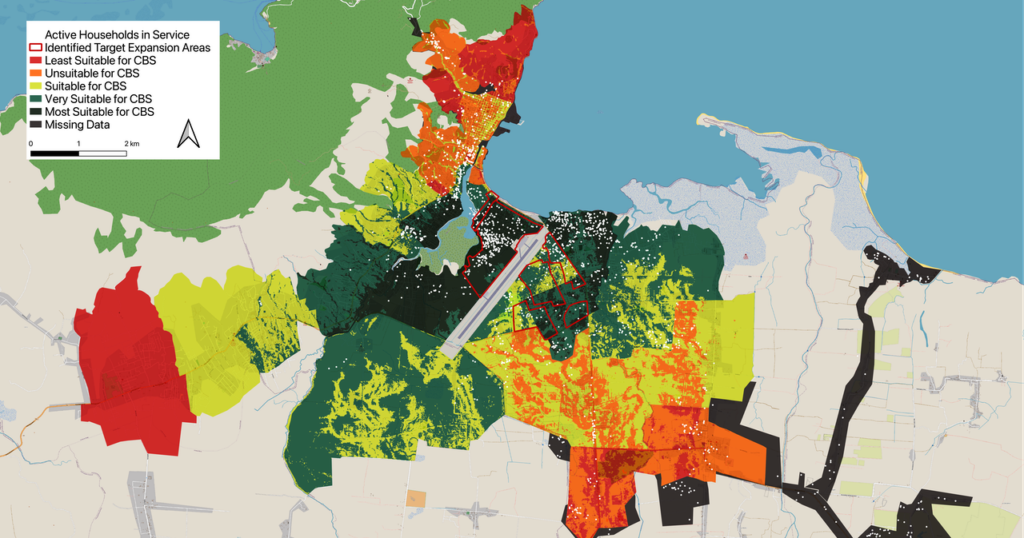 Since the fall of 2022, Haiti has faced escalating instability, a scarcity of goods and services, and ongoing political unrest. While these challenges affect the population at large, it is often the country's most vulnerable citizens who shoulder the heaviest burden during difficult times – their already tenuous access to food and fuel and other services made ever more precarious.
Compounding the ongoing humanitarian crisis, is the recent resurgence of cholera in Haiti. Over the past few months, as our team learned more about the worsening cholera outbreak, we decided to quickly pivot to find a way to reach Cap-Haitien's most at-risk residents to rapidly expand our sanitation service and mitigate against the spread of cholera. We did this by offering installation discounts in targeted geographic zones to households with the greatest need.
This targeted effort was made possible by using innovative mapping tools that the SOIL research team has been compiling to better understand the characteristics around socio-economic household data and the geographic nuances of the low lying coastal area. To build these tools, SOIL's research team was aware of two spatial mapping projects of Cap-Haitien that had been carried out by USAID and the World Bank and reached out to those organizations who agreed to share their valuable data with us.
Data compiled from the World Bank project (1) provided 5-year flood event recurrence and the USAID study (2) presented specifics regarding population density, socioeconomic status, suggested sewage construction priority zones, and suggested pit latrine regulations. SOIL Researcher Maya Lubeck-Schricker conducted a sanitation technology suitability analysis using this spatial data to further identify the key areas in Cap-Haitien that are most suitable for Container Based Sanitation (CBS) technology and, concurrently, the most vulnerable to cholera transmission.
The SOIL operations team was then able to use the final suitability map to identify specific zones to target in their service expansion push in November and December of last year (at the height of the cholera outbreak), during which time we installed 300 new household toilets servicing 1,500 people! The SOIL teams are continuing to use these mapping tools to make other strategic service expansion decisions and thoughtfully inform our operations to nimbly respond to on the ground needs.
"These geospatial mapping tools are invaluable for ensuring that we use our resources effectively to target areas that are most vulnerable to climate and public health risks, using science as a tool for equity and impact." ~ SOIL's Executive Director
Given that the spatial data collected by the USAID and World Bank teams was crucial to SOIL's analysis and subsequent decision-making regarding new toilet installations, Maya worked towards publishing the data files on the Humanitarian Data Exchange (HDX) website, an open platform for sharing data across crises and organizations, managed by OCHA (the UN Office for the Coordination of Human Affairs), so that future practitioners can freely access and use the data without having to know the right people or the right projects. In February SOIL was approved as an official organization on the HDX website, recognized as a trusted source to share relevant data with the HDX community, and our team quickly shared and accredited the data used from USAID and the World Bank.
One of SOIL's strengths is our commitment to communicating with other research and development teams in the Cap-Haitien area and our collegial relationships with other organizations. The open lines of communication and collaboration allow us to stay up to date with the varying projects and data collection activities happening in the region that are often cross-cutting among sectors. This coordination encourages the sharing of information and data among the many organizations working for the common good in Haiti.
SOIL's research team is always dedicated to sharing their work and findings not just internally to improve our service, but also publicly – with researchers and practitioners around the world – who are all working towards the betterment of the future and of our world.
(1) Plan d'Élaboration propre basée sur les données de la Banque Mondiale: Inondation de Récurrence (5 ans / 25 ans / 100 ans).(2) These data were developed under the USAID Water and Sanitation Project in collaboration with the Cap-Haitian municipal government and DINEPA.