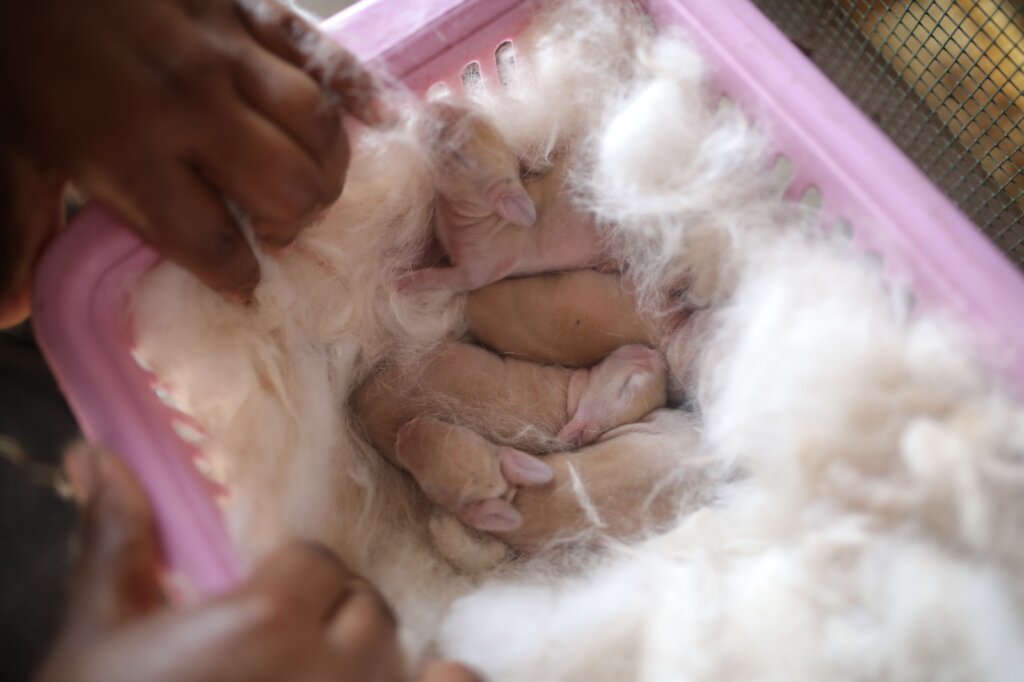 "Give a man a fish and you feed him one meal. Teach him to fish and he can feed himself for many meals." With this philosophy, families provided with animals, plants, and agricultural equipment are growing their own food and raising animals to help feed themselves during this cold winter in Gaza. They sell the extras to generate a source of income, which is so helpful during this time when everyday goods are getting more expensive.
Shireen, a mother, feels grateful to be part of this project because of the rabbits she was given, which produced eleven new babies. She was the only one to be given rabbits instead of chickens because of her previous experience. She had to sell the rabbits she used to have because she needed money, and she hopes raising the new rabbits provided by this project will be a stable, ongoing business to provide for her family.
Unfortunately, the cold also meant that Shireen lost three newborn goats. Shireen had no idea that the mother goat gave birth during the night, and when she woke up and saw that the three kids had died, she was in shock. However, she still feels grateful to be part of the project and can recover quickly from the loss because of the milk and cheese she can get from the goat plus the earning potential of her rabbits and her garden.
Meanwhile, two other goats have given birth successfully, and the other pregnant goats are still waiting. Our photographer, Muhammad, is eager to make a short film about the births and told the families to call him "even at dawn" if a goat starts giving birth.
Five of the benefited families in this phase have at least one child with a disability, and the guardian of one family is fully deaf. Not only were these families provided with a pregnant goat and 10 chickens, they were also given 6 productive fruit trees, seedlings, and a water tank with a water hose to help care for their gardens. One of the fathers in the project, Ashraf, expressed his "great happiness" in the project. Another beneficiary, Enas, said, "This is a wonderful project! My husband had cardiac surgery, and now I'm the one who's been buying groceries. Thank you for your support. God bless."
Your continued support makes a real difference in Gaza families' lives. Thank you so much for caring about Gaza families and empowering them to provide for their families.