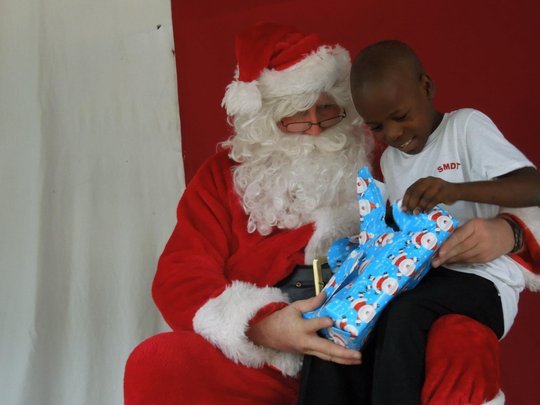 With Christmas now only a couple of days away we wanted to take the time to wish you a very Merry Christmas (or Happy Holidays) from the HTDC orphanage in Haiti.
The kids are now all literally bursting with excitement and, thanks to you, we'll be able to make some of their Christmas dreams come true. With a little help from you "Santa" will be bringing Paolo and Manoucheca some new clothes, and there's a funny helicopter shaped gift under the tree for Nolson. There's gifts for all the other kids too of course.
We're thrilled that these beautiful kids can enjoy the Holidays in the same way other kids around the world get to. The kids at HTDC may have lost their parents but thanks to you they can still experience the wonder of childhood!
Of course thanks from us is one thing, but we wanted to give the kids a chance to send you season's greetings themselves. You can watch these greetings in this Facebook video (although Carlo, the orphanage director seems to be hogging the spotlight a little :)
Also, if you're still keen to support the kids this Christmas, and into the New Year, there's still time to donate if you can.
For example, there's match funding available for any new recurring donations set up via GlobalGiving during December. On the US GlobalGiving site your initial donation will receive a 100% match after four months (a limit of $200 applies). On the UK site the terms are the same but the matching limit is £100.
Recurring donations are particularly amazing, as they allow us to plan ahead more effectively at the orphanage. But we would obviously also be very grateful for any further one time gifts you might be able to make as the Holiday season continues.
As always, if you ever have any questions, please don't hesitate to email Andy@IDVolunteers.org. I would be delighted to hear from you.