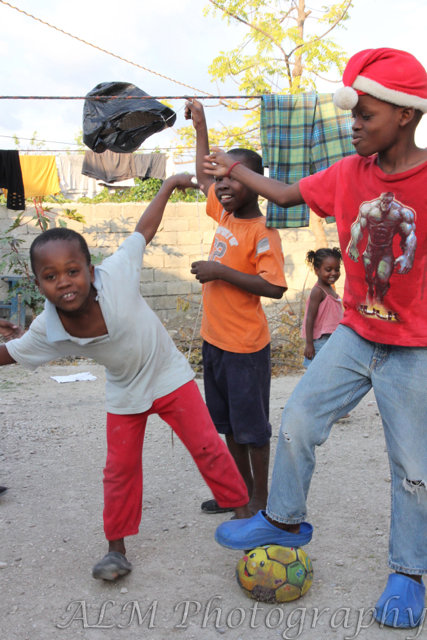 In our last update, we introduced you to one of the orphanage's newest members – Novely. This update, we're delighted to unveil the orphanage's plans to meet the Novely and the rest of the kids' needs in the long-term.
Over the coming months, we'll be raising money to start two businesses – a bus (locally known as a "tap tap") which will be rented out at a profit and a chicken coop with over 150 chickens. After costs, these businesses will yield at least $1,000 profit every month which the orphanage will use to care for the children.
The tap tap will be rented out on both daily and weekly rates to local drivers, NGOs, and businesses. As most Haitians and many small NGOs don't have their own vehicles, such rentals are a lucrative business in Port au Prince. Of course, buses require maintenance –that's why the orphanage will save $100 a month for mechanics fees and emergency repairs. Even after contributing $100 a month to the bus's rainy day fund, the orphanage will still make at least $750 a month.
The second business will be selling the eggs from the more than 150 chickens in their new chicken coop. This project is expected to yield at least $260 a month in profit. What's more, the children will help care for the chickens, teaching them responsibility and the basics of running a business. The orphanage already has 18 chickens, so they know that they can make a profit selling eggs – now they just need to expand the business.
It costs around $2,000 a month to run the orphanage, so by investing in these businesses you'll cut the orphanage's reliance on donations by at least 50%. Over time, we'll expand these businesses to help the orphanage become as independent as possible. Increased financial independence means a more secure, dignified future for the orphanage's children.
Of course, to start these businesses we need start up funds! We know you've already given generously, so we're hoping that you'll consider a different way of helping – fundraising! For the month of September, if you fundraise at least $500 for the orphanage GlobalGiving will enter you in a raffle to receive fantastic prizes – like airline tickets and a flip cam! There are also financial prizes available for the project with the most fundraisers.
That makes September a great month to fundraise for HTDC! You could cycle, bake, walk or even shave your head to raise funds and win prizes! If you'd like tips on how best to fundraise don't hesitate to visit www.IDVolunteers.org/fundaise-idv or email Emma@IDVolunteers.org.
Once you've decided how much you'd like to raise and how you want to raise it you can create your fundraising page here. Don't forget to add our project as the beneficiary of your efforts once you've created your page! Again, if you have any questions please don't hesitate to email Emma@IDVolunteers.org.
Thanks so much, and very warm regards!