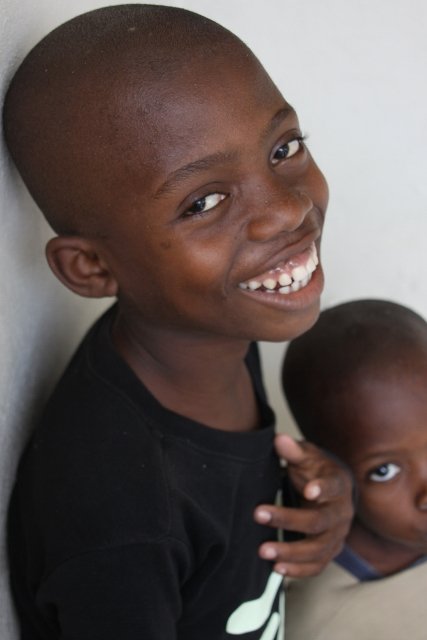 As we approach Thanksgiving many of us will be gathering our friends and families give thanks for all that we have. In Haiti, the Holiday Season is also getting under way, and this year there are 27 children in Port au Prince who are thankful for you.
One of those kids is Jean Wilkenson. Wilkenson's mother died when he was young, and he lived with his father. They were poor, but getting by, and they managed to survive the earthquake together. But then his father died of cholera.
At just 12, Wilkenson found himself alone on the streets of Port au Prince, selling bottles of water to survive and sleeping rough.
In late 2010, a friend of the orphanage met Wilkenson and brought him to the orphanage. Because of you, the orphanage had the funding to take him in and give him his childhood back. Before arriving at the orphanage, Wilkenson had never been to school. Thanks to your generosity, he's now in class and catching up.
Wilkenson is now 14. We asked him to tell us about how he feels about life now. "I like it here because I can go to school. I have friends and feel like I belong to a family. I also like that I'm learning English and maybe one day I can speak it as well as the volunteers that come help us. I hope to be a teacher when I'm older."
He has a future because you chose to give in 2012. This year, he'll be giving thanks for you.
We still face challenges in securing a sustainable future for Wilkenson, but what we've accomplished in 2012 is worth celebrating. This year, Wilkenson counts you among his blessings – and so do we!
Thanks so much of all you've given in 2012, and we wish you the happiest possible Thanksgiving.
Links: