By Carli Davila and Rebeca Vicens | Members of the Filantropia Puerto Rico Team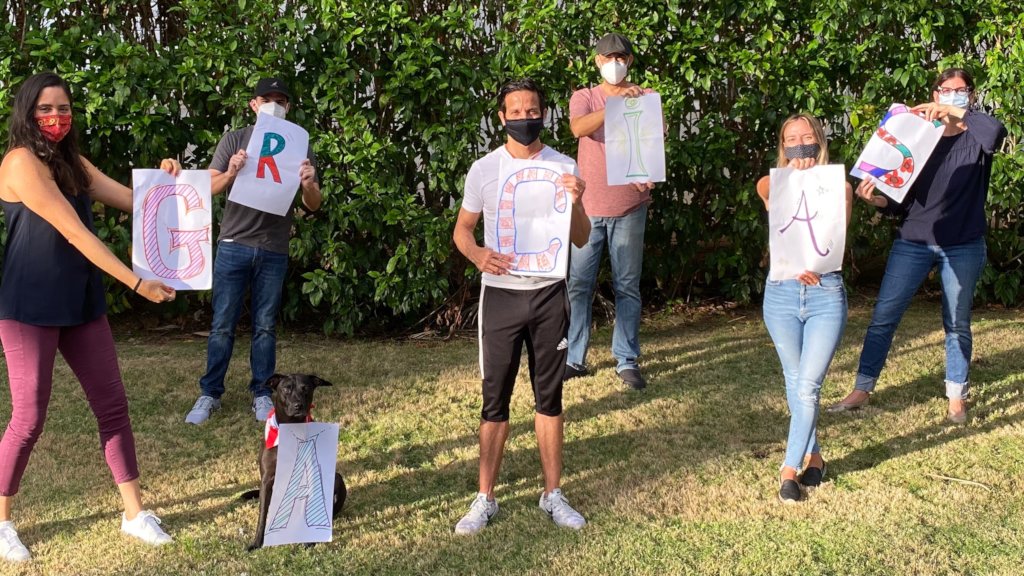 Dear donor,
THANK YOU for supporting our FORWARD Puerto Rico Fund. During the past three years, contributions from you and other individuals, as well as foundations and corporations have helped us raise nearly $9M to support Puerto Rico's recovery from Hurricanes Irma and Maria. We feel blessed to have received such an outpour of support that still lasts to this day, thanks to recurrent donations and strong relationships with many of our donors. We also feel very proud of the work the Fund has supported and its promising results. To date, we have committed $6,709,532 for 121 grants to 76 local nonprofit organizations. Of these, $982,000 were invested in emergency relief efforts, and the rest in projects that advance an equitable recovery process.
As we look ahead to 2021, we feel it's time to start wrapping up our work under the FORWARD Puerto Rico Fund and concentrate on new ways of supporting our island as it takes on the new challenges brought on by 2020's earthquakes and pandemic. We will now cease fundraising on GlobalGiving and commit what's left of the FORWARD Fund throughout 2021, at the end of which we will publish an external evaluation of the grants awarded. In the meantime, we invite you to read below a summary of the key achievements to date by some of the supported projects.
Please sign up for our monthly newsletter to stay in touch with our ongoing philanthropic efforts in Puerto Rico. The past three years have been crucial for our organization, as we have evolved and asserted our role as a convener and voice amplifier for grantmakers working on the island. In the process we even rebranded from Red de Fundaciones de Puerto Rico (Puerto Rico Funders Network) to Filantropía Puerto Rico to capture how the spirit of giving transcends foundations to encompass both collective and individual efforts. We hope you enjoy learning about our work, thank you again for your support, and hope we can work together again in the future!!
In gratitude,
The Filantropía Puerto Rico Team
__________________________________________________
The FORWARD Puerto Rico Fund has received $8,976,346.85 in donations from foundations, corporations and individuals. To date, $6,709,532 have been committed for 121 grants to 76 local nonprofit organizations. Of these, $982,000 were invested in emergency relief efforts whose impact we reported in 2018. The rest have been invested in projects that advance equitable recovery processes within the many crises faced by the island. Below is a summary of key achievements of some of those projects, organized as per the Fund's priorities.

PRIORITY #1: Promote social justice and transparency in the distribution of public resources, with particular emphasis on recovery funds provided by the federal government.
Grantees have designed fiscal and social observatories, as well as provided services to historically marginalized populations that advance transparency and social justice practices in the distribution and use of government recovery funds. Efforts include:
Ayuda Legal Puerto Rico offers education, advocacy and legal support to marginalized communities to help them access government resources that are allocated to the conservation and reconstruction of homes affected by Hurricanes Irma and Maria. Key wins so far include:

Working with FEMA officials to develop a sworn statement form that hurricane victims can use to demonstrate ownership of their homes, an essential step in the FEMA Individual Household Programs (IHP) application process. The development of the form responded to the overwhelming number of denied applications due to a lack of a formal property title by people requesting aid.
The signing of an executive order by Puerto Rico's Governor instructing the Puerto Rico Department of Housing to accept the sworn statement mentioned above in applications for a housing reconstruction program financed with CDBG-DR funds. This was a great victory for Ayuda Legal Puerto Rico and other entities and individuals that for the past three years have demanded that post-disaster government assistance not be conditioned to a formal property title.
Centro de Periodismo Investigativo created the website loschavosdemaria.com to oversee the hurricane recovery process. Findings from their investigations inform and update the island's databases, as they are consulted by representatives of communities, nonprofits, and citizens pursuing government transparency, accountability of elected officials and citizen participation in recovery efforts. Loschavosdemaria.com was a finalist in the Special Site category of the Excellence in Journalism Awards of the Puerto Rico Chapter of the Overseas Press Club.
Through its Laboratorio Comunitario online platform, Espacios Abiertos builds the capacity of marginalized communities to respond to disasters, provide critical information to the media, and insert themselves in the recovery process. To date, 27 communities have participated in two 8-session workshop series facilitated by Espacios Abiertos and based on eight modules available free of charge on the platform. The modules address topics such as taking stock of communities' experiences, resources, and allies; communications between communities and news media; fiscal issues; recovery funds; emergency preparedness; and the dissemination of communities' complaints and controversies.
PRIORITY #2: Facilitate data analysis and informed public dialogue and debates on the actual and potential impact of new government policies, particularly on marginalized populations.
Grantees have used the results of their investigations or those undertaken by sister organizations to promote public dialogue on policies in priority areas such as childhood poverty, citizen participation, education, governance, renewable energy and the right to safe housing. They also actively participate in committees and working groups to negotiate and bring public attention to these issues.
Cambio is developing a non-centralized and renewable energy generation and distribution model for Puerto Rico. In the process, Cambio has succeeded in judicial actions against the Puerto Rico Electric Power Authority (PREPA) to obtain essential public data needed to design the new model.
A report of the first phase of the modelling process evaluated the capacity of PREPA's current energy distribution resources and the wireless alternatives to avoid investments in proposed new and centralized natural gas plants. To date, over 50,000 people have read its content and it was referenced in recent public hearings held by the Puerto Rico Energy Bureau (PREB) on the Integrated Resources Plan, a roadmap for the development of the island's energy system for the next 20 years.
In early 2021 Cambio will publish another report detailing findings of the second phase of the modelling which has centered around an in-depth analysis of the feasibility of rooftop solar power generation taking into account current PREPA data on generation and distribution systems.
In parallel, Cambio has successfully implemented two communication strategies reaching over 700,000 people to raise energy literacy levels among the general population and to promote civic engagement in the PREB hearings. All of these efforts have the common goal of advancing a renewable energy future for Puerto Rico based on citizen participation.
The

Centro de Estudios Multidisciplinarios sobre Gobierno y Asuntos Públicos

(CEMGAP) created the Observatory of Public Education giving way to

five investigations

aimed at providing objective evidence about the impact of recent public education policies on students, families and communities, including the closing of existing schools and the transformation of others under the charter model. CEMGAP participated on various radio shows, met with the Puerto Rico Secretary of Education to discuss the findings of these investigations, and is currently undertaking five new investigations building on the findings of the first five and to be published next summer.
Espacios Abiertos

created the digital platform

Quién me representa

to provide information about elected officials in Puerto Rico so that residents can identify and contact them in an effort to promote citizen participation and government accountability. In the months prior to the 2020 elections, the platform presented information about candidates running for municipal, state and federal positions.
During the creation process, Espacios Abiertos succeded twice in judicial actions against the State Election Commission to obtain official photographs of elected officials and candidates running in the 2020 electoral race (for use on the platform), establishing a precedent on transparency and access to public information.

The platform was launched in March 2020 and during its first six months it received over 71,000 visitors. During that time, elected officials and candidates in the 2020 election race contacted Espacios Abiertos to update their profiles and include their public policy positions. Local news media and nonprofits also joined efforts to complement and disseminate the Espacios Abiertos platform, particularly in the months before the elections. Quién me representa will be an ongoing project, periodically updated and expanded by Espacios Abiertos.

These investigations have also laid the groundwork for other public policy efforts undertaken by IDJ. As part of a strategy to inform the 2020 election process, IDJ published a plan to guide the implementation of 10 public policies that, according to their investigation A Future of Child Poverty, could significantly reduce childhood poverty on the island in 3, 5, and 10-year terms. They also launched a digital platform to track the gubernatorial candidates' positions on these policies. Four of the six candidates provided answers to the 11 questions IDJ included in the platform.
IDJ also provided advocacy training for communities to build their knowledge on issues of child and youth poverty, and tools to help them advocate for solutions to the problems they face. Over 50 mothers, grandmothers and youth attended two of IDJ's Advocacy Academies, where they actively participated in workshops to build their personal narrative, and learn about community-based mobilization and how to promote causes on social networks. They also participated in data exhibitions that allowed them to interact with statistics that they can use for advocacy. Following this, a group of these mothers wrote a letter to local newspapers pleading to make "work pay" which allows low-income workers to improve their living standards through lower taxation.

Priority #3: Advance the resilience and sustainability of the nonprofit sector by enhancing leadership, building fiscal and programmatic health, augmenting collective influence and voice, and enabling collaborations among organizations.
In general, grantees have:
Validated their mission, strengthened their organizational capacity and increased their competence to manage future effects of the multiple crises we currently face in the communities they serve.
Gained direct access to new investors and grants thanks to the events facilitated by Filantropía Puerto Rico.
Established new alliances aimed at securing relationships with key people, both within and outside the sector, to tap into the resources needed to strengthen their communities.
Made changes to their organizational cultures by, for example, developing a savings culture and an awareness of the need to have contingency funds to operate during dire times. Specifically, grants from the FORWARD FUND seeded individual emergency funds for 15 organizations, a one-of-a-kind groundbreaking initiative for Puerto Rico's nonprofit sector.
More specific achievements by some of our grantees were:
At the beginning of the pandemic,

Instituto Nueva Escuela

was able to use its emergency fund (mentioned above) to pay for the salaries of its teacher assistants during the government-imposed lockdown.
Taller Salud

increased its fiscal and operational capacity to advance its service agenda by diversifying its sources of grants, attracting new investors, establishing new alliances and creating an

online giving platform

.
Filantropía Puerto Rico plans to commit remaining funds from the FORWARD Fund by the end of 2021. For more details on FORWARD Fund investments, including the full list of grantees and the funds awarded to each, please visit our website.
Links: