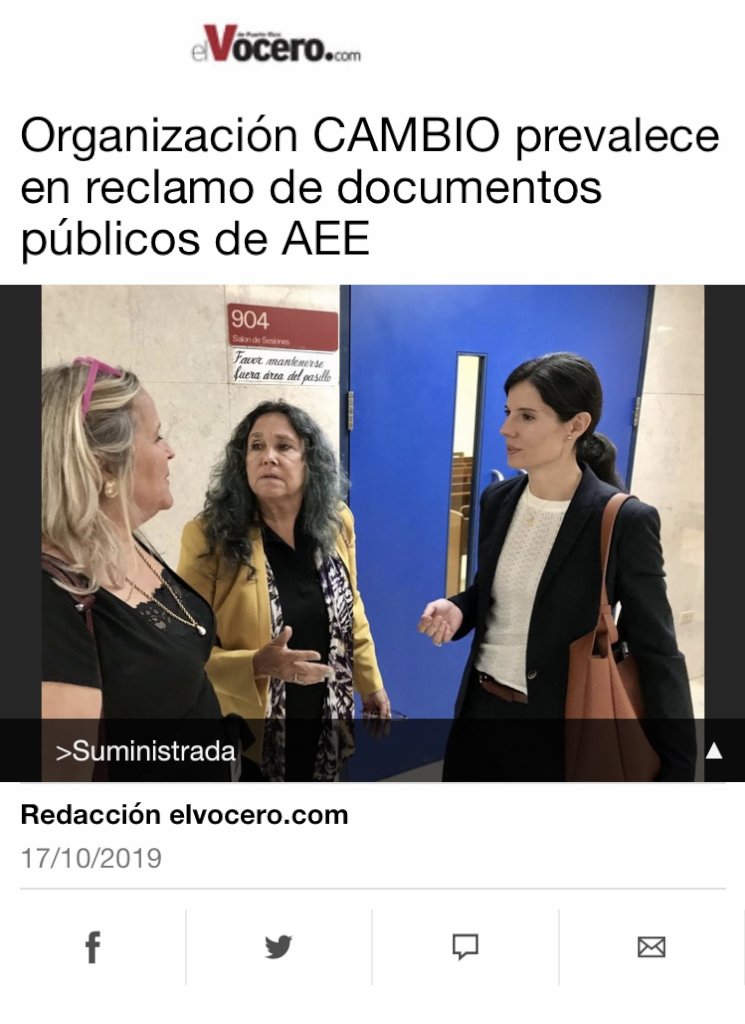 Since Hurricane Maria, the issue of energy has been one of the main areas of focus for the non-profit organization Cambio, founded in 2015 by engineer Ingrid M. Vila Biaggi and professor and lawyer Luis Enrique Rodríguez Rivera.
The storm left the island without a functioning electric grid for months, making it abundantly clear that the island needs a new system, preferably one based on renewable energy. Two years after the hurricane, Cambio has developed concrete alternatives to the current system that emphasize efficiency and conservation, proposing innovative solutions that apply not only to energy technology but also the public policy that governs the implementation of the island's energy system.
For this reason, Cambio is part of the multisectoral effort called Queremos Sol (We Want Sun), developed in 2018 by numerous environmental organizations, community groups, experts, academics and other sectors. Queremos Sol is a proposal to transform the current energy system into a distributed generation platform of rooftop photovoltaic systems. This means that the electrical system would cease to be centralized, energy sources would be close to the areas that receive the service, and by installing solar panels on their own roofs, individuals and private businesses would become active participants in the system.
According to Vila Biaggi, this model would increase citizen participation in the energy sector, so instead of seeking to increase profits, the system would be designed to generate energy efficiently. One of the goals of the proposal is for 50% of electricity generation to come from renewable sources by 2035 and 100% by 2050.
This goes hand in hand with the Integrated Resource Plan (PIR, in Spanish) of the Puerto Rico Electric Power Authority (PREPA) which is being evaluated by the Puerto Rico Energy Bureau since August 2019. This document must be approved in February 2020 and it outlines how PREPA will develop the energy system of Puerto Rico and where it will invest its capital over the next 20 years. Currently, PREPA favors changing the system from one based on oil to one based on natural gas. Cambio supports Queremos Sol's proposal and has been in legal disputes for several months with PREPA for it to disclose public documents both to justify Cambio's position against changing the system to natural gas and to know the infrastructure of the current system. With the information on the electrical infrastructure, Cambio will be able to develop an alternative model based on distributed renewable energy, such as that proposed by Queremos Sol.
"This model will help us present and prove that the transformation of the system based on distributed renewable energy is possible. It will also serve to influence the various decision-making processes about the future of energy (in Puerto Rico), including the PIR," explains the engineer.
Along with the legal process that has led to document disclosure by PREPA, Cambio also launched a public education campaign for citizens to learn about PIR, why it's important that citizens participate in the hearings, and how the decisions made there will affect them. "For example, if the Authority decides to make substantial investments in natural gas infrastructure, this will have an impact on health due to emissions, as well as on the power bill," points out Vila Biaggi.
"We must continue to insist that renewable energy is a priority. It seems to me that both through the process of auditing (PREPA) before the Energy Bureau and through the process of citizen education, it is possible to move that compass so that what ends up in the PIR is what the public wants," she says.
Thanks to a grant from Filantropía Puerto Rico, Cambio has been able to develop an effective public outreach campaign making documents and information publicly available, as well as launching the campaign "PIR Has to Do With You" which seeks to encourage citizens to be informed, analyze, and participate in the evaluation of this document.
"We know of people who have been using the public information that we have received from PREPA because they have written to us directly through our website. For example, people from Vieques who were not aware of the Authority's plans for energy infrastructure development for the island municipality, now with the documents have a better idea of what is being planned, " she says.
Cambio has also reinforced its social media presence to more effectively spread information about the PIR that is sometimes inaccessible to the general public because it's written in very technical language or because it's in English. Through posts, tweets, and graphic media, Cambio clearly and concisely explains a highly technical document that traces the energy route and its repercussions.
"We have live-tweeted all the technical hearings and we have developed summaries that we have provided through email blasts and social media," she adds.
Another component of this educational effort is to create a series of modules illustrating how individuals and communities can begin to adopt the efficiency and conservation measures and implement the renewable technologies proposed in Queremos Sol. Thus, that initiative does not depend exclusively on the government.
"This transformation is from the bottom up. The purpose is for communities to become empowered, for the individual to be empowered, for small businesses to adopt (the model proposed in Queremos Sol). Although it would be convenient to have the endorsement of the government, implementing Queremos Sol does not depend on it to move forward. We continue moving towards the implementation of the proposal creating models that are accessible to people," says Vila Biaggi.
Links: