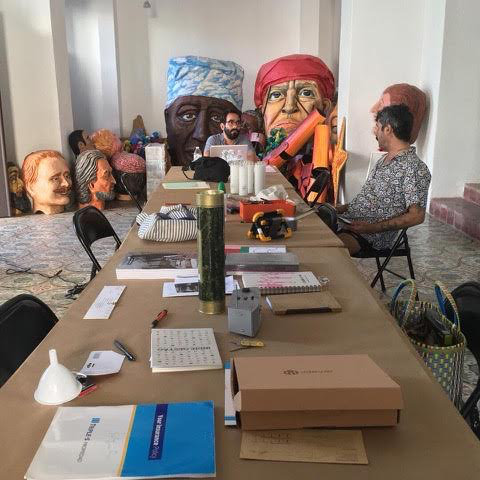 The FORWARD Puerto Rico Fund is a fund that supports local grassroots organizations that are assisting communities affected by the devastating hurricanes Irma and Maria. This report describes the work that is being done by one of the organizations supported through the Fund.
BETA-LOCAL
Even before hurricanes Irma and Maria passed over the island, the independent art and culture scene of Puerto Rico was in a state of chronic crisis. Austerity measures have long limited the state's economic support of the arts. Alternate sources of funds generally establish that projects must have an educational focus or generate economic activity, not those that simply have an aesthetic or artistic purpose. On the other hand, the need to work in advertising and other industries hinders the ability of local artists to focus their energy and resources on their own projects.
To counteract this scenario, the non-profit organization Beta-Local has been a resource for cultural agents since 2009, providing grants, programs and workshops, coordinating events, and lending their space to generate projects, ideas and connections between local producers.
After Maria, the situation was exacerbated, especially when the new reality of the island forced many people to emigrate. The co-directors of Beta-Local, Sofía Gallisá Muriente, Pablo Guardiola and Michael Linares immediately sought emergency funds in order to help cultural agents and artists continue to work, rebuild their lives, and stay in Puerto Rico.
"As a result of the hurricane, we were able to start an emergency fund for cultural workers who, in a certain way, was tied to the work we had been doing since the organization's inception and it expanded and amplified that work," says Gallisá Muriente.
Funds raised through the Puerto Rico Funder's Network (FORWARD PUERTO RICO Fund) and United States-based foundations, such as the Andy Warhol Foundation and the Hispanic Federation, allowed Beta-Local to provide grants that were distributed from November 2017 to January 2018. Participants could apply for "El Resuelve," a $500 mini-grant that was awarded weekly by the directors of Beta-Local, or "El Serrucho," a grant of up to $10,000, emitted by a selection committee every three weeks. They distributed around 95 scholarships for a total of just over $350,000, according to Gallisá Muriente.
The grants were not limited to specific projects. In the case of Juanto Arroyo, a musician and sound engineer, his recording studio and rehearsal space were unusable for two months. "I had no way to make money, I was just sitting and waiting for power to come back. That's when I had the idea of creating a portable studio that did not need electricity," says Arroyo.
He obtained a grant to buy recording equipment and a computer that he can carry in a backpack, equipment that allows him to continue working with just a battery.
Another example of Beta Local's support is the case of Mickey Negrón, an actor and performance artist. "I live in La Perla and the sea came in. I am on a second floor and the window broke. I lost my wardrobe, my bed, my television, books. I was able to save some paintings. I was totally uncertain of what was going to happen," narrates Negrón.
With the Beta-Local fund, Negrón was able to replace much of what he lost, pay rent, and even began to work on a project that he had been contemplating for several years.
"This is the first time that I feel supported in my country and at the time I most needed it, not only as an artist but as a citizen," he says.
Beta-Local has received new funds since the grant window closed, which they will put towards high-scoring applications for "El Serrucho" that were not selected in the first round.
"What has been allocated in grants up to this point is more than double what our annual budget was last year. It implies a significant expansion of the scale of work we have been able to do. We were able to respond very quickly because we had been advocating for years for this type of support (for the artists)," says Gallisá Muriente.
Links: