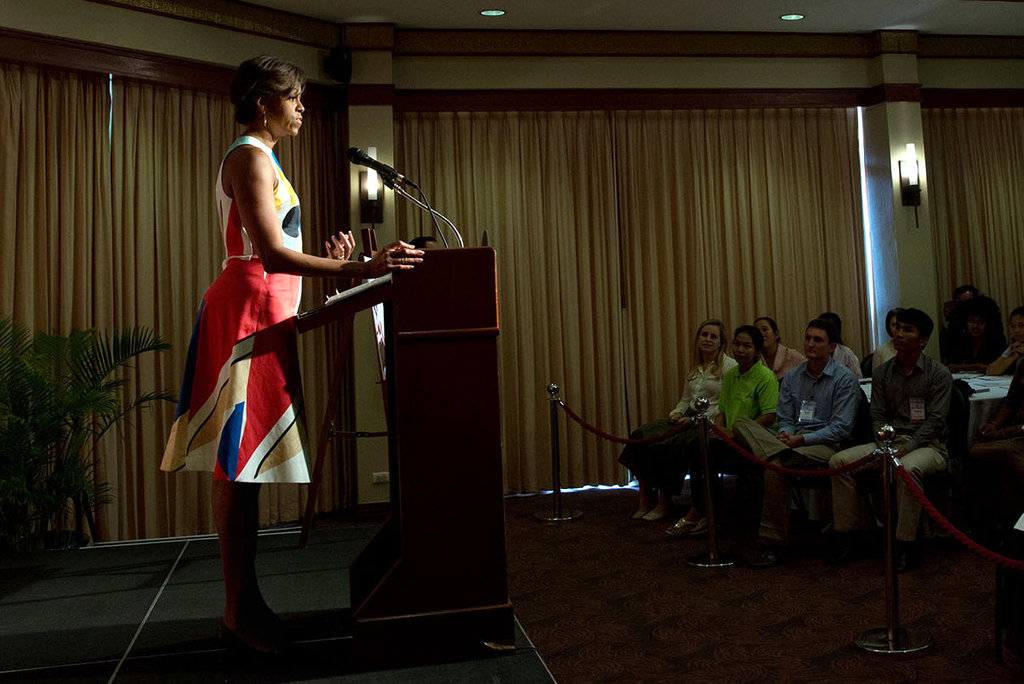 On 21 March 2015 Youth Star volunteer, Ms UTH Sithea, represented Youth Star at a Peace Corps workshop in Siem Reap attended by the First Lady, Mrs Michelle Obama. The First Lady promoted her 'Let Girls Learn' initiative during the workshop and emphasised the importance of working with communities to achieve positive change:
real, meaningful change in communities doesn't happen from the top down, it happens from the ground up. It happens when you build on the strengths that already exist in those communities. It happens when you empower the leaders that are already there, and then they go on to empower others.
The First Lady emphasised the transformative work of the Peace Corps volunteers:
So what you all should understand is that the spirit of service that you all share, it's contagious. It truly is. When you inspire the people you serve, they go on to inspire other people.
Ms Sithea participated in a panel session at the workshop where she discussed Youth Star's experience and approach in working together with local communities to deliver educational and other programs in rural Cambodian provinces. Youth Star has now been delivering these programs for almost 10 years.
A White House fact sheet states that a key part of the 'Let Girls Learn' initiative 'will be to encourage and support community-led solutions to reduce barriers that prevent adolescent girls from completing their education'. It quotes a World Bank Study which found 'that every year of secondary school education is correlated with an 18 percent increase in a girl's future earning power'. A Peace Corps program is commencing in 2015 in 11 countries, including Cambodia, which will empower 'local leaders to put lasting solutions in place'.
Youth Star enthusiastically supports this initiative, which mirrors in so many ways our own approach and grassroots work in advancing educational opportunities in marginalised Cambodian rural communities. As reported through Globalgiving on 12 May 2014, among her many other activities every Sunday morning Ms Sithea organised youth club members in Krang Veaeng village to tutor primary school students who need learning assistance. This was just one of the many educational programs undertaken by Ms Sithea during her 12 month placement as a Youth Star volunteer in 2014. All Youth Star's volunteers in 2014 initiated similar programs.
In close harmony with the approach advocated by the First Lady, Youth Star's long established practice is to engage with local leaders, children and youth to develop educational programs that meet the needs of the community. This includes an audit of every household in the village to determine the educational standards of the village children, identify any cases of school non-attendance and areas of particular need. The value of education is strongly promoted by Youth Star volunteers and as university graduates they provide direct examples of the benefits education provides.
While all village children and benefit from Youth Star's programs, girls are particular beneficiaries, as the rates of school attendance and educational achievements for girls are generally lower than for boys—particularly for girls in rural communities.
During 2015 Youth Star volunteers will focus even more on delivering educational programs. In February 2015 the Youth Star vision statement was refined to state as follows:
Our vision is that all young Cambodians will:
have the education and tools to participate meaningfully in the development of their country;
possess the values, skills, and inspiration to be leaders for the common good, and;
contribute to eradicating illiteracy and poverty in marginalized communities.
We have already placed some volunteers in the field in March 2015 and are aiming to significantly expand the number of our volunteers later in 2015. We are also working hard to attract more female volunteers like Ms Sithea.
Ms Sithea was invited to attend the Peace Corps workshop in Siem Reap by the US Embassy staff in Cambodia coordinating the First Lady's visit. A full copy of Mrs Obama's speech at the workshop is here. Youth Star is very appreciative of the opportunity given to Ms Sithea to share her volunteering experiences and describe the Youth Star philosophy and 'youth working with youth' approach.
If you would like any further detail on Youth Star's programs and activities in 2015 please send me an email at mora@youthstarcambodia.org. I'm always happy to hear from friends and supporters of Youth Star. You can also obtain information on what we have been up to from our Facebook page and our website. And thank you very much again for your kind support to the Youth Star Program.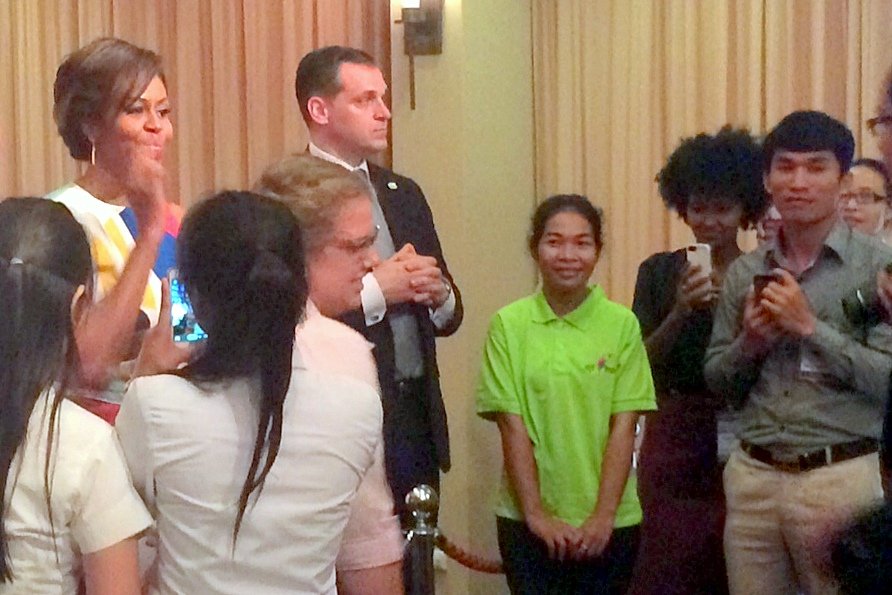 Links: