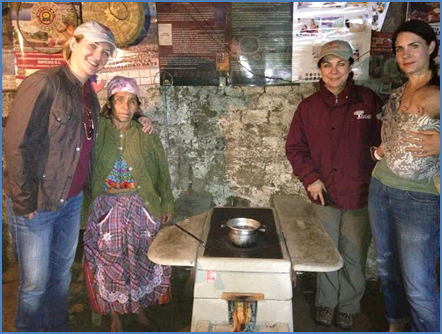 Women in the communities where we work play a crucial role in the adoption and use of clean cooking solutions because of their responsibilities as cooks and managers of their households. EcoLogic's main objective is to reduce the impact of fuel wood consumption on the forest. The stoves also make it possible for women and their children to spend fewer hours every day harvesting wood, and significantly reduce their exposure to the smoke produced by a typical open pit fire. In our project sites, we work in a holistic and collaborative way, where our goal is that the women who participate become leaders and agents of change for the protection of their environment and the safety of their homes.
The communities' household needs and cultural preferences are an essential component in the acceptance of a stove, which leads to a better rate of uptake and continued use. One approach EcoLogic has taken is providing women access to several different stove models for testing. They spend the day in a focus group setting learning about what makes a stove more efficient and cooking typical meals (rice, beans, tortillas, plantains) on different stove models with their own cookware and utensils. The goal is for them to choose the model they prefer and then pilot it in their communities.
Hands-on training on use, maintenance, and repair of the stoves is also key. This is something that EcoLogic provides through our local technical staff. Follow-up and gauging satisfaction must be a part of the process as well. After our stoves have been installed for a period of time, we find it vital to conduct focus groups and household surveys to discuss and gain feedback about how the stoves are being used. In some stove designs, efficiency translates into a smaller cooking surface. For larger families, this can become burdensome—requiring them to cook meals in several batches or sometimes falling back on the open pit fire as a solution. To ensure the convenience and sustainability of the households EcoLogic works we seek to take all of these factors into account.
Our goal is to construct 350 appropriately-sized stoves by the middle of next summer. With your generous support, EcoLogic and its partners improve the living conditions, health, and sustainable livelihoods of women and all local residents. In total, EcoLogic has built over 3,000 fuel-efficient stoves in Guatemala and Honduras with the help of our donors and local partners. Women who are empowered and given the right tools can improve the health, environment, education, and economy in rural, subsistence communities. We hope that you will continue to support the strides we are making towards safer, fuel-efficient households in Guatemala.