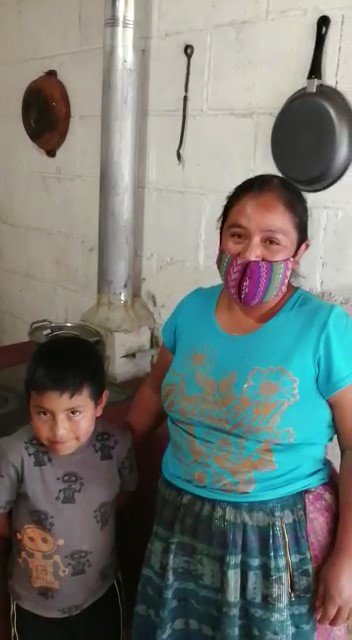 Dear GlobalGiving Supporters,
First of all, I hope you and your loved ones are doing well and staying healthy!
Thank you so much for your support of our project. I am delighted to report that after having to slow down a bit on stove construction during the height of curfews and restrictions due to the pandemic, we were able to complete 51 stoves in Totonicapán from October-December 2020 and we have another 30 underway.
In my last update, I shared that two of the communities where we work, Chiyax and Chuixchimal, had started a process of raising awareness among their inhabitants about protective measures against the virus, such as the correct use of face masks, hand-washing, and social distancing. This has allowed our staff to work safely to continue the stove-building process.
I visited the project last week and have a message from Doña Juana, who wanted me to pass it along to you. She says, "I am very grateful. Thank you for your support. This is where I cook now. God bless you, wherever you are and wherever you go." Thank you, indeed! You make everything we do possible. I am also including a few more pictures from the process over the last few months.
I look forward to keeping you updated on the incredible change you are making possible in peoples' lives, their health, their livelihoods, and their forests. Thank you from the bottom of my heart!
In solidarity,
Mario Ardany de Leon, Program Officer, Guatemala