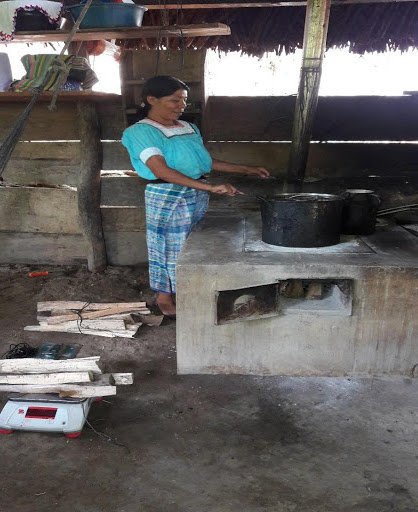 Dear GlobalGiving Supporters,
Feliz Año Nuevo! We wish you all the best in 2019. Thanks very much to all of you who contributed to this project during the end-of-year campaign. It means so much to us and the communities we support.
For this report, I wanted to share the reflections of Florencia from the village of Santa Maria Tzejá in Guatemala. As she thanks us, we thank you. We simply cannot do this work without you and we greatly appreciate your partnership. Florencia's comments below are minimally edited for translation:
"I have worked hard in planting trees as part of the project and in reward for all my effort I received a fuel-efficient wood-burning stove with the objective of reducing the pressure on the forest. I am very happy to receive my stove. Now it costs me less to prepare my food. I have a griddle on which I can place two pots at the same time. I can make tortillas. Previously it took a lot of time and effort because only one pot could fit on my stove.
I thank EcoLogic for making it possible for many families in my community to have a fuel-efficient wood-burning stove. I can say that they really do save a lot of firewood, they don't call them fuel-efficient for nothing. Those of us who have wood-saving stoves, there are times that we visit with each other and we always notice that our husbands no longer bring much wood from the plot because we don't need it as much as before.
With these stoves, I can say that we have helped nature and I plan to continue conserving for many more years. I also have to thank the EcoLogic technicians who have done their work visiting me in my home. They explain how to give it maintenance, how to use it and how to care for it. They also give me recommendations on the size of the firewood and that it should be dry for better results in my stove.
In the same way, I thank EcoLogic for promoting the conservation and restoration of the forests in the Ixcán region and especially in my community of Santa Maria Tzejá."
With much gratitude,
Mario Ardany de León--Program Officer, GuatemalaEcoLogic Development Fund