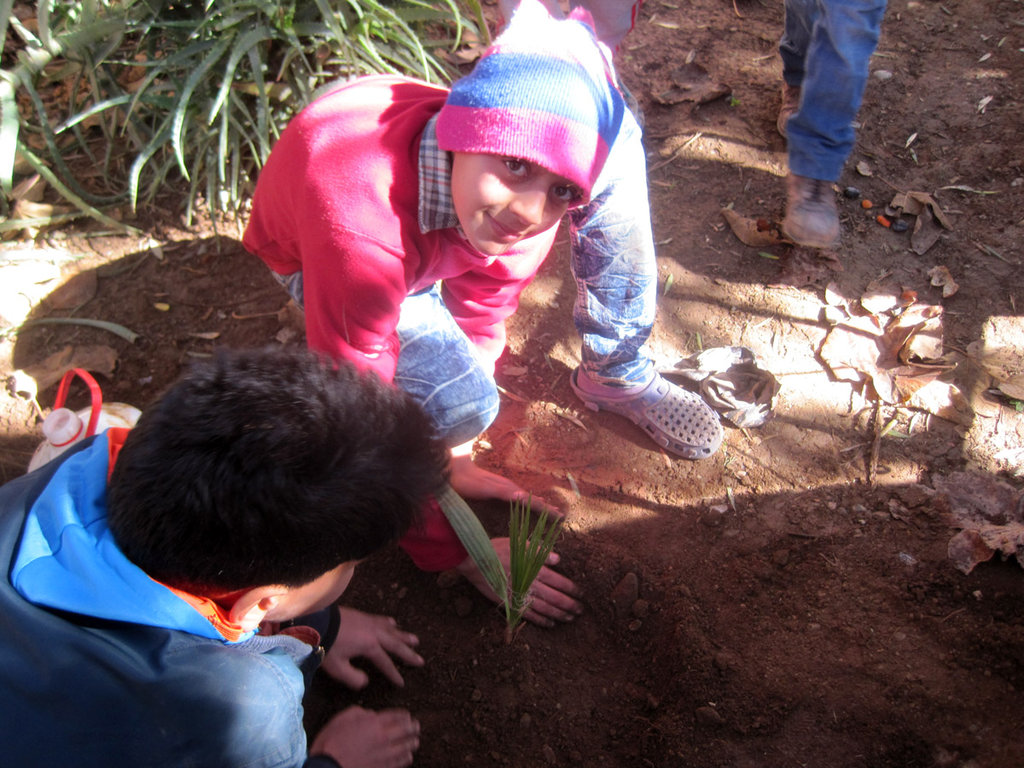 Moroccan farmers are planting all across Morocco, and the High Atlas Foundation and Sami's Project are no exception. In mid-January, Project Manager Amina El Hajjami visited twenty-one elementary school students in Al Houz province. The Moroccan semester break is ending, and the next two weeks will bring both many more plantings both around Marrakech and much farther afield.
On January 17th, two HAF staff members visited several schools in rural areas around Amzmiz, a small town at the foot of the Atlas Mountains. At many of the schools visited, as soon as staff members began unloading trees grown in HAF's nurseries, students rushed to help bring trees and prepare the planting site.
After a brainstorm about the benefits of trees and how they contribute to both the environment and the economy, students got to work planting the tree that they had brought into the school. Some schools were well established and larger, whereas others further outside of the city consist of a network of one-room schools.
By the end of the day, students planted 195 trees at seven different schools, including 80 pomegranate, 30 walnut, and 30 olive trees. This is just one day in HAF's ongoing planting season. Furthermore, the High Atlas Foundation is currently finalizing draft activities for a standardized environmental education curriculum for teachers and administrators to expand and adapt. In the spirit of HAF's dedication to participatory planning, teachers will determine the majority of the curriculum design at a workshop including administrators and parent organization members at the end of this month.
Tree plantings at elementary schools in rural Morocco are not just tree plantings—they allow students to gain a sense of responsibility in caring for their tree and a more pleasant environment in which to go to school every day. Thank you for supporting our goal of allowing students to learn about the environment while making their schools better places!