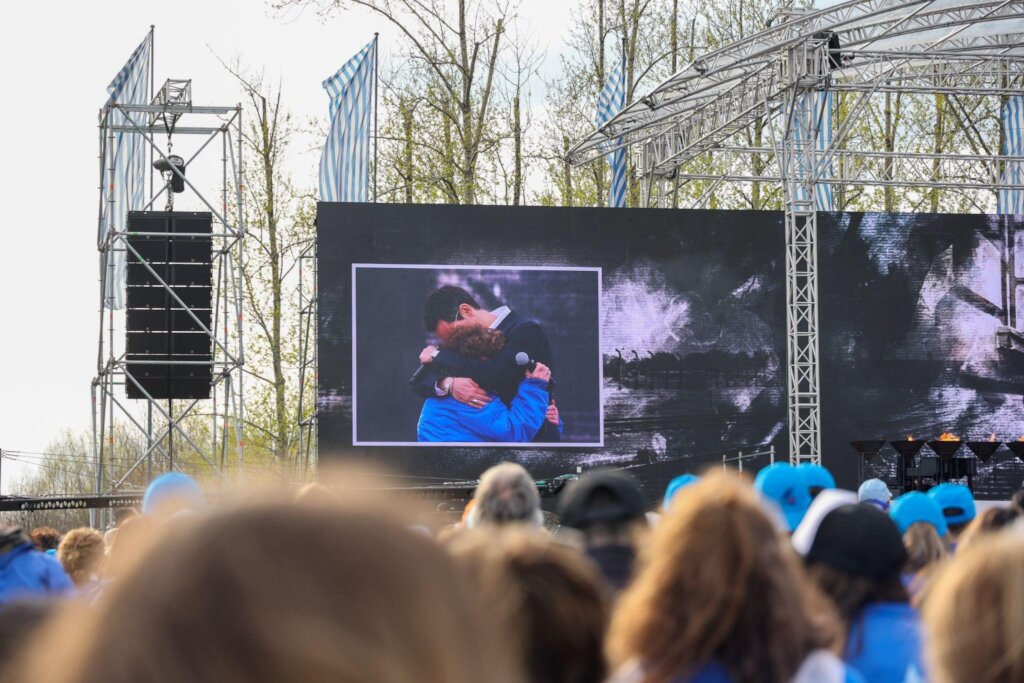 "Never Again." In the face of one of the most tragically learned lessons in human history, perhaps these are the only words we can say. My recent visit to Auschwitz and participation in the March of The Living forced me to question the reality of these words: will they ring true for future generations?
We need regular reminders of our history as we move toward peace and human development. My recent visit to the death camps in Poland was a clear confirmation of this for me. I spent my birthday in a space of remembrance of one of the darkest times in history, looking at photos, speaking to survivors, spending time in communal grief, and participating in communal hope. When I looked at pictures of Jewish women in Auschwitz taken moments before they were killed, I saw my mother's eyes looking out at me. Later, I spoke to Steven Korda, a holocaust survivor I was grateful to have the opportunity to meet during the March of the Living. "I strongly believe in hope," Steven told me, "as I believe in your generation to pass this around the globe." As a Muslim Moroccan youth, I firmly believe what is expressed in the Quran: "Humanity comes before everything." I proudly kissed Steven's hand to express my respect and gratitude for his willingness to share his experience.
Participating in the March of the Living gave me a more complete understanding of what I had seen in the Yad Vashem museum in Jerusalem, Israel's official memorial to the victims of the Holocaust. It is dedicated to preserving the memory of the Jews who were murdered, sharing the stories of the survivors, and honoring Jews who fought for their lives. As I marched through Kraków for hours, I was deeply moved as I considered the experiences of the men and women who had walked these streets before me.
God said in the Quran, "Who ever killed a soul, except for a soul slain, or for sedition in the earth, it should be considered as though he had killed all mankind; and that who ever saved it should be regarded as though he had saved all mankind" (Sura 5: AL-MAEDA 32).
This encouraged me to participate in the march as a step towards pursuing peace across national and religious boundaries.
Unfortunately, humanity still faces critical challenges around the world. In order for my future children to experience a world that is free from the immense grief of tragic events like the Holocaust, they must be introduced to the stories of the past and hold an understanding of what we should never repeat.
Something important we should understand; sometimes it's tough for the Holocaust survivors to be dwelling on the past when they are asked almost the same questions every time, however, it's not a secret that their stories should be shared as much as possible in a fair and right way.
Therefore, I urge decision makers to continue sharing the pillars of peace by bringing people together for peacebuilding dialogue, as well as to end hate and conflicts, for the sake of humanity, and for the overall safety of our planet. I appeal to you to use all diplomatic means available for this purpose, furthermore, the Holocaust history should be in every educational system, schools are the first base for a positive change.
I also, call on youth leaders and civil society actors to contribute in collecting and saving interfaith stories, this will plant the seed of tolerance and peace, as it will improve understanding of the "other". Individuals particularly those who may have influence can make a significant impact by using their influence in sharing hope, love and reality on social media.
Every day is an opportunity to make this world a more peaceful place. Never again will we allow such massive injustice to destroy our society; never again should we underestimate the power of our choices in ensuring a better tomorrow.