Project Report

| Feb 7, 2023
A communication meeting among students of Yeshiva University and Cadi Ayyad University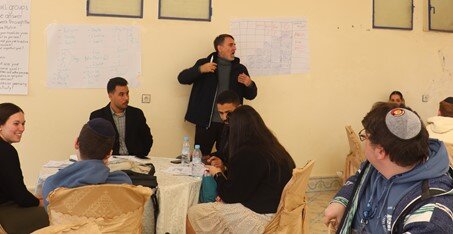 On January 13, 2023, the High Atlas Foundation in Marrakech organized a participatory meeting within the framework of the exchange of cultures and religions between students of the Yeshiva University, located in New York City, and students of the Legal Aid Clinic at University Cadi Ayyad in Marrakesh.
This meeting consisted of a visit to a community tree nursery in the village of Akrich, on the outskirts of Marrakech, which contains a 700 year old Jewish cemetery.
When the students of the legal clinic in Marrakech arrived at the nursery, we were received by the President of the High Atlas Foundation, Dr. Ben-Meir, and the nursery supervisor who is also the cemetery's guardian, Mr. Baddah.
While we were waiting for the students of Yeshiva University to arrive, we took a quick tour to understand the work of the nursery, which includes tens of thousands of tree saplings, including carob, fig, and pomegranate. There was also talk about the method of planting it and the natural conditions that must be appropriate for each type to give more fruits.
After that, we enjoyed tea until the arrival of the other students. We welcomed them and they welcomed us with joy and in an atmosphere of peace, love and respect as a natural result of the relationship between Moroccan Muslims and world Jewry, especially since a number of them are of Moroccan origin.
The students from both universities were divided into groups in order to conduct a participatory workshop, exchanging about cultures.
After that, a welcome speech was given in English on behalf of the Legal Clinic in Marrakech to the students of the University of Yeshiva, While the speech was initiated by a professor on behalf of the students, speaking about our Prophet Ibrahim, peace be upon him.
The most beautiful thing said in this speech was: that this participatory meeting does not bring together just ordinary people, but rather brings together two strains: the lineage of Isaac, and the lineage of Ishmael on the other hand, and that the lessons learned in the past must be adhered to in the present in order to ensure its continuity and build a better future.