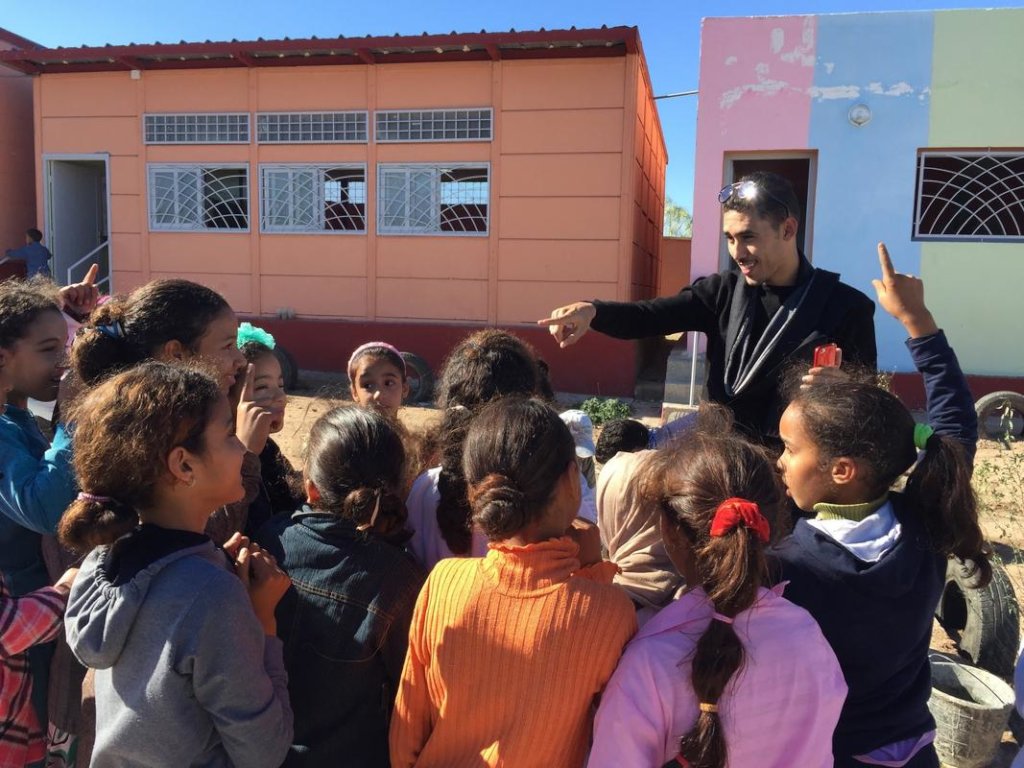 Errachid--HAF Project Manager and Volunteer Coordinator--gathers with the children prior to tree planting.
Over the weekend, part of the HAF team visited a primary school in Rhamna to check in with community leaders, distribute 140 fruit trees, and join in the excitement of playing and planting with energetic children and volunteers. Activity organizers welcomed us with warm bread and tea, but we couldn't sit still as the echoes of music and laughter pulled us back outside to join in the day's activities.
We dug, painted, weeded, and planted, all while appreciating the enthusiasm and compassion the community volunteers emanated and the children replicated.
We recognized and admired the school's health facilities and classrooms, but upon speaking with community leaders, we found that their current challenges included the absence of an organized parent's association, as well as complications with securing electricity. Normally every school in Morocco has a parent's association to facilitate familial involvement and support of school activities; these associations typically play an important role in school dynamics. As for the electricity problem, many community members had different interpretations of the conflict, but we ultimately deduced that the current electrical network is serviced by cables connected illegally to bring electricity to the school. In line with HAF's participatory approach, we asked community organizers about their goals, and they identified their priority of advocating for official electrical lines.
The differences in understanding of the electricity problem and the absence of an official electrical line illustrate a real challenge of participatory action based approaches: they are built on effective communication. Nevertheless, we were impressed by the vibrancy and success of this community's initiatives, given that they had started organizing on Facebook, a testament to the commitment and insight of community-led action. We will return to conduct participatory meetings with the community to help resolve these issues.
The energetic and vibrant atmosphere kept us smiling long after we left. Albayrat primary school exemplified the power and potential of community-based action, and we are glad that HAF could be a part of driving this progress forward.
Rachid Nacer--social work actor--entertains the children with song and dance.