Project Report

| Jun 16, 2021
The OES Closing Ceremony: A Final Chapter and a New Beginning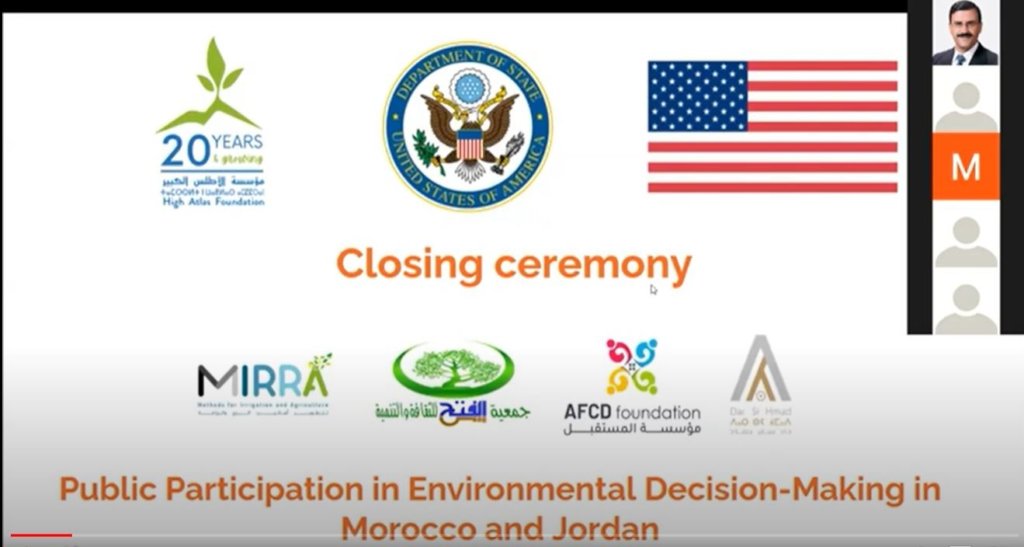 The closing ceremony of the OES small grants program took place on Zoom on June 2, 2021. It was an opportunity for the CSO subgrantees and the Bureau of Oceans and International Environmental and Scientific Affairs (OES) representatives to convene and share the results achieved during the two-year program.
The program, which is funded by OES in partnership with the High Atlas Foundation, seeks to increase civil society engagement in environmental protection and promote public participation in environmental decision-making. It enabled four select CSOs, two in Jordan and two in Morocco, to launch projects in order to benefit local communities socially, economically, and environmentally. All four of the associations, including Methods for Irrigation and Agriculture (MIRRA), Dar Si Hmad Association, the AFCD Association, and Al-Fath Association, presented the objectives, results, and impact of their projects.
The Al-Fath Association for culture and development, for example, is a Moroccan CSO operating in the villages of Bouchane and Ait Taleb in the Rhamna province, north of Marrakech. Thanks to OES funding, Al-Fath was able to implement a project entitled "The Environmental Challenge" in order to contribute to the alleviation of pollution in the region and establish a culture of environmental preservation. According to Mr. Mustapha, President of Al-Fath, 70% of the objectives were successfully met. However, 30% were difficult to achieve due to the COVID-19 pandemic and its residual impact. Goals met include:

the implementation of a nursery and 2 greenhouses;
the provision of 12 agricultural farms with natural organic fertilizers;
the planting of 113,760 fruit trees; and
the provision of 3 wells with solar pumps.
Similarly in Jordan, the MIRRA Association was able to implement a project entitled "Realizing Sustainable Agriculture in Azraq" in order to overcome the problem of water pumping overuse while stimulating agricultural activities as well as economic and social growth in the area. The project implementation according to Ms. Ahlam, representative of MIRRA, ensured:
the achievement of sustainable, decentralized farm models in the area;
the reduction of the electricity bills for farmers;
the increase of the annual food production to meet local needs without depending on imports;
capacity building for farmers and students through the implementation of training and workshops; and
the writing of two booklets which gathered the knowledge on the application of sustainable rural agriculture in Azraq.
The impact of the projects both in Morocco and Jordan has had a remarkable positive effect on the local communities. Dr. Yossef mentioned that the support of OES in implementing these projects has built a firm basis for the growth of all participating associations while creating partnerships between the different CSOs. It was, in fact, a meeting that marked both the closing of the program and the beginning of sustainable commitment to carry on this initiative and move it forward in order to achieve the visions of various communities on a national and an international level.