We are happy to report that our Techos para el Caño project is well underway, helping families recover from Hurricane Maria effects by providing safe and resilient roofs. Phase I has accomplished the following milestones:
A typical design for wooden trust roof system with tin, compliant with FEMAs guidelines for reconstruction after hurricane events was developed.
Community organizations and community leaders established a set of selection criteria in order to choose which homes will be impacted by the Techos para el Caño initiative, including technical criteria. The set criteria stipulates, among other things, that:
The home must have lost at least half of its roof
Vulnerable populations will receive priority status, specifically, families with children under 12 years old, persons 65 years or older, and people with disabilities.
A lottery process was designed in order to guarantee that the selection process is fair. To date, 7 lottery activities were carried out in Caño Martín Peña communities to select roofs to be impacted. This process yielded 40 homes pre-selected for roof repairs or replacement. Final selection will depend on assessments of each home.
We have secured the services of architects to ensure that the roofs built are safe, resilient, well designed, and adapt to each home's specific situation. The architects assess the homes to evaluate hurricane inflicted damages, and ensure that they can appropriately support a new roof. These architects adjust the typical design to each home's particular situation, and produce a plan for construction. To date our team has assessed 14 homes, and designed individual, specific roof repairs for 12 of those homes. More assessments and designs are currently underway.
Contractors then carry out roof repairs or construction as specified by the architect, ensuring appropriate anchoring and construction. Thanks to donations from non-profit organizations and people like you 9 families have a new, resilient, permanent roof over their heads.
The architects also inspect each roof after it has been fully constructed to ensure quality and compliance with standards. Currently, inspections for the first 9 roofs constructed during Phase I are underway. We expect to receive the reports soon.
The most satisfying part of this project is the impact it has on people's lives. They are the ones to best express and qualify that impact. Residents of the homes repaired have reached out to express their gratitude and satisfaction.
"Wow, gracias!!! Significa mucho este gesto… bendiciones!!! Le estoy sumamente agradecida."
"Wow, thank you!!! This gesture means so much… blessings!!! I am extremely grateful."
- Daughter of Don Porfirio
"Esos muchachos que tú has mandado a trabajar es una brigada maravillosa. Ese contratista, Michael. ¡Qué gente que trabajan! Vinieron tempranito al amanecer de dios, y casi ahora fue que se fueron, a las siete de la noche. Han hecho un trabajo en verdad bien, bien, bien grande. Van bien avanzados ya. Con dios por delante, ellos regresan el lunes. Así que me los felicita mucho. Ya yo le di mis felicitaciones también. ¡Muy buen Trabajo! ¡Muchas gracias! ¡Ustedes son unos ángeles! ¡Muchas gracias!"
"Those guys you set are a wonderful crew. That contractor, ¡those people work hard! They came at dawn left at seven o'clock in the evening. They've done really tremendous work. Please congratulate them. I've personally congratulated them as well. Excellent work! Thank you so much! You are angels! Thank you so much!"
- Ángela, home owner
"Sólo una pequeña nota para agradecerle de corazón a nombre mío personalmente y de mi familia la ayuda que me brindó usted y su organización de Proyecto Enlace del Caño Martín Peña como resultado de los daños que sufrí por el paso del Huracán María. Desde un principio estuvieron conmigo dándome la mano y dándome apoyo y esperanza. El camino de recuperación ha sido bien largo y dificl, pero con el apoyo de personas como ustedes me han ayudado a poder volver a mirar el futuro de forma positiva. Quiero decir que los admiro mucho por la gran calidad de ser humano que son ustedes y por tomar de su tiempo para ayudar a los más neceistados. Espero que Dios le dé mucha salud y los bendiga mucho."
Just a small note to thank you on behalf of my family and personally from the bottom of my heart for the help you and your organization Proyecto Enlace del Caño Martín Peña provided as a result of the of the damages I suffered caused by Hurricane Maria. From the beginning, you were with me, giving me a helping hand and giving me support and hope. The road to recovery has been very long and difficult, but with the support of people like you I can look to the future positively once again. I want to say I admire you very much for your human kindness and for taking the time to help those most in need. I hope God will bless you and grant you plenty of health.
- Rosa, home owner
Of the ~1,000 homes that lost their roofs partially or totally, we hope to impact at least 40. The more donations we receive, the greater the amount of people we can help. Your donations are helping us reach that goal. Thank you.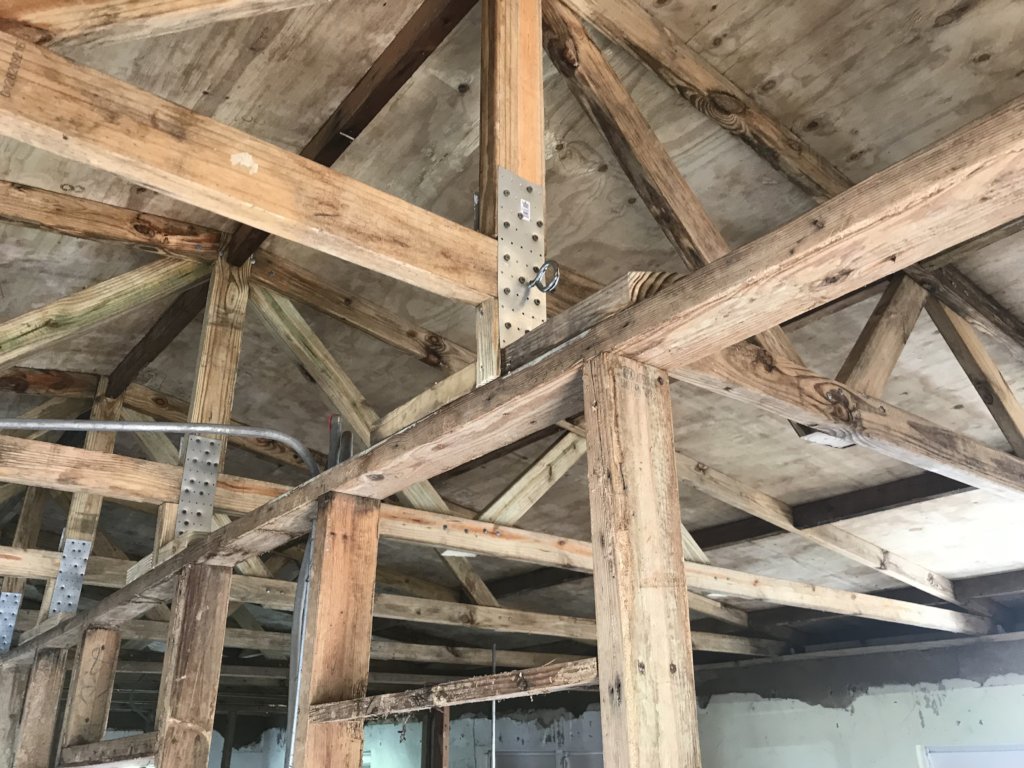 Links: