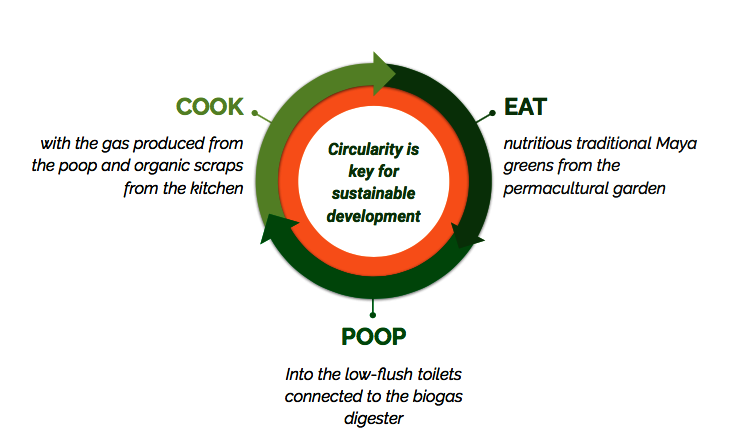 Dear Friends of Tui'k Ruch'Lew,
First and foremost, thank you for supporting our "From Poop to Fuel" program! Your contribution helps make it possible for TRL to introduce this new technology to the indigenous community of Maya Tzu'tujil.
Secondly, we would like to share our progress on this project with you. In the last months, we have intensified our efforts developing the concept for the demonstration project for the biodigester .
Together with our partners in Honduras (Edy Omar at CASM Act Alliance) and Cuba (Cesar Parras at Centro Cristiano Lavastida) we finalized the customized design of our fixed dome biodigester for the school. Did you know that Cuba legalised private WiFi networks less than 2 years ago? And only with a permit! Overall, access to technical infrastructure is extremely limited. Thus, our final biodigester design was not made with software -- it was made by hand! This was very special to receive, knowing how much work lies in this drawing. And we will share this drawing by Cesar with you.
Together with an online, international team of volunteers from various fields, from natural science to anthropology, we have carried out a comprehensive stakeholder analysis and identified the strength, weakness, opportunities and threats (SWOT) for the biodigester project.
Our aim for this demonstration project is to present an ecological solution for the wastewater problem to the Tzu'tujil Maya community. We at Tui'k Ruch'Lew truly believe that sustainable community development is always linked with people's empowerment. Therefore, we designed a series of three workshops for the parents at the school, with whom we will (COVID-safe of course):
evaluate the sanitation situation in Tzanchaj, Santiago Atitlan in a co-creative process prior to the construction of the biodigester
demonstrate the simple design and construction of the biogas plant during the construction phase, and
present the circularity of the system (eat, poop, cook) at the school after completion of the construction at the school.
We are excited to get to know the parents of the girls and boys from the primary school. And as we learned this week from Melchora, the director of the school, they are also excited about the biodigester. The vision of the staff and the parents of the school is to become an example of sustainability. The idea to produce gas for cooking from poop was being adapted in the blink of an eye - because the benefits are so obvious: free gas for cooking the meals for the kids at the school, and free fertilizer for the permaculture garden.
Thank you again for your support. In order to realize this project, we still need financial contributions. So please feel free to share our GlobalGiving campaign "From Poop to Fuel" with your friends and family.
Best wishes,
Jessica and the Tui'k Ruch'Lew team