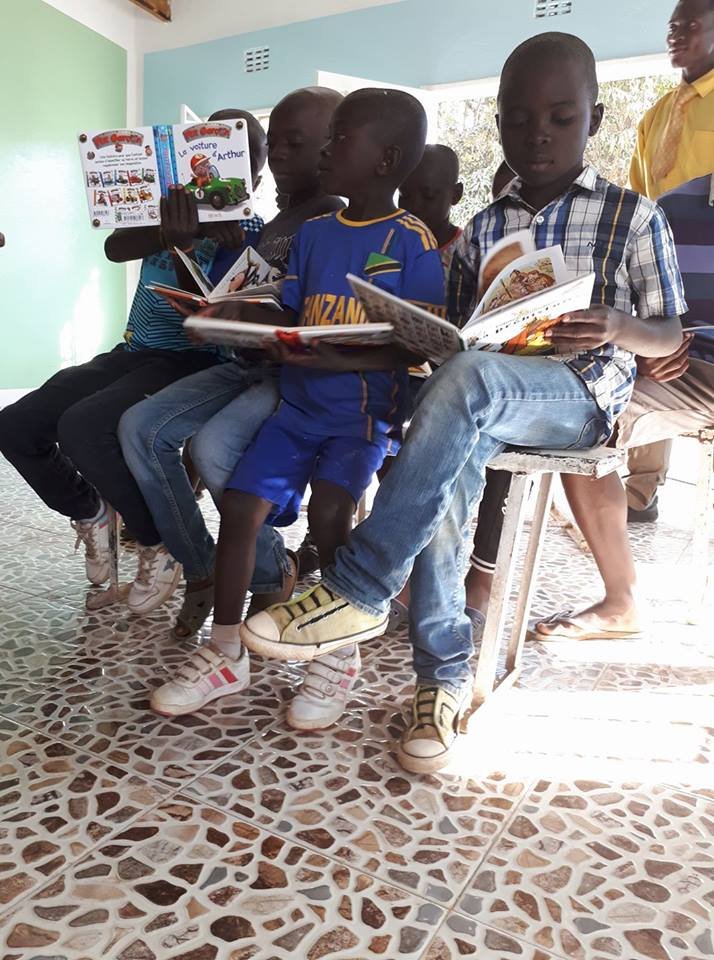 Although we are regularly updated each week by the manager of Kimbilio, M. Jean Bosco Tshiswaka, we do always relish the opportunity to visit DR Congo. This month our Founding Director, Ian Harvey, returned to Lubumbashi for Kimbilio's 8th Anniversary celebrations with two other volunteers, Marguerite Koefman and Gill Venton.
Mama Marguerite has taken over many children's French books and set up a reading programme for the children. This has been especially exciting for the children as they have been using the newly refurbished classroom at the Kimbilio boys' transit house. Mama Gill continues to support and is very much an integral part of the sewing workshop team. Both she and Kimbilio's Sewing Project Manager, Mireille, are making plans for a second sewing workshop. There's no stopping them!
Ian has also had chance to catch up with the some of the children rescued from exploitation in the artisanal mines nearby to Lubumbashi. You may remember that earlier this year Sky News feature a report by Alex Crawford about the living conditions of children and their families working in the colbalt mines. With the help of Alex and her team, Jean Bosco and the Kimbilio team located and offer two children a place at Kimbilio. Here they are given the chance to be children again: to learn, play, eat and sleep in safety. We hope to expand our projects to offer the same support to many more families, but we need your help and support.
An easy way of helping your money go just that bit further is the GlobalGiving Rewards Bonus Day. You donate and the money is boosted by GlobalGiving meaning even more resources available to Kimbilio. The next bonus day is from 2pm on Wednesday 12th July till 4.59am on 13th July GMT. On this day Congo Children Trust (the UK based charity which supports Kimbilio) will be matched at 50%. That means in you donate £10 we actually get £15 (click here for terms and conditions). All day long there will be a 100% match on new recurring donations and, at the end of Bonus Day, the projects with the most funds raised and the most donors secured will each receive a $1,000 bonus prize. For this reason we will be focusing on the "From Exploitation in Mines to a Hope Filled Future" project for this bonus day, and would appreciate donations to be directed there if possible but all donations are gratefully received. Please make a note of the time depending on where you live as match funds do run out quickly. We'll be reminding you again nearer the time.
As always, thank you for your continued support – it brings a lot of hope and happiness to many children in Lubumbashi, DR Congo.